Alastair Galpin
took to world record-breaking in 2004 after being inspired by a record-setting rally driver in Kenya. What began as a hobby soon escalated into an active publicity pursuit. Today, he promotes the work of social and environmental causes. For these purposes, the most fitting game plans are chosen; then world titles are attempted and frequently created.

Sustaining sponsor
If you would like regular exposure from Alastair's activities, become his Sustaining Sponsor:
A range of attempts annually
Your brand in multiple media
Distribute your own media releases
Receive product endorsements
More details about sponsorship opportunities
Special thanks
Behind every world record attempt is the expertise of professionals in their field.
Their success underpins Alastair's.

Upcoming 100th record attempt in Borneo

For my 100th record attempt, I thought I'd try something truly chastening.
** WARNING ** some of the content on this page may not be suitable for younger
readers
I remain in awe of some of the feats which have been achieved by my record breaking friends. I wanted to make my 100th attempt as memorable as their own achievements, particularly as this year marks the 10th anniversary of my first ever world record.
Over the years, I've become well known for attempting the weird and wonderful - be it the fastest time for eating a juicy kiwifruit, or the longest continuous handshake. I've also never been put off by the potential for controversy, such as I encountered when building the world's largest bottle cap sculpture.
A little pain and discomfort has also marked some of my records, such as wearing the unusual (20 swimming caps on my head for example), or rotating toothpicks in my mouth.
So what would I choose this time?
Rest assured it was never going to be something easy to do, and certainly I might be called a masochist for undertaking this record attempt.
I knew that around the time of Guinness World Record Day™ (held annually in November) I'd be getting hot and steamy in the jungles of Borneo, Indonesia. That got me thinking, "What else gets people all hot and steamy?"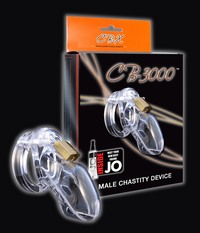 So yes, unfortunately, my mind suddenly switched to the world of sex toys. We all know that relationships come in all shapes and sizes (as do sex toys!) and well, I've given all that kissing and hugging a go, and so I trawled the internet looking for something that would really challenge me mentally and physically, whilst ensuring that others would be reluctant to follow in my tracks and try to beat my record.
After some discussions with leaders in the sex toy industry, I decided the answer might be to chasten myself for all those grand ideas I've had in the past, some of which have turned into real banana skins. I'd make use of my personal hero by going for what can only be described as one of the most innovative personal products in recent times, a male chastity device!
Yes, you read it right, I'm deliberately about to chastise myself and then circumnavigate the tropical island of Borneo – in the humid wet season. It's a journey of around 4,000 kilometres, following the general shape of the Egyptian sex symbol (the ankh) from Bali, north to circumnavigate Borneo and then east onto the west coast of Sulawesi.
I was drawn to the thought of circling Borneo, in the heavy rains, by myself, showing extreme self-control, and being up to tackle the challenge using printed sheets of translated information to get me between pre-mapped waypoints. This really excited me.
A couple of product manufacturers soon grabbed the opportunity and wished to sponsor me. I decided on one of the devices from CB-X Male Chastity. Now I'll be locking my sacred male apparatus away, and ensuring that the key isn't available to let me escape. I'm expecting to endure a tremendous physical and mental challenge by hitchhiking whilst chaste.
Record Holders Republic confirmed that they were willing to be involved in this record attempt and make a judgment on the evidence submitted after my journey. So I set to finalising my plan.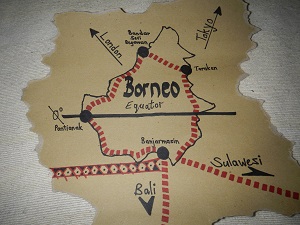 In many ways, my being in a position to undertake this event is directly attributable to a certain Erick Bebok of Kupang, in far southern Indonesia. Erick, a flamboyant businessman with a sharp eye for spotting and setting up innovative commercial enterprises, picked me up hitchhiking. He and his family treated me like royalty, and one thing led to another.
Months later, in Bali, I set to planning this event with Erick still offering support and contacts wherever he could. He is the one who recommended I come to Bali, he arranged most of my transport on the way here, and has constantly been on standby to assist me whenever I've needed it. Erick, without you, my 100th world record attempt simply wouldn't have become a reality.
I am also grateful for the assistance provided by Kamadjaja who provide inter-Indonesian sea transport and are allowing me passage on one of their Ro-Ro ships.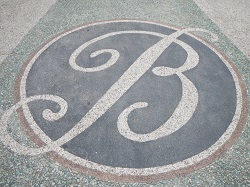 My route will take me from the tourist hub of Bali, across the Java Sea to the southern Bornean city of Banjarmasin where, thanks to the warm hospitality from the manager of the magnificent Swiss-BelHotel I will be staying in a luxurious suite and meet the Indonesian media.
From there I'm due to head west, then north into Malaysia, north-east into Brunei and then south again down the east coast of Borneo. In the far south-east of the island, I'll hop onto another ferry across to South Sulawesi.
Thankfully, I have a trusty guide in the shape of Muhammad Yusuf (081 347 325 958 / yusuf_guidekalimantan@yahoo.co.id) who speaks excellent English. He knows the best routes around Borneo and how to cope with whatever may crop up on my journey. With his help and the aid of some printed maps, I'm sure I'll find my way right through to South Sulawesi.
Here, the opportunity to regain my sexual freedom will be waiting. That's if I can survive this long without surrendering to the expected discomfort of the chastity device - and having an engineering workshop staff member grind it off my nether regions in disbelief.
I'm pretty tenacious when it comes to the world record attempts I make. There'd have to be a real emergency for me to voluntarily end this journey early. That would not be showing the true spirit of world record breaking, would it?
Stories abound of chastity devices having caused issues for men, although I trust the testimonies of the many men who have joyous recollections of wearing theirs. That's the kind of pleasure I'm seeking too – besides the world record title, of course!
Mind you, I'm sure there have to be easier ways of ensuring that men are well protected when it comes to this subject – has the world forgotten condoms?
So, am I tenacious enough to complete the journey to South Sulawesi with my chastity intact, where I'll be free to seek pleasures after experiencing the pains of my journey? Or will I have an accident and end up having to frantically find someone to cut off the chastity device before an ambulance crew arrives to take me to the nearest hospital?
Find out more about my exploits by following my adventure as it takes place on www.WorldRecordChaseBlog.com, my Twitter account or on my Facebook page.
Become involved - try out the CB-X challenge

If you want to get a real feel for what is involved in this arduous 100th record attempt, why not get your own CB-X Male Chastity device with 10% off for our fans and see how restrained you can be with this device protecting your precious assets.
Alternatively why not see if you can remain chaste, just like me, for the duration of my journey!
Keep watching our blog, as we will be auctioning off the original CB-X Male Chastity device as used for this world record attempt at the end of the journey!
You can bid on the original CB-X Male Chastity device as used in my 100th world record attempt by checking out my items for sale on ebay - the listing runs from 4th February 2015 for 10 days, ending just in time for Valentines as this would make one of the most unusual valentine's gifts!
Become involved - collaborate with us

If this event has captured your imagination, why not consider collaborating with us.
The team at WorldRecordChase.com remains on watch for any suitable world record-related opportunities. This could be to your advantage if you're dabbling with the idea of undertaking a substantial world record challenge. Come and speak to us, while bearing in mind that we prefer to manage large projects which produce riveting publicity.
If you're planning to help a non-profit cause through genuine altruism, be its aims social or environmental, you're likely to have this team right behind you from the outset.
And conversely, if you wish to sponsor a grand world record attempt by WorldRecordChase.com, please make contact and outline your interest.
If you work in the movie industry, why not be the next company to contact us about these TV programme ideas?
And finally, consider becoming Al Galpin's sustaining sponsor. Get your brand into multiple media by associating with a range of world record attempts annually. Distribute your own media releases, and receive product endorsements (subject to authorisations).