Alastair Galpin
took to world record-breaking in 2004 after being inspired by a record-setting rally driver in Kenya. What began as a hobby soon escalated into an active publicity pursuit. Today, he promotes the work of social and environmental causes. For these purposes, the most fitting game plans are chosen; then world titles are attempted and frequently created.

Sustaining sponsor
If you would like regular exposure from Alastair's activities, become his Sustaining Sponsor:
A range of attempts annually
Your brand in multiple media
Distribute your own media releases
Receive product endorsements
More details about sponsorship opportunities
Special thanks
Behind every world record attempt is the expertise of professionals in their field.
Their success underpins Alastair's.
They are listed here
Largest bottle cap sculpture (shared): 19,205 caps

This is the story behind our Guinness World Record™ for the Largest bottle cap sculpture.
As I think of the recent happenings in my world record-breaking life, only three words can describe what we've overcome: a virtual impossibility. I'm mentally drained, physically exhausted and emotionally frayed. But I've got to be ready for media enquiries at any time, so I'll keep going to the very end.

When devising this challenge, I wanted to create a world record attempt which would provide a different mental and physical challenge. After much pondering over various world records, I decided to aim for something that could be unveiled to the world as part of Guinness World Records™ Day on 18th November 2010. A few more sips from my bottle gave me just the inspiration I needed - why not create a sculpture of a rugby ball from bottle caps.


The rugby ball design was reproduced with the consent of Gilbert Rugby, who have been chosen to produce the match balls for the Rugby World Cup 2011 in New Zealand. This is the 5th consecutive world cup for which Gilbert have supplied the official match ball and they have also been appointed for 2015, so it made sense to work with them and their iconic design on this project. Replica match balls are available from Lovell Rugby.

When a bystander for this world record attempt suggested I write a book about the extreme challenges faced from my viewpoint, I decided to pen a list of notable events instead. There is much more. Bear in mind that over a dozen of the negative influences listed below were in full effect continuously, and sometimes up to twenty were bearing down on the project simultaneously.

May I suggest you open a bottle of liquid refreshment, sit back and contemplate what we did – and cultivate a newfound respect for metal bottle caps, like the one on your thirst quencher.

This may help get you in the mood for rugby, but if you really want to get prepared for as much rugby as possible, then why not get a Sky TV sports package in time to watch the sport?

Bear in mind that when I began, I had no transport, no budget, no team, no experience, no resources, no workshop and no venue.

Oh, one more thing… if you see me in the street, the most insulting thing you could do is ask me to solder thousands of bottle caps in celebration of something you've got planned. Rather than bite your head right off and chew you to a pulp, I'll try to smile and reply, "Please contact me when it's done".

To any aspiring challengers, secrets the team learned are available here.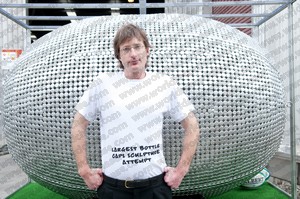 The size of the project can be measured in actual physical characteristics:

Size of finished sculpture: 2.4m long x 1.6m diameter
Cable ties used: approximately 700
Solder joints made by me: approximately 37,000

Ratio of bottle caps prepared to total available: approximately 0.7: 1

Bottle caps prepared but unusable: over 8,000
Bottle caps individually bent or cut before fitting: over 460
Failed gas torches: 4

Butane gas used: 3.3 litres
Socks discarded due to adhering solder: 10
So, what were the challenges that we faced and which could have easily disheartened the team?

Most appropriate project description: "a virtual impossibility"

Under-estimation of project difficulty: severe

Total project duration: 18 months 
Longest individual delay: 3 months

Project duration delay: 350% of expected timeframe 
Tally of receipts/invoices: 168
Industry professionals saying this cannot be done: 5

Greatest potential mistake: warm wooden work surface placed inside upholstery warehouse

Interesting disasters: a project witness drove over 400 soldered bottle caps; these are hidden inside the base

Greatest overall challenge: mathematics

My prior soldering experience: nil

Budget exceeded: yes

Pages of legal contractual text binding project management: 54

Risk of intellectual property lawsuit: moderate
Doors jamming: a vehicle rammed into an industrial roller door, jamming it in the closed position, just before the cabinet arrived
Greatest worry immediately before ball was placed in cabinet: receiving a telephone call to say the ball had been accidentally skewered onto forklift prongs where it was being stored
Occurrences in last 2 hours before professional photo shoot: my ear started bleeding, oily finger prints were left on the smart aluminium frame, the cut false grass mat wrinkled, the faux fur base cover would not fit and had to be part-emptied of beads, rugby balls were dropped which
left black marks, delivery trucks kept needing access through the doorway we were blocking, and it began to rain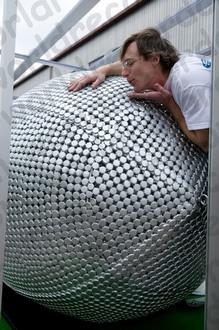 The Health and Safety aspects of this project also deserve a mention.
Minor burns to hands, wrists and legs: innumerable at 200⁰ C

Molten solder burning into flesh: 3 times at 200⁰ C

Molten solder striking face: twice at 200⁰ C

Rubber gloves partially melted onto hand: 1

Clothing caught alight while soldering: twice

Risk of lead poisoning, asthma and infertility: very high

Risk of repetitive strain injury: low to moderate 
Back pain incidents halting work: 4

Most physical pain: 2 hours of industrial cleaning agent burning into bare hand, covered in lesions, because it was too swollen to insert into a glove and time was running out

Cautions about a heart attack: 2

Cases of dermatitis: 1

This also turned out to be somewhat of an international effort, reflecting the true international appeal of both rugby and attempting world records:
International meetings attended: 1

Most distant errand by voluntary messenger: San Francisco region, USA

Legal firms with direct interest: 3

Most pleasant long-distance legal introduction: due to the time difference, I had to ask a British attorney if I could go to bed when introducing myself; she laughed... from the opposite point of the earth.

Most unlikely witness: ex-freedom fighter during Eritrea's war for independence from Ethiopia
Urgent international courier imports: 3
Permission required from offshore business offices: 1
Requests to appear in TV programmes abroad: 1 
Witnesses to vanish as suspected illegal immigrants: 1

Some more interesting facts and figures:
Days engaged on project over 16 hours: 2

Longest continuous maintenance soldering repairs: 25 hours

Doctor's consultations: 1 
Largest cap cleaning failure: 6,000

Concrete mixers used: 2 
Best advice: consider door height when designing display cabinet; use a small local trucking company; discard 3 months' work and start soldering afresh

Worst advice: cap cleaning methods

Incidents of bad advice each necessitating 2+ hours to rectify: over 35

Most useful implement: screwdriver

Least useful item: biscuit baking trays

Dependence on energy stimulants: high towards end of project

Project's main impacts: social and financial 
Passenger train impacts: departed ahead of schedule, so I missed it and the industrial painting operation was upset

Incidences where I challenged drivers and conductors of noticeably late busses/passenger trains who expected full fare: 2

Closest encounter with law enforcement officers: a government search team investigated as bottle caps were being prepared, using powerful spotlights on an amphibious vehicle; the search was conducted from coastal waters and along a beach

Bizarre events seen by team during project: a skateboarder lost control and skated onto a railway track 60m ahead of an approaching passenger train; he jumped onto the platform unharmed. 13:20, 16 October 2010, Sunnyvale train station, Auckland, New Zealand
Purpose-built trailer required: 1

Vehicle breakdowns at critical times: 1
Caps trapped inside by mistake: 1, named Tumbling Tom
Near-fatal pre-completion disasters: when lifting the sculpture off the engineering trolley to place it on the base and cushion, I tripped over a metal bar and the ball nearly went tumbling into a wall (where was the waiting receiver when needed?)
Photo editing: the professional photos taken for global media were prepared during a flight over New Zealand; this required ground-to-air mobile telephone communications and a range of emergency internet access points

Our thanks go to the vast numbers of people involved:
Number of helpers / contributors: over 130

Age range of helpers: 11-86

Estimated total man-hours: 3,600

Primary consultants' expertise: statistician, welder, patent attorney, painter, pharmacist, industrial chemist, colour consultant, health and safety, mechanic, upholsterer, aluminium joiner, graphic designer, public relations, major sports event management, innovation advisor
Hours lost due to witnesses not arriving: 17

Non-delivery by parties relied upon: innumerable

Team member deportation notifications: 1

Frequency of being disappointed by arrangements not kept: higher than for any other world record attempt

Fractured relationships: 3

Friends to disappear during project: 1 in south Asia; the worst suspected

Emotional support from team: excellent

Number of last minute favours: innumerable 
Now, how did we manage the publicity around the unveiling of this world record attempt and manage to keep it out of the press before the official launch date?
Most repeat product requests from one sponsor: 6

Businesses offering product to gain greater exposure: 1 
Businesses to decline this publicity opportunity: 15
Conflict of interest incidences: 1

Slow internet resulting in missed opportunities: 2

Large publicity deadlines missed: 1

Sponsors gone bankrupt during project: 1
Licensing agreements: Gilbert Rugby offered a license to use their trademarks just 82 hours before photos went worldwide. Immediately prior to this, the media material had been rewritten - following an emergency plan - to launch the sculpture as an Unidentified Mobile Object.

It should also be noted that the work connected to a world record is never complete quite as you would expect. Alongside all of the paperwork which has to be completed in order to verify the record attempt and obtain ratification from Guinness World Records™, there is all of the surrounding international media interest to deal with.
Technology is a god-send, but it can also lead to further unforeseen issues. For example, having submitted a press release about the project to various agencies, I ended up receiving 7,138 duplicate replies from 2 emails addresses over 24 hours; calls to the USA and Europe were necessary to stop it because these emails bypassed electronic filters! Oh the joys of spam.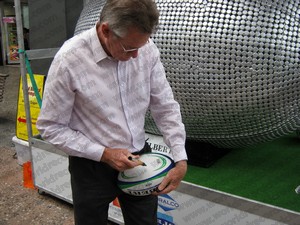 Finally, just a brief summary of how the project has been received:
Interested parties angry that the bottle cap sculpture is not free to use: 34
Critics with 'expert' advice in arrears: innumerable
Largest and most extensive media attracted: coverage in the USA

This project was so stressful for many involved, that my core team even began to distance themselves from commitment toward the final stages. If a journalist or interviewer reads the above and asks me if I'll do this again, expect me to think their intellect is faulty – and to respond by saying so.


The New Zealand sports star, Sir John Walker, cut the ribbon at the sculpture's first display at the Botany Town Centre in Auckland. He was also kind enough to sign one of the Gilbert rugby balls. Sir John Walker is well known as a former middle distance runner, and is best known for setting his own Guinness World Record™ in August 1975 by being the first person to run the mile in under 3 minutes 50 seconds. During his sporting career, he also held other world records, breaking those for running 1500 metres (indoors) and 2000 metres.
Since then, it has been wonderful to see this reasonably well-travelled massive bottle cap sculpture come to its final resting place. It is on display at the correct angle for kick off, where it greets visitors to the  New Zealand Rugby Museum. No display venue could be more appropriate for a world record sculpture about a sport which has claimed so many sporting world records around the earth.

With great joy, I take pride in knowing my work has landed in a museum of great international stature in the name of rugby, alongside items from the renowned All Blacks. Of all that the 'ABs' are recognised for, the global sporting community – including All Black traditional rivals, the Springboks and Wallabies - knows this team's haka from the Bledisloe Cup and Tri Nations.

And now my work is amongst the very museum dedicated to these icons in New Zealand rugby, including contemporary favourites Sonny Bill Williams, Jonah Lomu, Richie McCaw and Dan Carter, as well as the sensational Colin Meads.

Could these have become some of the most famous 19,205 metal bottle caps in the world of rugby? Quite possibly yes, with a huge thanks to the wonderful people at Juralco Aluminium Building Products Ltd and www.bkwsu.org.

In addition, excellent contributions came from Resene Automotive, Woods, Chemetall Tergo, Output Images, RJG Carriers Ltd, McDonald's Point Chevalier, Carlton Rhodes, RS Components Limited, Mackenzie Lacquering & Powder Coating 2004 Ltd, GF Appliances and Auram Engineering Ltd.