Alastair Galpin
took to world record-breaking in 2004 after being inspired by a record-setting rally driver in Kenya. What began as a hobby soon escalated into an active publicity pursuit. Today, he promotes the work of social and environmental causes. For these purposes, the most fitting game plans are chosen; then world titles are attempted and frequently created.

Good cause of the month

Elephants For Africa, Botswana, is dedicated to elephant conservation through research and education.
Sustaining sponsor
If you would like regular exposure from Alastair's activities, become his Sustaining Sponsor:
A range of attempts annually
Your brand in multiple media
Distribute your own media releases
Receive product endorsements
More details about sponsorship opportunities
Special thanks
Behind every world record attempt is the expertise of professionals in their field.
Their success underpins Alastair's.
They are listed here
How To Be A Successful Record Breaker
Your Opinion?
There seem to be plenty of folk who really want to know this, because I keep getting asked. I could write a compact step-by-step booklet with plenty of visuals, that would include:
Secrets which took me to #2 worldwide during the previous decade
Brainstorming, finding the right team, and gathering media interest
Tips to get active support from people who wouldn't otherwise get involved
Fast clever ways to analyse the benefits associated with potential records
Optimal balances between fun and commitment, useful milestone indicators and more...
The booklet would be download-able for a small payment.
Would you be a potential customer? Email me!
Filmmakers' saying
You can have it cheap, fast or good. Pick two...
– It can be cheap and fast, but it won't be good.
– It can be cheap and good, but it won't be fast.
– It can be good and fast, but it won't be cheap.
Chasing world records
The story of my world record-breaking can be traced back to when I – an unemployed South African college graduate in the country's fledgling democracy at the time, set out on an epic journey through 29 states. It was during these vagabond years that I met a record-setting rally driver who ignited my passion for what I love the most: world records. To read about this special journey, see the Sales Query letter for my book's manuscript, Hitchhiker's Luck: Reward for Perseverance, currently awaiting a publisher.
Some people look down on others who are attempting to set and break world records which are outside the normal field of sport. As a result, it is often the more weird and wonderful challenges which attract the greatest media attention. That said, television programmes such as "Totally Bonkers Guinness World Records" shown on mainstream TV in the UK can be an entertaining method of getting a message across whilst reflecting on some of the weird and wonderful things that people will do.
I am not immune to the odd comment, but don't look on these as disheartening. These actually inspire me to achieve better, in the knowledge that people pay attention to what I do.
These days, it is a pleasure to be involved with expansive thinkers and practical doers at Guinness World Records™, the Book of Alternative Records and Record Holders' Republic.
Associating personal and group events with achievement-monitoring systems such as these brings a whole new meaning to success. I can measure my actions against standards set by others from across the earth – an invaluable tool in the planning and evaluation of world record-breaking events.
My first contact with Guinness World Records™ was in the late 1990s. Over the years, I have drawn ever-closer, ceaselessly attracted by their dynamism. My relationships with the Book of Alternative Records and Record Holders' Republic have developed since 2006. I've been pleased to deal with these organisations for challenges of deep value to me personally. All this means much of my life is determined by decisions made in Britain, Germany and the USA, where these world record systems are based.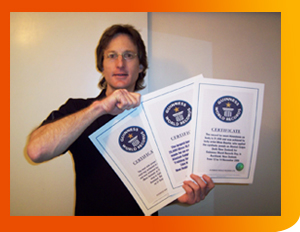 The exhilaration of first seeing a new world record certificate, acknowledging anything from days to years of work, simply cannot be beaten.
From time to time, there are paying opportunities for a child to become engaged with my activities. Each is best suited to one young person who is equally as enthusiastic about record-breaking.
The child may be a high achiever, or perhaps disadvantaged. In both cases, parental/guardian input will be valued. Over a set period – ideally the latter half of the year, I'll involve them in a range of world record and associated activities as is possible at the time. This typically includes brainstorming and planning, before managing and participating in the events created.
The child will learn how these come about. They may see planning failures; they'll be there during my highs... as well as my lows. And they will discover that breaking world records is just the tip of a larger management exercise. Please contact me if this is of interest to you.
The stories behind my success
My ultimate tip
We all dream. Most of us make plans. Some people go into detailed plans, calculations and risk analyses. There's a lot that we can do when a bright idea strikes us like lightning, whether for a world record attempt or otherwise.
But one thing could soon become missing. Although it's possibly the most obvious step, it is often overlooked. And in a lot of cases – in my own work too – it just doesn't happen.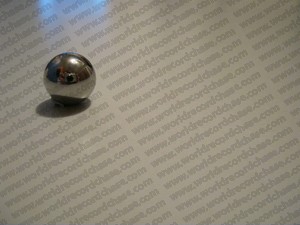 That's it: after copious amounts of planning, the event in the crosshairs just does not take place. So what was all that studious effort done for? I know what that preparatory work was done for. And here's the ultimate tip I've found to encourage others as well as myself.
The hardest thing, quite often, is simply to get going.
Like a steel ball set rolling across a smooth and perfectly level surface, once the momentum is there, the ball keeps advancing. You've seen that, haven't you? Or, at least, you can imagine the process: place the ball at one end of the floor, transfer enough energy to the ball so that it begins to roll, and then stand back and let the ball lead the way.
This makes sense, and it's what I believe world record breakers should apply to their efforts. Drive the work hard to start off with, and then let the heavy ball free to drive itself.
As you've surely been thinking while reading this metaphor, the hardest thing, most commonly, is simply to get going.
So, get your world record project going. And then, with good fortune, watch it pull itself forward.
Television programme ideas
We have experience of working with television production teams from around the world - can we help you?

If you are a TV talent scout or production team looking for new television programmes, we have some great ideas as to how the exciting world of records can be used to create a TV programme which adds a new twist to teaching maths, sciences and even politics.
We can also work with potential advertisers to create challenges based around specific products - which are ideal for product launches, or companies looking to break into new markets. For example, see how successful the world record for blowing a Malteser the furthest distance with a straw has proved (encouraging lots of others to buy the product just to try to beat the record).
Before you contact me
For those interested in world record attempts, please ensure you:
are able to commit man-hours
have allocated an appropriate budget
understand that world record systems' legal and performance criteria must be met
have a sufficient and reasonable time frame
have a venue potentially available
have appropriate insurances
accept that many, but not all, attempts succeed
are prepared to share exposure with sponsors
understand that levels of media coverage can vary a lot, despite good planning
I look forward to hearing from you!