Alastair Galpin
took to world record-breaking in 2004 after being inspired by a record-setting rally driver in Kenya. What began as a hobby soon escalated into an active publicity pursuit. Today, he promotes the work of social and environmental causes. For these purposes, the most fitting game plans are chosen; then world titles are attempted and frequently created.
Sustaining sponsor
If you would like regular exposure from Alastair's activities, become his Sustaining Sponsor:
A range of attempts annually
Your brand in multiple media
Distribute your own media releases
Receive product endorsements
How To Be A Successful Record-Breaker
Your Opinion?
There seem to be plenty of folk who really want to know this, because I keep getting asked. I could write a compact step-by-step booklet with plenty of visuals, that would include:
Secrets which took me to #2 worldwide during the previous decade
Brainstorming, finding the right team, and gathering media interest
Tips to get active support from people who wouldn't otherwise get involved
Fast clever ways to analyse the benefits associated with potential records
Optimal balances between fun and commitment, useful milestone indicators and more...
The booklet would be download-able for a small payment.
Would you be a potential customer? Email me!
Filmmakers' saying
You can have it cheap, fast or good. Pick two...
– It can be cheap and fast, but it won't be good.
– It can be cheap and good, but it won't be fast.
– It can be good and fast, but it won't be cheap.
Special thanks
Behind every world record attempt
is the expertise of professionals in their field.
Their success underpins mine.
They are listed here
Just another banana skin on the road to world record success
Please note: neither Alastair Galpin nor WorldRecordChase.com will be responsible for any actions whatsoever undertaken by any person as a result of visiting this website. If you intend to attempt to emulate any of Alastair's world record attempts, always seek expert advice.


If you would like to help sponsor me to enable me to make further record attempts, please visit my sponsorship page.


Anyone who is a fan of Tom and Jerry™ will know just how easy it is, when racing to achieve anything, for someone to throw a banana skin on the floor and for that to ruin everything.
Well, breaking world records is not just about facing up to a challenge and achieving your best. Despite all the training, commitment and planning, there is always someone or something just waiting - holding that banana skin in front of you. Sometimes you also have to accept negative comments, but the odd things people say at the most inappropriate times can sometimes inspire you on to bigger and better things too.
These are brief stories of how some of my world record attempts have not quite turned out the way I envisaged. Nevertheless, as they say, it's better to try and fail than not to try at all. Don't you agree?

When a person sets out on a life-long journey they've dreamed of, things can be tough. This is especially so if your dreams are of the pioneering sort. If you can overcome big obstacles early on, you'll learn ways of succeeding - I did. Here's the audio story of my first attempt at running a public event. I've come a long way since. These days, I'm claiming world record after record. Get in touch to plan a project.
Some of my failures leave me with no choice but to make fun of myself – and I don't mind if you do that too!
Watch your step!
How paper can have the qualities of banana skin
Here's another fail. The event might have looked intriguing on paper, but with all my experience of compiling the mountains of paperwork needed to verify a world record attempt, little did I know that it was the paper that would have me beat!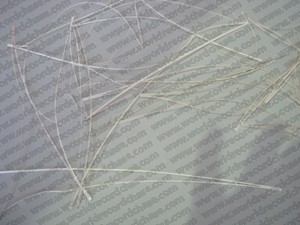 This time, I put a lot of effort into the event, so my disappointment was equally as great. Never before have I been determined to hunt for paper that's tear-proof. I've also not spent most of a day cutting a sheet of paper into a 50-metre long strip, thereby giving myself bloodshot eyes from concentrating too hard without a break. Even those watching commented on how boring this attempt looked!
Once I'd done all this, something serious went awry with my witnesses. Simple problems led onto others, but when one witness had to leave the country unexpectedly, my record attempt was doomed. There was nobody to verify what I'd done. Sadness set in. Today, all I have is the memory of cutting paper monotonously for hours and hours.
So, what have I learnt?
I ought to listen to my inner voice next time it tells me something's not right with the way I've set up an attempt. Hopefully that'll prevent another such disaster.
In the meantime though, I keep setting my sights on world record after world record into the future.


---
Toothpicks don't like being rotated!
When I heard that a man in Europe could rotate 35 toothpicks in his mouth using only his tongue, I fancied trying the same. I had 38 and never thought a banana skin could get in the way.
Near one of New Zealand's northern beaches, I dipped all the chosen toothpicks in food colouring on one end, so it would be clear whether I'd actually rotated them using only my tongue.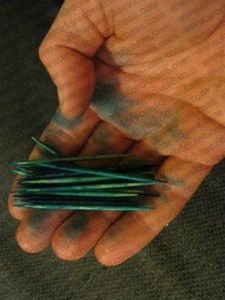 I inserted the 38 wooden sticks, closed my mouth and began twirling my tongue to manoeuvre them. I was so overwhelmed by the pain of 76 sharp ends – to the front, back, cheeks and roof of my mouth simultaneously, I lost track of what I was doing. That was the banana skin just waiting for me to slip…
When I was utterly sure I'd rotated all the toothpicks 360 degrees, I pulled them out slowly. I thought I'd been successful – but the video evidence proved me wrong.
At the finish, the coloured ends of the spiky toothpicks were in the opposite position to when they'd gone into my mouth. I'd only spun them 180 degrees. My attempt was invalid.
So, what have I learnt?
I was concentrating on the pain so much, I forgot about those inevitable banana skins which like getting in the way. So perhaps trying to injure my mouth while keeping track of the 360 degree spin I set out to achieve is not such a good idea after all!


---
Banana skins on the trampoline!
They just never seem to leave me alone, these banana skins. This time, I was trampoline-mad. When I rounded the corner at my friends' place and saw it, all I wanted was to bounce. And bounce. And keep on bouncing, because it was a great feeling. But within seconds, I'd slipped onto the heavy metal frame. Oops. My first banana skin had appeared.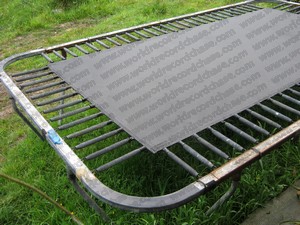 So I raced off to ask for a helmet; there's no point in a world record breaker with a bashed up head, is there? Now that I was well protected, I bounced until my lungs were burning. It was so good. Mind you, there were a few rules for the world record I was attempting: the most seat drops in a minute. I had to sit, stand, sit… Inside my helmet, my head was safe and I was full of energy.
Bounce after sit and bounce after sit, I continued practising my record until I thought I'd snatch the title in an instant. Wrong! Unbeknown to me, my legs weren't straightening out each time I stood upright to repeat the manoeuvre with gusto. When I submitted my claim to the judges, I got the biggest bounce of all: fail!
So, what have I learnt?
When I become so focused on a world record attempt that I forget things, I don't succeed. I should have prepared far more for this. But I'd also better open my eyes next time to avoid unwelcome banana skins!


---
Instead of slippery, why not try something sticky?
Post-it™ notes are well known the world over for being a useful bit of paper you can stick anywhere as an aide-memoire. So when looking at the collection on my desk while thinking of future world record attempts, I thought, why not try the world record for the most valuable Post-it™ note?
No bananas in sight when I set out on this record attempt.
It was going to be in aid of charity. An outstanding New Zealand artist was drew of simple scene on the square note of paper. We just needed some celebrities to add their signatures to the remaining blank spaces.
A mayor, politicians and entertainers all provided local interest and soon provided their inky autographs. We even persuaded a senior staff member at Weta (the workshop behind designs, props and costumes for some of the world's leading movies, such as District 9 and Lord of the Rings) to add their name.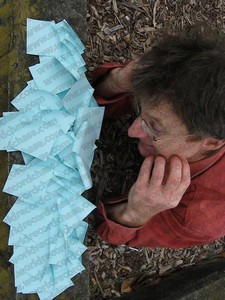 A very successful New Zealand based auction website, Trade Me, agreed to waive all fees and auction the unique Post-it™ note on behalf of the charity. We publicised the auction as best we could, with mentions in local media.
I was all set – walking along, head in the clouds, certain that this was going to be another great world record.
Then, someone dropped a banana skin, and in true tradition, we ended up being brought down to earth with a hefty bump.
The auction failed to attract a high enough bid to beat the existing world record of several hundred US dollars.
So, what have I learnt?
Maybe the colour should have been a warning sign… Even unique Post-it™ notes eventually lose their stickiness and fall off the notice board. Maybe thinking the whole country would grind to a halt and be gripped in fever over a small piece of paper, just so I'd be satisfied and gain a new world record, was too much to expect! Oh well, with a bigger piece of paper, a bigger drawing and who knows what we might achieve!
---
CDs and obstacles
Sure, CDs are something of the past for much of the modern world. But let me assure you, they still have their uses! And that use is being stacked up on my finger, with the intention of securing me another world record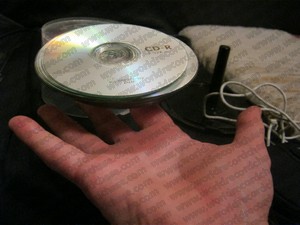 Well, that was the plan at any rate. And then my dread of banana skins took hold, for this event failed without my even knowing it. Those skins are ever-present when one wants to succeed, aren't they?
In a friend's lounge, I packed one CD on top of the next, all on my finger tip, only to have them topple onto the cushions repeatedly. But I'm not one for giving up easily, so I kept trying. And with the witnesses guiding my free hand, I managed to stack almost 50 CDs on one finger in several minutes. It was great to be able to stack them so high.
But my enthusiasm for CD-stacking soon waned when I got the official results. I'd not followed all the rules by allowing the witnesses to point out which CD to pick next. Oh no. that cost me my world record attempt. It's those banana skins all over again...
So, what have I learnt?
As they say, when all else fails, read the instructions. In this case, I should have been more reserved in my approach to the rules, and I'll remember than for next time. So, to you banana skins out there, hopefully I'll not succumb to your tricks next time around!
---
Hunger can lead to some very odd world record attempts
Like so many other people, I enjoy the odd hot-cross bun. No bananas needed for the mixture, so why not try for the world record for the largest hot-cross bun?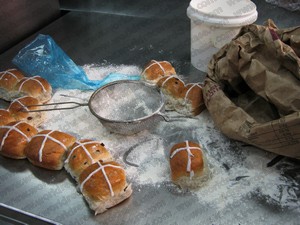 The recipe seemed fairly simple and was well established. Flour, salt, mixed spice, butter, lemon, yeast, eggs, milk, dried fruit and vegetable oil. All we needed was to toss in some of New Zealand's top chefs, and a local pottery to provide a big enough oven, and bake a 120-kg dough.
Following the preparation and mixing, the baking - which was scheduled to continue through the night - started well. I drifted off to sleep, dreaming of breaking another world record.
Then, how did that banana skin get into my dream – I sure as hell didn't intend it to be there, but someone just had to toss it in on the way…..
It was the head chef, shaking my shoulder to wake me up – hardly after midnight. The bun wasn't even half-cooked by then, so why couldn't he leave me alone, rather than changing that next world record certificate that someone was handing me in my dreams, into a great yellow slippery fruit?
"Alastair, I'm sorry to wake you, but the kiln is just not heating up fast enough….."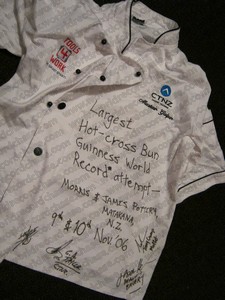 Snapping quickly back to reality – the chefs opened the kiln door to peep on progress. Instead of resembling a half-baked hot-cross bun, it looked more like Mount St Helens – it had literally exploded!
I was keen to abandon the attempt, but kept going for the sake of those involved. We even got plenty of media attention – which heralded it as a "hot-cross bomb".
So, what have I learnt?
No matter how tried and tested a recipe may be, once you increase the quantities by a hundred-fold, someone has to remember to light the oven a lot earlier than normal! Mental note to self: remember that dried fruit may just contain banana skins. I may think I can bake buns, but my bomb production success rate is 100% effective (so long as you are looking to cover everyone in dough). Maybe I should be hosting a TV show on nightmares from my kitchen.
---
Let me recycle marshmallows as building blocks
This was most certainly a banana skin in the works. Firstly, marshmallows were never designed as building blocks. Secondly, I should have pondered the rules thoughtfully before I made this attempt.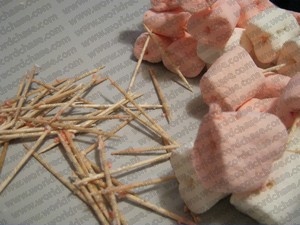 The rules stated that I could use cocktail sticks and marshmallows to build the tallest tower of sweets in 30 seconds. It sounded easy.
I connected sticks and marshmallows as fast as possible, constructing an unstable tower almost a foot high. But it didn't stand up to the last of the rules: it had to remain in place, unsupported, for at least 5 seconds before collapsing.
That was too much to ask of my speedily built tower. As the marshmallows puffed up from being squashed, the tower began to lean and quickly toppled. So I retried.
Little did I know I was not following the rules the next time, which said no marshmallows could be modified. To me, that meant I may not have used glue or weights. Believing I knew what I was doing, I get straight to the action, and my tower stood for the required 5 seconds.
I was pleased, until I got the results. That's right – by using the marshmallows with holes in them from my previous attempt, I had used modified marshmallows. My attempt was rejected.
So, what have I learnt?
Following rules brings rewards, or at least means avoiding the consequences of not doing so. I'd better avoid those banana skins which lurk in the form of rules, which are always to be obeyed.
---
Stacking cups mightn't be such a good idea
I repeatedly came within 0.3 seconds of beating my competitor at the fastest time to construct a pyramid of cups, but couldn't get it. In this case, the banana skins were indeed tiny. Since plastic heralds the oil industry's litter output to many, if I could get this world record, I could link it to awareness about recycling. But to get there I had to stamp 0.3 seconds off my best time.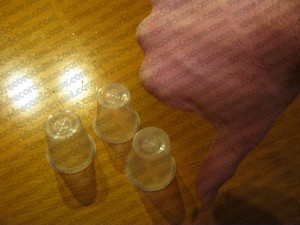 It took me 11 hours of laying out the cups, showing my actions to the video camera, stacking them, and checking my speed. I did this until I started to feel physically sick. But the lure of getting the record was spurring me on.
Ignoring my feeling of nausea, I continued laying out the 21 cups and attempting to stack them as fast as possible. My best speed remained insufficient. Thoughts of defeat flared up within me. I kept at it until I sensed I was burning out.
Only then did I surrender and put the plastic cups in the recycling bin – where all used plastic should go.
So, what have I learnt?
They say never give up and one will succeed. But I also believe there are times to move on after considerable effort, and this was one good example of the latter. I call it a banana skin moment.


---
Who would believe a banana skin would get in the way of a kiss?
Who doesn't enjoy a kiss? But I would understand if you objected to the kind of kissing I recently tried.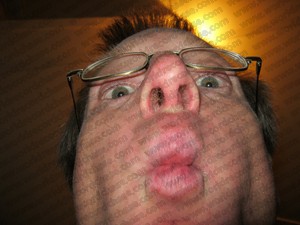 The world record rules seemed, at first, to be straightforward for the fastest time to kiss someone on the cheeks as many times as possible. So I rubbed my chin for a moment while thinking of whom I could kiss a few hundred times.
Call her wise or otherwise, a friend I contacted was eager. I was confident no banana skins were lurking anywhere. We arranged to meet and I began kissing her cheeks as quickly as I was able to. It took me under 9 minutes to kiss my friend's cheeks 670 times and analyse how we could improve on the score!
Practising went well, and we were both sure this would be an easy world record to succeed at. But, unbeknown to us, we were slipping on banana skins – we'd overstepped the rules in all our serious attempts: my lips were landing too close to the corners of her mouth each time; hundreds of times.
I didn't know this until I received a reply from the world record judges. Then it became clear to me. My submission was unsuccessful.
So, what have I learnt?
There must be ways to kiss cheeks at speed, and I need to learn from someone experienced. Mental note to self: make more friends who're willing to be test-kissed for world record attempts. Next time I'll need to be more aware of the potential banana skins lurking…
---
Why not let something more sure-footed try to avoid the peel?
As I have shown my inability to walk the long road to world record success without slipping on a few bits of peel along the way, I thought my next world record attempt was a certain winner.
Surely, by finding a well-trained dog to attempt the longest dog tunnel – with four paws, rather than my two feet - we had more chance of not slipping?
I'd chosen a school to host this charity event. The Auckland Council worked swiftly to issue me with all the required permits on short notice while I invested much effort in finding suitably trained dogs.
After consultation, a frisky black and white canine was chosen from a local dog club. Teachers lined up hundreds of pupils outside the front of their school, to form a human tunnel for the dog to pass through. The long line kept close to a conveniently situated tall stone wall running the length of that pavement section.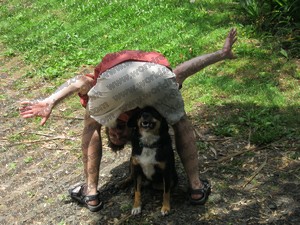 Then for the attempt. Responding to its owner's command, the dog did extremely well amongst all those legs and ran along the tunnel.
But then, I learned that even dogs are prone to the odd banana skin…
The dog stopped briefly, once. This meant the attempt was disqualified. I and the dog's owner were disappointed. At least the school children had enjoyed the activities and break from the classroom.
So, what have I learnt?
Beating world records is about recognising the fun element of taking part, even if the attempt is unsuccessful. However, dragging a whole school away from their educational lessons to participate in a public failure just because I thought it might be enjoyable may not be the best idea.
What is it they say about working with animals and children?


---
Instead of slipping on banana skins, why not make them part of a world record?
All these attempts have taught me to be fearful of banana skins being dropped in my path. So why oh why did I think the best solution was to attempt a world record for the most bananas snapped in a minute?
Snapping the yellow and green fruit became a daily chore for me. This was the way to tackle an issue which was haunting me – show who's boss.
I erected a make-shift table under my garden trees and cut thin logs to resemble large bananas for practising. The wooden pieces made a great noise as they struck the side wall of my house.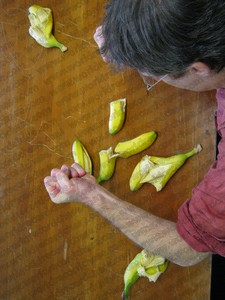 After weeks of this routine practising over and over, I was flown halfway across New Zealand for a very popular programme which TVNZ aimed at viewers of all ages. I knew my success would depend heavily on the ripeness and firmness of the donated bananas awaiting my arrival.
Bananas, live TV and an audience – what more could I ask for (or rather what greater warnings could I have had)?
Once in the studio, I was under pressure to lay out the fruit in time for my slot. Then on live TV, with the cameras watching my every move and a stopwatch at the ready, I launched into action, snapping the bananas. But, my hands tired more quickly than I'd anticipated, slowing me down. Time itself seemed to slow as I struggled to make my body work faster.
Then, "stop!" - the signal for 60 seconds was given – I was an instant self-made banana-snapping failure – all I could do was gaze straight into a TV camera as viewers across the nation stared at me.
So, what have I learnt?
Bananas are made for eating – not for stunts, snapping or slipping. The attempt may have been amusing to watch, but it also showed I can't quite exist without my incompletely evolved personality coming through. Yes, I admit it, I am part-ape!