Alastair Galpin
took to world record-breaking in 2004 after being inspired by a record-setting rally driver in Kenya. What began as a hobby soon escalated into an active publicity pursuit. Today, he promotes the work of social and environmental causes. For these purposes, the most fitting game plans are chosen; then world titles are attempted and frequently created.

Sustaining sponsor
If you would like regular exposure from Alastair's activities, become his Sustaining Sponsor:
A range of attempts annually
Your brand in multiple media
Distribute your own media releases
Receive product endorsements
More details about sponsorship opportunities
Special thanks
Behind every world record attempt is the expertise of professionals in their field.
Their success underpins Alastair's.
They are listed here
Furthest distance to blow a Malteser with a straw: 11 metres 29.5cm

This is the story behind my Guinness World Record™ for the Furthest distance to blow a Malteser with a straw.
An opportunity had arisen for me to attempt one more world record. I know that you're aware that I was mad keen from the minute this chance came to my notice. In fact, just the thought of a world record attempt was enough to get me hyperactive; so hyper in fact, that friends were pleading with me to calm down. But, when one is overly excited, that's the last thing you want to hear. I'd made up my mind and nothing was going to stop me.

But wait! I persuaded myself. I had to think of some world records to attempt, otherwise I couldn't take this opportunity, and that would spell the end of existence for me. Right. I sat down to think over copious amounts of tea. Should I eat, drink, spit, flick, push, roll, cut, hit, flatten, blow... Ah, blow. Yes, I felt like blowing something that would be of great entertainment value. Then the next question popped into my head: what would I blow? I began the thought process all over again. Then, as if struck by a bolt of lightning, the answer came to me with brilliant clarity. I'd blow a Malteser. And I'd feed my team a reward they deserved with those remaining in the packet. What a well thought out plan, I congratulated myself.

Like an excited child, I dropped all my work and sped into the nearest shop. At the chocolate isle, I was confused for a second by the array of sweet treats. But then no more; I found just the goodies - I knew the ones to choose were Maltesers because nothing else would do, being light and manufactured by Mars, as well as fitting in with their advertising campaign ('the lighter way to enjoy chocolate'), so I snatched the packet and speed-walked to the counter. I couldn't wait to rip this pack open and, rather than eat any, begin blowing them away. It was going to be sheer delight.

WIth maltesers having first been created in 1936 by Forrest E. Mars and over 10 billion maltesers made a year, I knew that this was going to be a good idea, but there was probably already stiff competition, because of them being so light that they float on water. Mind you, with the original idea for maltesers being a fun chocolate ball, with the taste of malted milk, how could I resist. I just had to try a malteser and see how far I would be able to blow it.

I found out what the current world record was and gulped. This looked tough. Could I do that? If I couldn't, I'd feel like an abject failure. There was only one way: to get out there and do it. Virtually sweating in a self-inflicted panic over the stress of perhaps not succeeding, I bolted to the phone. From my desk, I called so many people I became dizzy. But for a reason I can't understand, no company seemed as excited about blowing a chocolate as me. What's wrong with these people, I wondered.

It was time for a new plan. I knew someone working at the local train station, which happened to be the biggest one in New Zealand. Picturing its layout in my mind, I wondered if I could make my attempt there. One phone call later, I had a venue.

Weeks later, proudly clutching my bag with the Maltesers in it, I marched into the train station. I had arrived to show everyone how skilled I was at the important task of bowing chocolates. I pulled out a straw that I was terribly proud of. That straw, I have to say, cost me a lot of time. I'd peered over restaurant reception counters, across fast food serving counters, and inspected supermarket shelves packed with straws for sale in my efforts to locate the perfect one. As always, people thought I had escaped from an asylum, but I'd developed a rather dismissive attitude to those types. I'd had to – how else could one live by the world record? By persevering, I found the best straw, and only that would be good enough for the chocolates I was guarding. Well, I smiled at my helpers, the Malteser blower has arrived at the train station.

I did some chest exercises to increase my lung capacity as an uninvited audience gathered. By then, I was concentrating on what I needed to achieve, not what the spectators were doing. But I did detect blank stares facing my way. I tried hard to ignore them. Soon I was ready and my team positioned themselves.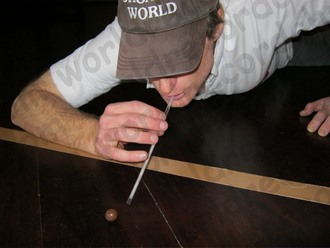 The Malteser lay on the floor ahead of me. Instinctively I wanted to raise it to my lips and savour its delicious creamy taste, just as I'd do at the chocolate tasting club, but I knew that self-control was all-important now. I held the straw in my mouth. I knelt, then fell prostrate. At that angle, looking forward I could see so much dirt on the floor it was blocking my view: bread crumbs, dust, tiny bits of grit and whatever else the sweeper would scoop up on their next cleaning round. My aim, though, was to blow my cute little Malteser through all this fallen matter and far, far away. I inhaled for the last time and held my breath.

With a whoosh and a splatter of saliva landing in an arc to the front of the straw, the Malteser was on its way at break-neck speed. It bounced and rolled, bobbled and tumbled into what seemed like the distance to me from where I was lying so low. I flipped my body onto my feet and walked briskly over to join my team who were pacing alongside the advancing chocolate. With no notice, it swerved and smacked into a support pillar, then bounced off and zigzagged to a standstill. I picked it up and returned to where I'd blown it. Developing full lung capacity a second time, I blew the same Malteser again. This time, it hit a bench where train passengers had sat to watch the public TV.

Nobody wanted to eat that little fellow so I did, dust, grit and all. Thank goodness the chocolate melted in my mouth like a dream and that's all I tasted. No time to get slack, though! I breathed in again and fell to the floor with my straw and another Malteser. This time, I was in for a pleasant surprise. The Malteser flew across the floor like a bullet. I almost yelled out, "Stop. You're going too far!" Instead, I bit my tongue and watched as the tiny thing raced its way to where it gradually slowed. There, having lost momentum, its course veered left. The Malteser came to rest in the most inconvenient place – under the seated buttocks of a beautiful young woman enjoying coffee with a colleague. Hmmm. They giggled. We laughed.

Before an awkward silence set in, I grabbed the tape measure and got to work. Unexpectedly, I needed to measure two sides of a triangle, since a structural pillar was blocking our direct line of sight. Later, I'd have to calculate the length of the straight line. My helpers were surprised; this chocolate had rolled a lot further than we'd presumed it would. With the admin over and done with, it was time to leave – and share the packet of remaining Maltesers.

This world record went on to appear in global entertainment news in several languages. It was picked up by one of the foremost photo agencies in Europe, and the story was duplicated in more newspapers than I could possibly keep count of.