Alastair Galpin
took to world record-breaking in 2004 after being inspired by a record-setting rally driver in Kenya. What began as a hobby soon escalated into an active publicity pursuit. Today, he promotes the work of social and environmental causes. For these purposes, the most fitting game plans are chosen; then world titles are attempted and frequently created.
Good cause of the month

Elephants For Africa, Botswana, is dedicated to elephant conservation through research and education.
Sustaining sponsor
If you would like regular exposure from Alastair's activities, become his Sustaining Sponsor:
A range of attempts annually
Your brand in multiple media
Distribute your own media releases
Receive product endorsements
More details about sponsorship opportunities
Special thanks
Behind every world record attempt is the expertise of professionals in their field.
Their success underpins Alastair's.
They are listed here
For hire / licensing
WorldRecordChase.com is left with equipment and other interesting things after attempting world records. Make contact to hire or license items, so long as they are returned, where appropriate.
Rates are negotiable.

---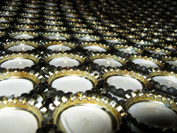 Pattern your bottle cap sculpture.
Save your team months of research & development by licensing this 26-step patterning plan. A list of tools is included, plus tricks we discovered. If your bottle cap sculpture includes curves, this plan should save you time & cost. The methodology can assist projects using a range of adhesion methods, including solder, by supplying a method of affixing your caps into the correct patterns.

---

Photographs of world records for licensing.

No journalist's article would be complete without at least one great photo.
To capture readers' imaginations, license your high resolution professionally taken shots here. There's everything from self-explanatory to blatantly ridiculous. The memories are lasting, and you can share these bygone days with your audiences.


My world records gain wide media exposure, and are frequently covered by journalists. Photos can be licensed for a single article or for a series, linked to either the world records themselves or for a wide variety of other applications.