Alastair Galpin
took to world record-breaking in 2004 after being inspired by a record-setting rally driver in Kenya. What began as a hobby soon escalated into an active publicity pursuit. Today, he promotes the work of social and environmental causes. For these purposes, the most fitting game plans are chosen; then world titles are attempted and frequently created.

Sustaining sponsor
If you would like regular exposure from Alastair's activities, become his Sustaining Sponsor:
A range of attempts annually
Your brand in multiple media
Distribute your own media releases
Receive product endorsements
More details about sponsorship opportunities
Special thanks
Behind every world record attempt is the expertise of professionals in their field.
Their success underpins Alastair's.
They are listed here
Most hugs in one hour: 624

This is the story behind my Guinness World Record™ for the Most hugs in one hour.
Are you a 'clingy' person who likes hugs? I'm not. But I am prepared to be, if it means another world record attempt. So I agreed to try beating the world record for hugging stranger after stranger in New Zealand's capital city.

Normally I organise, act in and shut down my own events. But this time I was lucky. A television station did much of the arranging for me. I flew into the city the morning of the attempt, and was driven straight to the city square. The New Zealand Fire Service was present in the near-empty public area, ready to act as witnesses. TV camera crews and journalists were wandering around, waiting – I presumed, for me to do something newsworthy. Well, they didn't have long to wait.

More journalists came as the agreed time to begin got closer. Pedestrians started drifting in, hearing radio station announcements. Next, as a wildly colourful winding line of jerseys, scarves, jackets, caps, trousers, dresses, handbags, shirts, shoes and shopping bags assembled, there I was - cornered: facing them all and about to hug each one.

I could hardly concentrate on the popular TV presenter questioning me, live, with all the concerns flying though my mind. Would these people all follow the rules? Would they all give me a great bear hug with both arms? Would they each hug me only once? Sign the logbook...? It was too much to think about right then; we'd done as much planning as we could have. Now it was time for action.

The countdown reached zero and the first excitable hugger surged toward me, smiling broadly with arms spread wide. We gripped each other for a second like long-lost friends reuniting. Then she was gone, knocking my chin with her elbow as she sped towards the awaiting logbook. The TV presenter and two witnesses shouted "one!" I raised my arms once more to be embraced tightly and seemingly instantaneously by the next eager hugger. I felt the breath forced out of my lungs. "Two!" the voices called out, setting the pace. Again, the hugger vanished before I could remember much about them. "Three! Four! Five!" the assistants and TV presenter called out as the process repeated itself seemingly endlessly.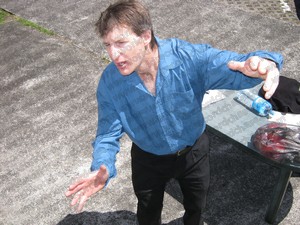 To the spectators, media and huggers, all seemed well. But little did they know my trousers kept creeping down. I was mindful of this, but with both arms squeezing bodies constantly, there wasn't much I could do apart from flick my hips gently. The cycle of hug-release-instruct-invite the next hugger was set. But not for long. I got through several hundred hugs, and then the line began to shorten. All the time, people were running out of offices, across the plaza, and over the surrounding roads for their free hug. But I was going faster than the city's crowds were flowing in. The first lull occurred, then the second and third. At one point, I was yelling out to everyone – street cleaners, government officials and the homeless – to join the tally. We couldn't fail this world record attempt for lack of a few hugs!

Several passers-by trotted up and hugged me, including the city mayor in her smart dress suit. She must have almost fainted from the mix of smells on me because by that time, I'd rubbed up against over 500 individuals from a plethora of backgrounds. To this day, I've often wondered two things: who can say they've had the pleasure of hugging hundreds of gorgeous women one after another, and who's squeezed their mayor but never been introduced!

When the hour expired, the pressure to hug and hug vanished instantly. I was sweating. TV cameras rolled in front of me, filming, before I had the chance to see them coming. That gave me the ideal opportunity to thank every person, and express my excitement about another world record attempt completed.

Since then, hugging seems to have become somewhat of an obsession for some. Not only can lots of hugging be seen as a good move at the end of a date, but hugging has also taken on a life of its own. Free hugging events are held in various parts of the world, but I'm most interested to see what the USA has done. Since the 2010 Haiti earthquake, groups have sprung up all over to provide aid to this nation's inhabitants. Among these efforts, my hugging world record has been used as the springboard for a campaign to raise much-needed money by hugging as much as possible. Now that makes me feel good; in fact, it makes me want to hug everyone in Haiti!
If you are single and want to try out lots of hugging but don't want to embarass yourself by grabbing your nearest neighbour, consider joining up with a website such as Dating Direct
. Then see how hugs can lead to that long-lasting relationship.