Alastair Galpin
took to world record-breaking in 2004 after being inspired by a record-setting rally driver in Kenya. What began as a hobby soon escalated into an active publicity pursuit. Today, he promotes the work of social and environmental causes. For these purposes, the most fitting game plans are chosen; then world titles are attempted and frequently created.

Sustaining sponsor
If you would like regular exposure from Alastair's activities, become his Sustaining Sponsor:
A range of attempts annually
Your brand in multiple media
Distribute your own media releases
Receive product endorsements
More details about sponsorship opportunities
Special thanks
Behind every world record attempt is the expertise of professionals in their field.
Their success underpins Alastair's.
They are listed here
Most swimming caps worn at once: 20

This is the story behind my Guinness World Record™ for the Most swim caps worn at once
Wearing as many swim caps as possible at once might have been a pleasant idea to me, but it was potentially devastating to my life. Even so, I went ahead.

The lady handed me a bag full of heavy, floppy rubber. Inside was a stack of high-silicone swim caps, which were so soft to the touch they almost felt liquid. I slung the bag over the handlebars of my bicycle and peddled home, wandering if this was actually a good idea. Medical staff had already told me that the elasticity of too many caps pressurising my skull could crack or crush it – and the rest was up to my imagination. That was my problem. I have a creative brain, so visions of bone shards wobbling in my brain tissue consumed me. But the images in my mind didn't make me laugh. No, they worried me.

A knowledgeable friend confirmed the possibility, which made me paranoid that I was about to give myself brain damage. By this time, I was honestly frightened. But the lure of yet another world record was too great, and I devised a crafty plan since I'd told the swim caps man I'd proceed. My smart idea was to test how much pressure a dozen caps exerted by using a soccer ball.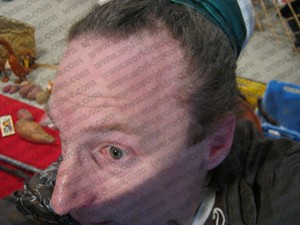 On those nights After a quick visit to the local soccer shop and an hour on my kitchen floor, I discovered that using the type of swim caps I'd acquired would exert about half a pound per square inch! With a pressure gauge, I monitored the changes on the marked shaft as I put cap after cap onto the plastic chequered ball. I was watching carefully for the rate of pressure change, how much pressure change, and any visible signs of stress on the ball. This, I hoped, would give me the strength of the average human skull. I was aching to know, since the testing would determine if I'd try to wear 20, 30 or more caps at once.

Like some mad scientist, I made notes and compared my findings across several trials. Finally, I concluded that I thought it was fine to put on 20 swim caps, but no more, due to my cranium's pressure threshold potentially being reached and then imploding.

Feeling no more comforted than before I began to experiment, I set out to find a venue for the act. What seemed like the right situation emerged at the front entrance to the Kauri Info Centre in Dargaville, Northland, New Zealand; a region very heavily logged by colonists but now the focus of much-needed kauri conservation attention to try and rectify what the settlers destroyed. The owner of The Kumara Box farm came along with a twinkle in his eye, and I summed him up as being sufficiently mischievous to ask. I began to explain, and the farmer's smile broadened into a laugh. I knew I'd found my man.

The farm sported its own private museum, which was fascinating to wander through. Items included authentic Maori artefacts, whale teeth, and a strangely rotund skull picked up on a local beach, which had been confirmed as being non-human. But nobody knew its identity, which made me think of whether this creature had been one of the millions of ocean mammals being slaughtered [link to: http://www.seashepherd.org/] on fishing trawlers and thrown overboard as 'waste'. This would be the place I'd either claim my next world record success, or end up in a body bag, I thought. In the exquisitely decorated museum, the 2 witnesses and I set to work.


The first cap went on easily, as did the first dozen. But from then on, I could feel the constricting pressure of the silicone gradually increasing. Each swim cap I slung on, I did with great speed, because all I was interested in was wearing 20 for a few brief seconds, and then ripping them off as fast as possible. The farmer and his electrician watched patiently, but could hardly contain their laughter when it came time for me to pull off the heavy mass.


My head was wobbling to both sides under the weight, and it felt as if my eyelids had been pulled upwards to the point of tearing open. Against the colourful backdrop of informative murals, I dug my fingers into the solid mass and pulled hard. At first, nothing but my hair gave way. Tears welled up in my eyes, and I gasped. But I knew I had to pull like never before, or remain at risk of injuring my skull. I jerked the mass of caps with all my might several times, until the ball loosened and I was able to tug it to the floor. And the pain! I could only describe it as having my hair glued into a single lump and then ripped off my head without mercy. It was no laughing matter, but the witnesses didn't agree. They were openly giggling as I reeled with agony.


Well, I convinced myself, better this type of pain than the type which goes with a cracked skull. Yes, that was a sensible way of coping with the pain. Minutes later, after enduring an unpleasant blood pressure change, I was able to sit upright and look my witnesses in the face. To me, it seemed they weren't quite sure what to say about all this. So I suggested we attend to the admin, which provided us something new to think about.


The farmer asked for several of the caps to place on his museum wall, which I felt honoured by. He had tour buses stopping in almost daily, and told me how he'd love to add my visit to his list of stories for the tourists.


Months later, I was pleased to tell the farmer my world record attempt had been successful, and hoped that'd be something extra he'll have to tell those busloads of visitors. All in all, it turned out to be a good day, and it started when the Kauri Info Centre jumped at the opportunity. So can you see why I like open-minded people!