Alastair Galpin
took to world record-breaking in 2004 after being inspired by a record-setting rally driver in Kenya. What began as a hobby soon escalated into an active publicity pursuit. Today, he promotes the work of social and environmental causes. For these purposes, the most fitting game plans are chosen; then world titles are attempted and frequently created.

Sustaining sponsor
If you would like regular exposure from Alastair's activities, become his Sustaining Sponsor:
A range of attempts annually
Your brand in multiple media
Distribute your own media releases
Receive product endorsements
More details about sponsorship opportunities
Special thanks
Behind every world record attempt is the expertise of professionals in their field.
Their success underpins Alastair's.
They are listed here
Most gloves worn on one hand: 65

This is the story behind my Guinness World Record™ for the Most gloves worn on one hand.
There's something about me and gloves, I'm sure you'd agree. I've tried this world record many times, and succeeded every time. What spurred my latest attempt was a radio studio appearance at which I tried with all my might to pull on 60 gloves, and almost doubled over in pain while on air.

When I walked out, I vowed to myself I'd retry this. And so I did. But I had a problem: in Australia, it seems, there's only one size of latex glove. Or, at least that's what I found. So I was going to have to do without increasingly larger sizes to compensate for the bulk as each glove would be added. It was going to be tough, and I knew it. I was certain this would be a challenge because my last attempt was painful, and for that one I had several sizes of glove.

That didn't deter me, though. I got hold of a box of coloured latex gloves and, nervously, began planning my event. With me I had a wild European woman who reminded me of a psychotic caged tiger. Nonetheless, she'd do as a witness, I decided, and involved her. My regular cameraman came over and I laid out the heap of latex items on the table before sprinkling them generously in talcum powder. That powder was going to be crucial if I was to fit any decent number of gloves on.

The frizzy-haired hyperactive European had never been part of a world record attempt, so I guided her every step of the way while ensuring she remained as pacified as I could keep her throughout. To balance her eccentric presence was my cameraman's calmness, which I appreciated. I imagined that I had this woman tethered to my wrist with a short chain, and that helped me keep control of the day! It allowed me to focus on the gloves, which I was dreading putting on.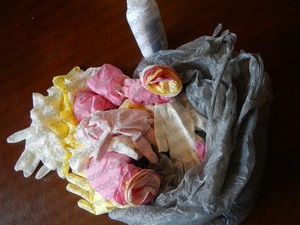 But I wanted another world record, and we got straight to it. The first 20 or so went on well, but then my hand began to crush and by the time I had 40 on, I could feel the cartilaginous nodes in between my finger bones grinding against one another. The pain struck but I refused to surrender my chance to claim another world record. So I continued, as both the psychotic European and my cameraman winced as they watched. The lady began yelling at me to remove the gloves and give up, but I ignored her as she pranced about without a break. It seemed the more gloves I stretched over my fingers, the more pronounced her awkward facial expressions and nameless dancing about the table became.
It was making me nervous, but soon I saw it no more. My mind felt as if it was shutting down; my body's reaction to intense throbbing pain. My 2 witnesses seemed to vanish into a blur and all I saw was the ball of layered latex which my hand had changed into, and the slowly diminishing pile of gloves alongside me. Like a robot, I continued to place one glove over the next, in a rhythm that I thought would end with my passing out. I felt dizzy. I knew this was getting dangerous.
So when both witnesses yelled at me raucously to stop, seeing how I was changing colour and groaning loudly, I realized I had to quit. Somehow, though my blurred thinking, I managed to complete the world record rules for proving I had all the gloves on properly, and energy within me welled up to strip my hand of the latex, clump of gloves by clump. With abandon, I threw the last of the powdered gloves across the table and collapsed head first into the wooden surface, exhausted.
This is what synthetic latex had done to me within only minutes. I wondered how my attempt would have gone if I'd used natural latex, such as that produced by Amazonian families. However, these people only produce a fraction of what they could if their lifestyles were more protected, which I think would be a good thing, truly. It made me think momentarily that if I can find natural latex gloves, I should try this once more. Then, my mind shut down and I stopped thinking altogether.
A minute later, the concerned woman brought me a bowl of warm water into which she placed my hand gently. There was no immediate change to the sensation of pain which had washed over my entire torso, but after what seemed like a long time, I began feeling well enough to sit upright once more.
I was astonished by the level of acute pain these gloves had caused me – it had been similar to the pain brought on by a dental abscess. But the important thing for me was that I'd done it, and when I received my world record certificate to prove that I can wear 65 gloves at once, my sense of self-worth grew notably. Now that's what life's all about!