Alastair Galpin
took to world record-breaking in 2004 after being inspired by a record-setting rally driver in Kenya. What began as a hobby soon escalated into an active publicity pursuit. Today, he promotes the work of social and environmental causes. For these purposes, the most fitting game plans are chosen; then world titles are attempted and frequently created.

Sustaining sponsor
If you would like regular exposure from Alastair's activities, become his Sustaining Sponsor:
A range of attempts annually
Your brand in multiple media
Distribute your own media releases
Receive product endorsements
More details about sponsorship opportunities
Special thanks
Behind every world record attempt is the expertise of professionals in their field.
Their success underpins Alastair's.
They are listed here
Most gloves worn on one hand: 60

This is the story behind my Guinness World Record™ for the Most gloves worn on one hand.
Sure, you might say I've gone crazy. Well, perhaps I have, because this is 4th time I've tried and succeeded at this particular world record. Let me tell you why!

In some nations, one can buy various sizes of latex gloves, and in other countries one can't. Each time I've discovered a different sized latex glove, where possible, I've tried to beat myself using better-fitting gloves. Now that I've explained, do you still think I'm mentally unbalanced? Even if you do, don't presume that I'm about to change.

That'll never happen! My passion for record breaking is far too great, and my enthusiasm for glove-wearing is equally strong. To be honest, if I see a way to improve my latest world record, I will go ahead – no doubting from me on that. That's been my attitude since I first tried stuffing glove after glove on my hand back in 2006. But for now, I'm satisfied. I'm not sure why, although it seems I love gloves. Admittedly, yes I do!

This world record attempt started when I went visiting in the north of New Zealand. There, I convinced a film-maker and his friends to witness for my glove-wearing attempt and I got my way. How delightful. In the shade of green garden foliage, we settled down and I emptied the bag of latex gloves onto the grass. Within minutes, things were underway and I slipped on the first of 60 gloves. One by one, on they went. It was a long event for me, probably because it was hurting me. But I didn't give up… I rarely do.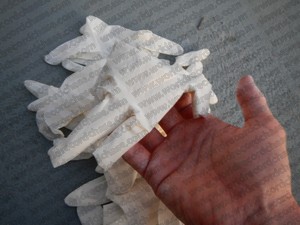 And when charities approach me, asking me to publicise them, I'd like to think I will always be able to exercise the same level of determination and focus which I pay to my own world record attempts. That's important, because if I'm representing a conservation or social organization, I know they need me to be my very best. And that's exactly how I see things too. So it'd be a win-win situation – just what I'm into.
Nevertheless, I'm glad I didn't give up due to the pain of the constricting latex layers because – as I got closer to needing to rip them off in bunches - my audience was pretty pleased to see how many of these cream-coloured gloves I could fit on. I enjoyed their attention, I admit.
But, without warning, the video stopped recording just as I put on the 60th, and I panicked. My witnesses did what they needed to, as fast as they could, but I was unsure whether the judges would accept my claim due to the cut-out. Thankfully though, they did and I am now the proud owner of the world record for putting so many gloves on one hand. Isn't that great? Yes, sure it is, if you'd ask me.
Over the next few days, my hosts and I got on with other things and by the time I left their lovely home, I felt satisfied with my lot. Realistically, who wouldn't be pleased at having achieved what I'd done?