Alastair Galpin
took to world record-breaking in 2004 after being inspired by a record-setting rally driver in Kenya. What began as a hobby soon escalated into an active publicity pursuit. Today, he promotes the work of social and environmental causes. For these purposes, the most fitting game plans are chosen; then world titles are attempted and frequently created.

Sustaining sponsor
If you would like regular exposure from Alastair's activities, become his Sustaining Sponsor:
A range of attempts annually
Your brand in multiple media
Distribute your own media releases
Receive product endorsements
More details about sponsorship opportunities
Special thanks
Behind every world record attempt is the expertise of professionals in their field.
Their success underpins Alastair's.
They are listed here
Most gloves worn on one hand: 7

This is the story behind my Guinness World Record™ for the Most gloves worn on one hand.
This was my first attempt at wearing the most gloves. I got an elderly friend along with several others. We spent the afternoon in an empty car park at a community centre.

There, I pulled out the packet of gloves I'd borrowed from all around the neighbourhood. There were thick gloves, thin ones, women's ones, heavy-duty ones and even an evening glove. What an uncharacteristic mix, I commented. The others agreed. What I hadn't told one of those kind people who had lent me the single evening glove was that it would be worn underneath one from a nearby mechanical workshop. I never told her. Some time after I made this attempt, I saw her wearing that delicate glove on a date!

Why walk over the balcony when we could make the attempt right next to the cars, a step away from an open back door. Following some brief admin I was required to complete, in amongst our chatter, I took my time to slide on glove after glove. Or, at least, that was the plan. It didn't last long because the things wouldn't do as I wanted. I wrestled and fought with each glove as I pulled it on, centimetre by centimetre. One ripped across the wrist so I had to remove it and use the next best one as a replacement. My working hand was getting tired. The others watched and made the odd suggestion. Sure, its great to receive suggestions but they weren't the ones who had to do all the work. I pulled and twisted as they waited patiently.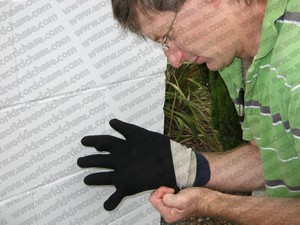 No media was around so we could be as casual as we liked. I stopped several times for a break and to joke with the others about what I was doing to my well-gloved hand. Interrupted by plenty of rests and antics, eventually I got there. In fact, it was my witnesses who questioned the sense in my continuing. "You've been struggling with that one for how long now – will you ever get it on?" they began commenting. Accepting that they were picking up a trend in my inability to progress any further, I accepted that it was time to stop.

When I got the world record, I felt inspired to rush out and achieve far more. As you may have seen, I came back to this world record and smashed my own achievement by planning with confidence.