Alastair Galpin
took to world record-breaking in 2004 after being inspired by a record-setting rally driver in Kenya. What began as a hobby soon escalated into an active publicity pursuit. Today, he promotes the work of social and environmental causes. For these purposes, the most fitting game plans are chosen; then world titles are attempted and frequently created.

Sustaining sponsor
If you would like regular exposure from Alastair's activities, become his Sustaining Sponsor:
A range of attempts annually
Your brand in multiple media
Distribute your own media releases
Receive product endorsements
More details about sponsorship opportunities
Special thanks
Behind every world record attempt is the expertise of professionals in their field.
Their success underpins Alastair's.
They are listed here
Longest handshake (shared): 33 hours 3 minutes

This is the story behind our Guinness World Record™ for the Longest handshake.
Handshaking isn't boring – even if you shake hands for more than a whole day. When I did this with Auckland management consultant, Don Purdon, I realised handshaking can be quite a challenge. The work started long before the actual handshake, and the impacts keep going long after.

Even if you love handshaking, I suggest you give this one some thought before trying it. Don called it the most difficult thing he'd done. I was too sick and dizzy to even comment.

Don and I are immensely proud to have tie broken with the Nepalese hand shakers. The intrinsic value generated from this unexpected ending has positive implications which are spreading widely around the world. In addition, we both feel this has been more than worth it because we had a purpose: to raise awareness and donations for the Auckland Down Syndrome Association, a registered New Zealand charity.

But how did it all begin - and end?

I was approached on Facebook, asking if I wished to participate in the world's longest handshake event. It seemed a great offer, because doing so would be a natural progression of what I initiated in 2006. While compiling a series of world record attempts for a children's charity in New Zealand, I'd come up with the idea of the longest handshake.

My first attempt failed; thank goodness this 'test' had been done in private. My first public attempt had been successful, which you can read about here.

Over the years, this Guinness World Record™ has proved a very popular challenge for people to try, and it has been broken several times since then. It was wonderful to see that my original idea had now provided the impetus for an international event.

The offer I received from the organisers included a trip to New York City for 6 days, representing my home country of New Zealand against other nations, having the opportunity to raise money for a charity of my choice, with the possibility of returning home with another world record, and sharing in as much media as the event generates.

After having satisfied myself that the event was genuine, I set about seeking a partner. One after another, potential hand shakers committed, or part-committed, and then changed their minds or lost interest. Finding a dedicated partner soon became a full-time job because I was under pressure to get someone, and each time a "committed" partner withdrew their interest, I had less time to find the next.

Fitness clubs, gymnasiums, sports doctors, Olympic medal winners, universities, charity promoters, sports institutes, community groups, radio stations, television stations, church ministers, youth organisations, national tourism promoters, physiotherapists, sports psychologists, personal trainers and endurance sports clubs all declined to help find someone or recommend someone. I then managed to get in touch with several national sports heroes, but none were interested. Several radio stations put the telephone down in my ear, saying nobody would be interested so they'd not broadcast the offer.

By my sixth morning of searching – and having been disappointed by 11 possible partners, a tear rolled off my cheek. To my immense frustration, I had been unable to give such an incredible opportunity away in New Zealand. I was finding the thought of representing New Zealand tough in light of all the rejections I'd received. But I persevered, and posted notices for a partner on Facebook among other websites. Ironically, I got more interest from young people in Botswana, India and Nepal who were prepared to represent New Zealand, although they couldn't readjust their work schedules on such short notice. One enquirer from Asia began pleading with me, divulging his world record successes, which, it seemed to me, he'd forgotten were actually 2 of my own world records he'd broken.

Resorting to desperate measures, I asked the event organisers if the world record rules would allow me to shake hands with an unconscious person. This idea arose because my friend in her 50s volunteered to come if I could find nobody at all. Being of delicate build, she and I knew she's not remain awake for 24 to 48 hours, but theoretically I could shake her hand if the doctors let her lie on site until we'd won the contest. Being desperate to participate, I even floated the idea of shaking hands with a blow-up doll. But that thought caused uproar, and I took my words back swiftly.

The following morning, I met a 49 year old management consultant who had previously worked as a sports psychologist, Don Purdon. He immediately identified the opportunity as a fantastic way to promote his business in the United States. He was fit, available and determined to accompany me. I invited an independent person to assess the man, and, given the urgency, in front of Don, we discussed his suitability. "Take him" she said without hesitation. I flung out my right arm to congratulate the sports psychologist-cum-management consultant on being the first person I could find in New Zealand who was prepared to take what could be the chance of a lifetime.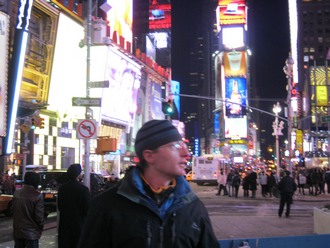 Like an infuriated wasp, I dashed around frantically, organising what needed to be prepared. The other teams had been practising while I'd been on the telephone, putting my partner and I in a weak position. A sports physiologist had drawn up a physical training regime for me to cover the short lead-up period, as well as given dietary and general advice. I had already begun shaking a sandwich spread bottle, which I then needed to pay more attention to. By the time Don and I left for New York, I'd shaken the jar for 165 hours. Doing so with ice packs strapped to the affected muscles had earned me strange looks in my neighbourhood, although I was more attentive to my increasingly sore right shoulder and forearm. My being left-handed and Don's being right-handed meant we both had to learn a range of new skills with our free hand, which took perseverance.

It was a shock to learn that the Nepalese Government had shown support for the hand shakers coming from that country. Apparently, I had been told, Kathmandu had already begun celebrating the event outcome in anticipation! Then we discovered that the Nepalese Prime Minister had apparently held a special farewell for the departing pair in Kathmandu before the event. I wondered if that may have been because the same Nepalese brothers already had a world record claim to the longest handshake under review.

This news jolted me further into action, and I noticed my jar-shaking rhythm increased dramatically the day I heard it. Of course, hastening the pace at which I was shaking my sandwich spread wasn't going to make a difference; I needed more detailed planning, and knew it. But the support the Nepalese were receiving nationally worried me, because I had no such backing from my own government. Perhaps it was this nagging in my mind which over-energised me - I woke myself at 01:30am by shaking my right arm vigorously, just as if I were practising with the jar.

Further setbacks didn't bother me as much because my friends were fantastic support, helping to supply a range of necessary items from clothing to high-carbohydrate foods. I felt that was important because the temperature change was to be drastic - my house temperature had struck over 40 degrees Celsius the week before departing (being summer here in New Zealand). New York City was recording snowy weather down to -8 degrees Celsius.

I asked several local businesses with cold storage if we could practise in their freezers to help our bodies adjust. All said no. Don and I went to stand in a local snow sports centre where staff was helpful and where we quickly found the weak aspects of our planning coming to the fore.

An innovation consultant, hearing my fears about my hand freezing, suggested I slide a sheath of bubble wrap packaging around my right arm, which could be pulled down over Don's and my grip in the event of extreme cold. I made such a contraption which was to the envy of the other teams.

Then, just as Don and I were feeling comfortable with our preparation, the charity withdrew their interest: 7 days before the event, and 4 days before we flew out of New Zealand. I stayed up almost through the night trying to switch plans to the backup organisation in Africa. Thankfully, 24 hours and one meeting later, the assigned charity were back.

The few days before departure were frantic, but Don kept calm all the while, maybe due to the benefit of his management training techniques.

Having sorted out as many last-minute details as we could, we jumped into a taxi. While heading through Auckland International Airport, I was delighted to be randomly selected for a bomb safety check. Just as I settled down emotionally, I was chosen for a second security check and then we were away.

Our San Francisco to Newark International Airport flight was cancelled due to snow storms and blizzards so Don and I began thinking of how to keep to our planned schedule of activities with the flight delay. Whilst consulting Continental Airways staff in the airport, Don saw his hand luggage was open. Alarmed, he became convinced his wallet had been stolen. After several telephone calls, Don located his wallet which had been found by an airline staff member in the overhead locker. We were both quite relieved to get it back, and I was stunned to think San Franciscan thieves could get to visitors before we'd even left the airport's secure zone.

Don and I had been advised to keep to our circadian clocks as best we could. This meant we had to stay active deep into the night and rise for breakfast when local America was doing other things. To prevent ourselves from falling asleep and thus breaking our body clocks' cycle, Don and I planned to walk around San Francisco, but lost each other and spent our night doing so separately. Oh Alastair!

Don and I were soon whisked away by a smart black taxi upon arrival at Newark airport. Inquisitively, I asked the driver what the ambient temperature was. After asking twice because he couldn't understand me, I switched to my own attempt at feigning a strong American accent. Instantly, the driver replied with a detailed weather summary. Don and I smiled, knowing this would not be the first time we'd need to imitate a local accent. It was hard not to smirk when, emerging from the New York City end of the Hudson River tunnel, I felt the taxi jolt over a pothole. My mind jumped back to my native southern Africa, where hitting potholes is part of almost every journey.

When checking into the hotel on Times Square, Don left his wallet on the counter and had a staff member sprinting after him. What is it with Don and his wallet, I began to wonder.

New York was busy for us from that moment on: if it wasn't dodging traffic, it was searching for a wholesome meal or helping with event plans. The Wall Street Journal did a video interview, took written quotes from the participants, and produced a large story. One of the teams missed that opportunity as well as the pre-event dinner because they'd gone drinking with friends, but the pair appeared later to introduce themselves - with alcohol on their breath.

When I first stepped into Father Duffy Square, Times Square, I knew this was a special place to hold a world record attempt. Pedestrians and vehicles criss-crossed the area constantly and there was a vibe of non-stop action in the air. I could see why New York is known as the city which never sleeps. And we were about to test that theory by seeing if we could shake hands without sleeping! It was clear that a tremendous event was coming.

The 4 pairs of hand shakers assembled behind the barriers in front of Father Duffy's statue as the day's light began to fade over New York City: a team of Nepalese brothers, 2 American teams, and Don and I comprising the New Zealand team. Everyone, it seemed, was ready to proceed except for the same team which had missed the Wall Street Journal interview. At 15 minutes past the official start time, they danced to their seats and the event formally began according to the timekeeper's notes. But 15 minutes into the challenge, the same team lost interest and wished the other pairs of hand shakers good luck before disappearing into the brightly lit streets along Broadway. Next, the mobile generator broke down, so no live video feeds went out across the internet until an emergency rescue operation had been performed.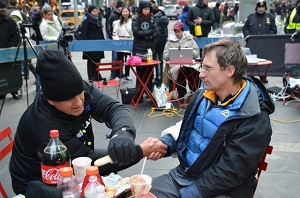 Don and I, as well as the American team and the Nepalese brothers accepted what lay ahead: hour after hour of repetitive muscle use without a single break. Going quiet, Don and I set into the rhythm we'd practised for, knowing there was no way but to win. I'd slipped the sheath of insulating plastic packaging over my upper arm less than 2 minutes before the countdown to start, deliberately done at that late stage to surprise the other teams and put doubt into their minds about their own preparedness. Within an hour of the contest starting, both the other teams had sent helpers off to hunt for the same packaging, but to no avail. Thus, Don and I had the advantage of insulation we could position with flexibility, and which we needed as soon as the sun set over Father Duffy Square.

Don was worth a lot to me during this event, especially with his sports event preparation input. He'd drawn up a list of mini-goals; a tally of hours we would cross off as we reached that stage in the event. He had calculated regular breaks, how we'd exercise, and a variety of methods for keeping ourselves mentally alert. Possibly the most effective of these tips was Don's having pre-arranged with his friends to text words and riddles to him every half hour, which he and I had to try and decipher meanings of. By drawing on a regular combination of these tactics and tips, Don and I kept going, achieving one mini-goal at a time.

The first night was our coldest at around -8 degrees Celsius, and we used the insulating packaging to good effect until we warmed up with the changing of the days and only a smattering of snow for less than a minute. The temperature on the second night was a mild -5 degrees, so we had no need for the insulating tube with all the clothing we were wearing. I began unzipping several tops to escape some of the 28 articles of clothing I had pulled onto various parts of my body before the event.

Light and dark, dates and times all blurred into what we were concentrating on; up, down, up, down, up… It was Don's balanced planning and psychological input which kept us cruising towards the prize we desired.

Every so often, we had the pleasure of facing an interruption to the mental and physical monotony; jeering crowds against the temporary barrier taking photographs and home video, Nepalese supporters screaming out with patriotic fervour, our helpers offering food and drink, New York Police car sirens, incomprehensible verbal assaults hurled at the event from the homeless, attempts by professional photographers to command our attention, and the event management ceaselessly explaining to bystanders what they were watching. Hundreds of New Yorkers and others were always packed against the barriers, bar during the small hours each morning, totalling an estimated 40,000 to 80,000 visitors over the event duration.

One of these individuals would be especially remembered. The Nepalese brothers both wore casual shoes and their feet were becoming cold very fast, while the American team and Don and I wore suitable boots. A Nepalese spectator, in a surprisingly selfless move, removed his boots and socks. These were passed over the barrier to one of the Nepalese pair. The barefoot spectator then continued cheering for his nationals on the freezing concrete.

After the event, it was agreed this gesture changed the outcome from a possible win/lose between the Nepalese and New Zealand teams, to the tremendous outcome experienced. The Nepalese were enjoying seemingly endless support, both on-site and remotely. Their mentor was getting calls of encouragement from Japan, Afghanistan, Iran, Iraq, India, USA, Nepal, Australia and Malaysia. It was incredible to hear that even in Afghanistan videos of the event were being watched with excitement.

Most of those who shouted encouragement did so for the Nepalese, but some cheered for New Zealand. One man barked loudly, "go Australia" and received a loud low-toned boo. He vanished. During the event, one email of hatred came in to my knowledge. It was, very unfortunately, from New Zealand.

The American team was an 8-hour wonder. They'd not only managed the entire event and all its complications, but also decided to participate, which won respect from many. What stood out to me the most about how these organisers had overcome waves of challenges was how their dealings with the management of Times Square proceeded.

Initially, the quoted fee for use of the square was US$180,000 for 3 days; the event management was grateful for a reduced fee of US$20!

During the small hours each night, the event had to be moved into a nearby hotel because Father Duffy Square shut down. In the hotel room, Don and I were shaking to our mind-numbing routine when – without any warning – half the American team collapsed at just beyond the 8-hour mark.

Their handshake had been ripped apart and they presented a threat to Don's and my winning no longer. Perhaps it was exhaustion and low blood sugar which floored the participant, and for a moment, alarm spread among the others present. Ironically, it also provided live entertainment: paramedics rushed in, telephone calls of concern filled the night air, and medical discussions ensued. I felt a sense of thanks to the collapsed young man, since he'd inadvertently helped to extend my alertness. What's more, when he'd fallen, I had been lying down while Don powered the handshake from a chair. The American's head hit the carpet less than a metre from mine, sharpening my concentration when I wondered if I was about to be struck by a flying foot or worse.

Going to the toilet made Don and I feel like celebrities. To ensure that competitors' handshakes were not broken by bystanders, we had 'protectors' who surrounded each pair for toileting trips. These people had the duty of parting crowds of business people and those attending conferences in the hotel where the toilets were located, clearing space in elevators, and repeatedly apologising to irate members of the public regarding why they had to step aside for handshaking foreigners!

Most of our toileting journeys involved some level of fuss. Don and I had practised urinating, and we'd agreed that it would be the only kind of toilet stop we would make during the contest for practical reasons. It was rather a performance every time. I urinated on the toilet floor, on my left hand and on my clothing. Yet, we had the system very well coordinated.

The one urinating would hand control over to the other in a three-step process to make sure no grip was lost. Firstly, both of us would hold hands tightly and power the handshake together. This was a tactic we'd use whenever a disturbance increased the likelihood of the handshake being broken or slipping. Next we'd arrange for the non-urinating person to take over handshaking. "Don taking over" would lead to that action, followed by "Alastair relaxing" and then confirmation that Don was in control of the handshake with the words, "Don shaking". This worked so well that we used the technique as necessary throughout the event, although anyone hearing these words emanating from the toilets must have wondered what was going on.

Upon completing the toilet stop, we'd both power the handshake and move back to Times Square. At first, we each washed our left hand but that became too much for us to cope with as fatigue set in. Don and I had to go to the urinal 20 minutes before the 15-hour official world record for an unavoidable stop – a nerve-wrecking thing to do. If our grip had slipped then, we wouldn't even have exceeded the official title. But we made it back to the event with hands still tightly clasped.

Our diet was anything but appetising. Research had shown Don and I that high-carbohydrate foods were required, as well as those with a low glycaemic index. We also needed a sustained intake of energy and had to manage these foods carefully. A New York diet was fine in the beginning, but as the event wore on, we required more specific foods than fries and large cups of fruit juices to combat the fatigue. By hour 20, both of us were force-feeding ourselves carbohydrates and appropriate sugars.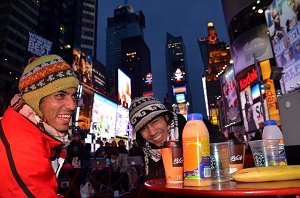 Apart from triple espresso coffees, bottled water and disgustingly sweet energy drinks, our diet shrunk to mashed potato and bananas. The 20-hour point was that at which the current world record claim stood and was under review - by the same Nepalese team. Don and I didn't even notice because we were mentally locked into a one-way battle of rhythm with our Nepalese opponents. We felt sick from the culinary treats we had, but we knew we'd lose any chance of gaining the world record title if our blood sugars dropped too low. The only way to sustain our bodies was to push potato and banana down our throats on a regular basis, no matter what time of day or night. That narrow diet must've paid off, because Don and I just kept going, even though intense fatigue was setting in.

Peculiarly, we saw the Nepalese hardly ate, and when they did, it seemed to be fast food. Don and I knew that without a doubt we faced very tough brothers.

By the time hour 30 came and went people had accepted that the Nepalese would not give up, and both Don and I felt the same. A deadlock was developing. Both teams were still feeling strong and had exceeded the event management's expectations of probable handshaking duration. Don had also found out that one of the hand shakers in a team was permitted to sleep, which could mean the event continuing for many more days if done cleverly. Several of the bookings for the event were close to expiry, and Don's flight was in 12 hours; management was being pushed into devising a plan.

After much discussion with the mentor for the Nepalese team – who had crumbled to tears from sadness that New Zealand was pitted against Nepal, given the nations' long and strong peaceful histories – the consensus was to conduct a tie break to the event. This was acceptable from a world records point of view, and, seeing the situation, I reluctantly agreed.

Out in the dawn at Times Square, at precisely 3 minutes beyond the 33 hour mark, the event director lined up both teams and split the handshakes simultaneously. The Nepalese seemed incredibly pleased with this outcome; it then transpired that one of the Nepalese team had been in a lot of pain.

A lot of action erupted, although the 4 tie-breaking hand shakers were too fatigued to appreciate much of it. I remember being congratulated by the Nepalese brothers and several others. I thought it unfortunate that congratulations typically go with a firm handshake in the western world, because I was forced to extend my sore right arm once more. If ever I have felt nauseous at the thought of shaking someone's hand, it was then. Yet, the symbolism and implied values associated with those final handshaking moments caught the attention of sufficient important people that Don and I would be hearing a lot more about it.

After kissing the concrete in front of Father Duffy himself for the video cameras, I marched myself to the closest available toilet. Don hobbled to his bed in silence. On my way to the hotel room, dazed from exhaustion and with only sleep on my mind, I was once again selected for a random security check. Instantly I became highly annoyed because the timing couldn't have been any worse.

I awoke with a creaking wrist which lasted a week. Don looked worn out even though he hadn't acquired a painful wrist, possibly because he had not spent dozens of hours shaking a jar. Hearing how much media the event had attracted woke us up fairly quickly. After being published in the world's largest English-speaking newspaper, the Wall Street Journal, the event had appeared on all 3 of the biggest television channels in the United States. News of the world record attempt spread so far across the internet, it became the third most-viewed video of the day on YouTube, and was its fourth-most discussed video of the day. Views on YouTube reached nearly 1 million with 186,000 in the first hour, which was fitting since the event featured on every single page of this massive website the world over during the contest. Stories of the handshake continued to blossom in many languages from in Japanese and Indian newspapers to American radio and countless websites based in the Middle East, Asia, Europe and the Pacific region.

Nepalese media in particular had zoned in for the kill. The event grand finale had been on Nepalese national television and one day later, it had become the biggest news in Nepal. That country's media publicised a repeat connection between their country and New Zealand, referring to the conquering of Mt Everest by New Zealand's Sir Edmund Hillary and Nepal's Tenzing Norgay, and the special nation-to-nation relationship which developed as a result.

Don and I got word that Kathmandu was preparing a homecoming celebration for the brothers to recognise the significance of this event, something we found astonishing to accept. In the hotel, the Nepalese team's mentor gifted Don and I each with a special design of silk scarf. These had been blessed by a Buddhist monastery in Nepal, and are given as a symbol of honour only to high achievers, we were told with pride.

My taxi ride to Newark International Airport was most unpleasant but represents, I guess, one of the attractions of travelling in one of the famous cabs. The Bangladeshi driver introduced himself with affirmations of our friendship, and then proceeded to beg me for directions to the airport throughout the trip. This man spent the entire road trip on a mobile telephone asking for directions, nearly hit a car, and then swerved in front of a truck. He zigzagged up to a lane-splitting barrier and barely missed it when he finally veered to the right, all while intermittently telling me of our great friendship. As soon as he'd parked, he insisted on being given a tip plus full fare. I passed him some cash and walked off. The Bangladeshi driver moaned abuse and executed a fantastically pathetic 20-minute temper tantrum which would have made great video. Only when 4 police officers who'd surrounded the spectacle told me the law stated I need to pay no matter how poor the service, did the matter end.

The Auckland Down Syndrome Association, for whom Don and I had participated, was waiting to hear how much money had been raised. Once back home, it became apparent that the donation link on the event website had not been functional at all times, and had thus hindered the public's ability to donate at times. Although it seemed that software had malfunctioned, I was still tremendously impressed with the abilities of the 3 young event managers to successfully follow through such a memorable charity project. The charity looks forward to benefitting from the donations raised, and they're pleased that awareness of their organisation has expanded substantially. To me, these are important things in which I take pride – even if I had to almost shake my hand off to make me this satisfied.

For the first time in my 8-year world record-breaking career, I can say from my heart that I am immensely pleased not to have won. The humanitarian implications resulting from a Nepalese-New Zealand tie breaker exceeds the exhilaration of a straightforward win for me in this case, and I wouldn't have it any other way.

The video of the grand finale appears below: