Alastair Galpin
took to world record-breaking in 2004 after being inspired by a record-setting rally driver in Kenya. What began as a hobby soon escalated into an active publicity pursuit. Today, he promotes the work of social and environmental causes. For these purposes, the most fitting game plans are chosen; then world titles are attempted and frequently created.

Sustaining sponsor
If you would like regular exposure from Alastair's activities, become his Sustaining Sponsor:
A range of attempts annually
Your brand in multiple media
Distribute your own media releases
Receive product endorsements
More details about sponsorship opportunities
Special thanks
Behind every world record attempt is the expertise of professionals in their field.
Their success underpins Alastair's.
They are listed here
Longest handshake (shared): 9 hours 19 minutes

This is the story behind our Guinness World Record™ for the Longest handshake.
This, friends, is the epitome of monotony. It's also a mental challenge requiring dedication. If ever anyone said I've got too much time on my hands, it could be most applicable to this world record attempt. For anyone watching, it was the most simple undertaking. All we did was shake and shake and shake.

I was managing a series of world record attempts with a charity. During the planning phase, I was asked what I'd like to do. When I expressed great interest in this particular attempt, I was casting my mind back a few years. When I first began breaking world records, a friend and I had given this one a go. We'd stood out on the road verge and spent our afternoon bobbing our clasped hands up and down. But, being new on the world records scene, that attempt went not much further than my office. Since then, however, I've learned a lot about how to manage attempts. After wondering about the logistics of making a concerted effort, I wanted to proceed. The charity gave me a lot of help in doing so.

It wasn't that I needed to practise as much as meet my handshaker to decide on a strategy. When he walked toward me for the first time, I gulped. This guy – although only about three quarters my age, was large. The muscles pressed against his shirt, and his limbs were bulked up. Obviously, this young man – a radio presenter - was very sporty. And there was me: thin as a reed, shorter than he was, and with no more muscle on my chest than needed to keep the bones in place. My legs were lanky and my arms even spindlier. The combination just didn't seem right. But we had to make it work. My handshaker beamed and threw his right hand forward to shake mine. It felt as if I'd been caught in some machinery: the power in this man's arm was vibrating my entire body. So, we didn't shake hands. Rather, this man shook the whole of me by my hand!

Right, I wondered. Within a minute we had introduced ourselves and got off to a light-hearted start. He was personable; thank goodness because I'd be physically fixed to him for the best part of a long day. Perhaps he thought the same of me, because we were getting along well. Plans were discussed and we agreed to arrange our assigned duties before the set date. It seemed both my handshaker and I believed we were about to have a great time. But we discovered differently.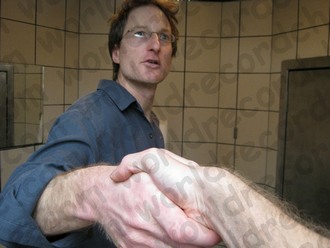 Weeks later, my handshaker and I met again in the early morning on the edge of a large city square. The local craft market was about to begin and vendors were laying out goods in their stalls, packed side by side along one perimeter. My handshaker's radio station vehicle was parked alongside the shade covering which had been temporarily erected, and electric cables had been laid out for the video camera. Several others associated with this world record attempt were ambling around, preparing or just waiting for my instructions. To one side, my handshaker and I followed through the motion of gripping each other's hand, flexing our forearm muscles should we need to relieve pain caused by repetition, and joking about what we'd let ourselves in for. Passing traffic was slow and heavy. Drivers looked over curiously to see the preparations, and I thought this might be the most activity they'd see from me all day. Within an hour, the team was ready. Having processed the required admin, my handshaker and I walked up to one another, waited for the timekeeper to give the signal, and our right arm reached for the other's.

Our hands locked firmly. My handshaker took the lead, as planned. Each time our gripped hands fell, he'd raise them using his own muscles more than I'd use mine. We'd alternate throughout the day, and the transition would be so smooth it would be unnoticeable. There was no way we could avoid such tactics, since the minimum qualifying handshaking time was eight hours. We shook hands as if following an automated routine. The novelty of the first few dozen shakes wore off very fast and doing so soon became an uninteresting self-inflicted effort. My opposite was rattling my body with every downward stroke of his arm. There was no way I could pull away, as one is inclined to do, since our world record attempt would then be nullified. The solution? To get chatting.

Well, since our minds could run the handshaking in an automated fashion, there wasn't anything to do but talk. Let me tell you, by early evening, my handshaker and I knew each other pretty well. We discussed every social topic imaginable from entertainment and politics to family history and the state of the planet. Our banter went on for hours. But then! We found very welcome company... a pair of air hostesses left the market stalls and came to ask, puzzled, why we couldn't stop shaking hands. My opposite and I suddenly developed a new interest: women. Unfortunately, they had to leave for a flight a while later. The ladies left my handshaker and I exactly as they'd found us: locked together by our hands rising and falling in the same way they'd been doing seemingly indefinitely. What could we interest ourselves with next, we wondered?

One of the assistants came over to feed us both water as if we were babies, and hand-feed us a snack as best they could. Next, as is caused by our physiology, my handshaker and I needed to free ourselves of accumulated liquid. To do this without breaking any world record rules, we had to think carefully of a plan. So we forgot about the market alongside us, the beautiful women, the tasty snacks and all sorts of other things. The most important question now was: how are we going to urinate!

Both of us had been to the bathroom before we started, but after nearly six hours, we simply had to go again. My handshaker began twisting his legs into all kinds of acrobatic positions, no doubt to control his bladder until we could devise a plan that wouldn't contravene the rules. I too was doing an awful lot of muscle pinching. The only way was for one of the witnesses – thankfully a male – to accompany us. Off we went, crab-walking to the public bathroom, but never missing a handshake stroke. In tow, the witness looked bashful having to follow. I can now tell you from first-hand experience that it is possible for a man to urinate and close his zip before half-heartedly washing the one hand with itself, and producing only a little mess, while shaking hands non-stop and being observed by a third party for the purposes of documenting the account.

This was very funny to everyone back at the shade covering. Then it was our turn to relax and laugh. The rules stipulated a short break every eight hours, which was then. My handshaker and I walked away from each other like opposing magnets, all in good humour of course. But almost too soon, it was time to reunite. Oh no, we joked, as our arms pushed our hands forward into that locked position we were so used to by then. The mind-numbing routine continued: up, down, up, down... Had we become permanent fixtures at the square, honouring the almighty handshake, or would it ever end?

Of course it all ended. My equal and I were very, very pleased once we had settled on a time to break the link for good. The decision was mutual, but not at first. I wanted to push my limits ever further, although my handshaker felt differently. So we reached a compromise: we'd shake away another 15 minutes. And boy, did that last quarter of an hour go by slowly. Yet, the entire team looked satisfied at our efforts, as were we. Mind you, our hands were rather tired. For some time, I thought I'd given myself repetitive strain injury. My fear was unjustified though, because the stiffness faded a number of days later.

When I received the world record certificate in the mail, I was the proudest fellow I knew.