Alastair Galpin
took to world record-breaking in 2004 after being inspired by a record-setting rally driver in Kenya. What began as a hobby soon escalated into an active publicity pursuit. Today, he promotes the work of social and environmental causes. For these purposes, the most fitting game plans are chosen; then world titles are attempted and frequently created.

Sustaining sponsor
If you would like regular exposure from Alastair's activities, become his Sustaining Sponsor:
A range of attempts annually
Your brand in multiple media
Distribute your own media releases
Receive product endorsements
More details about sponsorship opportunities
Special thanks
Behind every world record attempt is the expertise of professionals in their field.
Their success underpins Alastair's.
They are listed here
Greatest weight lifted with the human tongue: 1.7kg

This is the story behind my Guinness World Record™ for the Greatest weight lifted with the human tongue.
It may seem incredible, but I managed to lift a record 1.7kg with my own tongue! It was a relatively easy thing to do, but the pain was eye-popping.

I coerced a local doctor and a friend to make themselves comfortable in my kitchen as I read out a few basic rules. The weights had to be weighed and this had to be witnessed. I had to suspend the metal for a minimum of 10 seconds, and no adhesives were allowed. That would be no challenge, I thought, until I raised my head with a tangle of metal and wire attached to the middle of my extended tongue. A spike of pain – something like when one's dentist drills at high speed into a nerve by mistake – jolted up my head and across my tongue in particular.

How I remained conscious is a mystery. Perhaps it was that state of mental numbness that held my body in position, legs straddled, just long enough for me to hear the doctor say "ok, you can stop now". Half an hour later, we were laughing at the craziness of it all.
If you want to attempt a similar feat, be prepared for a lot of training and exercise to ensure that your tongue is fit and strong. I'm telling you because of the warning I got – after I'd done it.

Apparently, it is possible to rip the roots of the tongue loose, so be very careful. Mind you, if this challenge still takes your fancy, you've got bigger worries. Search the net for the current world record. Just one look at the size of that weight and I bet you'll change your mind.
Anyone with a medical condition should not attempt this record without advice from a qualified doctor!


---
Use Your Tongue Creatively
Story about achieving the Greatest weight lifted with the human tongue by Alastair Galpin
Copyright: no copyright restrictions
I knew I risked injuring my body as I prepared to dangle a set of weights from my tongue. Friends thought I'd chosen a rather unusual way to entertain myself. Some doubted my sanity. But I took my chance and lifted the weights, very slowly, causing spikes of pain to shoot through my tongue. Weeks later, I was overjoyed to be acknowledged with setting a new world record.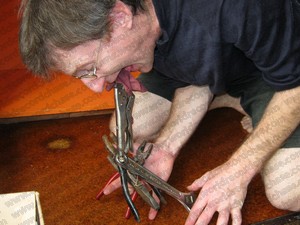 Encouraged by this initial success, I now regularly enjoy attempting world records. For each, I follow the same simple equation: creativity + determination = achievement. I also apply this formula to my public speaking, especially storytelling. Doing so nurtures my personal development, and that initiates taking innovative chances. We all have this potential in us – although igniting it can be difficult. But with encouragement, every public speaker is likely to become excited about the pleasure that creativity adds to speech-writing.
Be determined to take chances, especially at public speaking engagements, where audiences enjoy speeches with novel slants. Show your next audience your imaginative flair! Some may not warm to your charisma, but generally people will respect you for having the nerve to take a chance.
Prepare to achieve by planning and ingeniously delivering any speeches you give. Don't be concerned about individuals who may doubt your credibility. Instead, enjoy the satisfaction of speaking creatively.
To get started, you won't need to hang weights from your tongue. Simply take innovative chances when preparing your next speech. And before long, you're sure to be successful when using your tongue creatively!