Alastair Galpin
took to world record-breaking in 2004 after being inspired by a record-setting rally driver in Kenya. What began as a hobby soon escalated into an active publicity pursuit. Today, he promotes the work of social and environmental causes. For these purposes, the most fitting game plans are chosen; then world titles are attempted and frequently created.

Sustaining sponsor
If you would like regular exposure from Alastair's activities, become his Sustaining Sponsor:
A range of attempts annually
Your brand in multiple media
Distribute your own media releases
Receive product endorsements
More details about sponsorship opportunities
Special thanks
Behind every world record attempt is the expertise of professionals in their field.
Their success underpins Alastair's.
They are listed here
Tallest alternating coffee cup tower in one minute: 170cm

This is the story behind my Guinness World Record™ for the Tallest alternating coffee cup tower in one minute.
Coffee. Ethiopia. Energy. Plastic. A tape measure. Drawers. How could all these be associated? With a world record, of course. You see, life is a highly connected affair. The way I see things, I needed someone's mind to be stimulated by the coffee industry, or another sector which uses disposable cups, so they'd think of what can be achieved with a coffee cup made of paper, plastic or polystyrene. Irrespective of whether that's how the idea for this world record started or not, now it's mine.

Cups of a certain size; I needed cups urgently. I was about to visit friends, and unbeknown to them, my visit would be pitted with world record attempts. Forget drinking endless cups of coffee, nibbling on cake and smiling blankly at strangers who might pop in. That doesn't interest me. I was about to turn my hosts' house into an ad hoc world record workshop.

I arrived with a satchel stuffed with cups. These weren't any old cups. They were of a specific size, as the world record rules called for. What's more, they had been picked from a restaurant's rubbish bin. That's right, I stuck my hand into the trash can at a busy restaurant and lifted out cups dripping in coffee froth.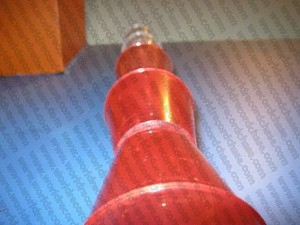 I went into a large shopping centre, hoping to find used coffee cups. My reasoning was: if the cups have been used for a few minutes and then thrown away, they're still perfectly good. So why waste more cups by buying new ones when "almost new" ones are free and available?

At every shop I entered, when I explained that I wanted to limit how much waste I produce, managers and staff told me to "…do the easy thing and just buy new ones – then throw away the extra cups not needed". This attitude is causing a lot of pollution because people are getting so accustomed to buying and throwing away whatever they want without consideration.

A network of trucks, container ships, rail carriages and cargo aircraft bring use-and-throw-away things into our neighbourhoods constantly. And we buy these things, then throw them away without a second thought.

Much of this stuff originates from mining pits that we can see from aircraft over scenic lands, factories churning out so much smoke that people cough miles away, and processing facilities which have covered up once-beautiful landscapes… just so we can buy it, use it quickly, and throw it away.

Being aware of wastage, I kept asking. I then found a great coffee shop which allowed me to pick used cups from their trash bin. I admit it would have looked strange, but I don't want to waste if I don't have to.

Out came those - by then washed - cups after I'd been through the expected niceties with my friends. In the family work area, I set up for business. The video recorder was secured to the sewing table, I pushed the chairs aside and cleared a bench top. I shut the family out courteously and spread my items out carefully.

The rules state that the cups need to be placed completely separately for the start of the challenge. So I spent a minute thinking of the best options. I wanted to have each cup as close to the stacking area as possible. A chest of drawers caught my eye. If I opened each ascending drawer a little less than the one below it, I could place cups on them so I could reach for each without having to bend down to the floor every time.

Cool idea, I thought and methodically positioned each cup. Making sure the video recorder was working correctly, I set to the challenge. Fail. Fail. Fail. I just could not succeed at making a cup tower as fast as needed to beat the existing world record. Part of the problem was that as the tower increased in height, I had to stand and could no longer steady my elbow against my knee. So when adding cups to the stack, I kept knocking it over.

After a few hours of failing, I resolved to give it my all and ensure I succeed. With intense energy, I attacked the challenge under pressure of the stopwatch once more. To my amazement, the tower stood. It wobbled, yes. But it stood long enough for it to meet the rules and for me to measure it. I exhaled with relief, remembering how determined I'd been to succeed. You see? I made it, I thought. Trying does indeed produce results.

I sent the evidence to the judges and before I had time to think about it much, the results had arrived. Great! I had another world record to my name. It made me think of how Ethiopian coffee might give others energy, but it brought me a world title. I love this.