Alastair Galpin
took to world record-breaking in 2004 after being inspired by a record-setting rally driver in Kenya. What began as a hobby soon escalated into an active publicity pursuit. Today, he promotes the work of social and environmental causes. For these purposes, the most fitting game plans are chosen; then world titles are attempted and frequently created.

Sustaining sponsor
If you would like regular exposure from Alastair's activities, become his Sustaining Sponsor:
A range of attempts annually
Your brand in multiple media
Distribute your own media releases
Receive product endorsements
More details about sponsorship opportunities
Special thanks
Behind every world record attempt is the expertise of professionals in their field.
Their success underpins Alastair's.
They are listed here
Most rubber bands pulled over head in one minute: 62

This is the story behind my Guinness World Record™ for the Most rubber bands pulled over head in one minute.
People comment from time to time that I'm mad. Normally I ignore them. But this time, I listened and agreed with nods and smiles. I've never met anyone who'd want to stretch rubber bands over their face at top speed, for recreation. To me, it was a brilliant idea and one I simply had to add to my list of achievements.

No doubt the assistant at the local stationery shop thought I worked in an office when I walked in. Then I noticed a twinge of irritation in her manner when I asked to open the box, to know if she could let me use a ruler, and asked where I could lay out a row of bands to 'test' them before buying. The woman didn't say anything, but I could sense she figured I was unnecessarily difficult to deal with. After assuring myself these rubber bands would meet all the world record rules as the lady watched impatiently, I paid. The assistant seemed relieved to watch me go.

Now that I had a hundred rubber bands, I needed a practice area. My office made the perfect place so I cleared the biggest desk and spent hours learning how to cover my head with common rubber bands. Night after night, while others thought I was working as I usually do, I sat facing my desk, causing myself intense pain again and again. To begin with, the pain was sharp. But after stretching dozens of the bands against my nose, eyelids, lips and ears, my face went numb and my pain threshold increased. So I could continue deep into the night.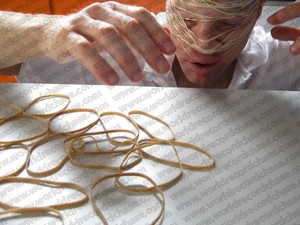 On those nights I practised, I typically went to bed with a tender cherry-red face. But it was funny, and I wasn't deterred. I remembered what an innovation advisor had once told me: "You've got to get the technique right, then everything else will follow". Well, that's just what I was aiming to do. It took some time and thought to calculate how to lay out the rubber bands, then which fingers to use to pick them up, and how to flick one edge lightning-fast in such a way that the band came to rest so my neck could be used to stretch it further. At that point, I'd release the band and it would slap with a feint puffing sound into my closed eyes and along my nose. I got this right, but not immediately. It was difficult not to flinch at the sting each time, but the idea of another world record spurred me on.

Eventually, it seemed my practising had plateaued. I was ready to face the world and show off this skill of mine, which we all know is so relevant to life in general. With a TV camera zoomed in so close the camera operator must have been able to see every sweat gland forward of my ears, I waited for the timekeeper to count 3,2, 1, go!

Following the method I'd over-practised, I attempted to place each band so it straddled my eyes and the bridge of my nose. Of course that didn't happen since I was speeding. When the timekeeper instructed me to stop, strands of rubber criss-crossed my face upwards, downwards, from left to right, and twisted into rolls. I couldn't just sit there; after all, the cameraman was there for the evening news. Bravely, I grabbed bunches of rubber bands and pulled. My eyes welled up with tears instantly. I gasped. After several tries, the knot of bands came off with clumps of my hair. I peered up into a snapping camera and spectators amused at what I'd voluntarily put myself through.

Not long afterwards, I was contacted by a New Zealand journalist who'd been commissioned to profile my activities. Of all the photos that could have been replicated for use, it was decided that I should recreate my attempt at using the rubber bands. A full-page photo of my scrunched-up, blood-starved, asymmetrically stretched rubber band-covered face appeared on the cover of a popular weekend magazine. The first comment I got was, "...everyone I know saw that!"