<
Alastair Galpin
took to world record-breaking in 2004 after being inspired by a record-setting rally driver in Kenya. What began as a hobby soon escalated into an active publicity pursuit. Today, he promotes the work of social and environmental causes. For these purposes, the most fitting game plans are chosen; then world titles are attempted and frequently created.

Sustaining sponsor
If you would like regular exposure from Alastair's activities, become his Sustaining Sponsor:
A range of attempts annually
Your brand in multiple media
Distribute your own media releases
Receive product endorsements
More details about sponsorship opportunities
Special thanks
Behind every world record attempt is the expertise of professionals in their field.
Their success underpins Alastair's.
They are listed here
Most underpants pulled on in one minute: 20

This is the story behind my Guinness World Record™ for the Most underpants pulled on in one minute.
Let me start by being open about it: I gave up wearing underpants in about 1991. So perhaps its quite ironic that I should be interested in this world record. But when one is overtaken with a passion for record-breaking, even a mention of the term 'world record' causes excitement. So I got myself 20 pairs of bright red underpants of varying sizes.

Wondering just how to do this after not having touched a pair of undies for so long, I tried various things. What worked best was laying them all out on my sofa, stripping off my clothes, pulling on one pair of very tight undies and starting the stopwatch for the rest. I tripped and stumbled repeatedly, hurting several toes in the process. But that wasn't my biggest barrier to success; speed was. Becoming innovative, I took a break from practising and analysed the cycle of events.

It became apparent I'd need to lay out each pair, overlapping by almost 90%, at an angle of less than 15 degrees to the next. I'd need to begin at one end of the array to shorten the time my hand took to flick each pair up, and it was important to place most of my weight on one leg, using my calf to push my torso to the opposite side. What detailed but utterly worthless info I was collecting, I thought. Yet, at that time, it was vital to me, and my inability to beat the clock proved it.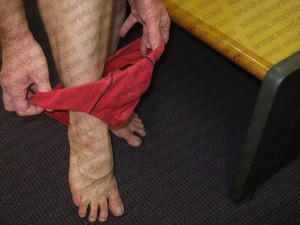 I practised wherever I could, including at friends' homes and demonstrating my task to the local neighbourhood children. They were amused and I knew the media would be too. One kid – fifteen year old Scott Innes - took a particular interest. That was probably because I needed one pair of very tight-fitting undies and didn't have any at hand. I scratched through his drawers and picked out the ideal pair: his favourite yellow undies. At first he moaned that he needed them for school but I changed his mind on that. It took only one demonstration and Scotty was laughing.

Some weeks later, Scott and his friends arrived to watch me make the world record attempt for TV. The event had been publicly advertised and several bystanders came along. Much to some parents' disgust, the man about to be interviewed for the evening news began to remove his clothes! But Scott, his mates and I placated them, which lightened the atmosphere. Next, everyone was ready for underpants action. Taking deep breaths, and wearing only Scott's constricting yellow undies, I focused on the spread of red in front of me. I practised one last time, before the cameraman switched his device on. I had to get this right, I instructed myself.

Much to my own surprise, I succeeded at beating the existing world record time on my first attempt. It was impossible not to giggle along with the others, and soon we were all humoured. Of course, I'd need to complete the administration before this attempt could be confirmed as a new world record, but I was confident it'd succeed.

That night, the story made national TV news. It went on to appear in one of New Zealand's biggest newspapers and radio personalities began referring to me as "the underpants man". International media gradually picked up the story which sprouted across the internet. I was enjoying the attention. But nobody loved all this talk more that young Scott Innes. With his chest puffed out and his ego boosted, he proudly went about his activities for the next few weeks because I had chosen his yellow underpants – of all those I could have – to use for a world record he'd seen on the TV news.