Alastair Galpin
took to world record-breaking in 2004 after being inspired by a record-setting rally driver in Kenya. What began as a hobby soon escalated into an active publicity pursuit. Today, he promotes the work of social and environmental causes. For these purposes, the most fitting game plans are chosen; then world titles are attempted and frequently created.

Sustaining sponsor
If you would like regular exposure from Alastair's activities, become his Sustaining Sponsor:
A range of attempts annually
Your brand in multiple media
Distribute your own media releases
Receive product endorsements
More details about sponsorship opportunities
Special thanks
Behind every world record attempt is the expertise of professionals in their field.
Their success underpins Alastair's.
They are listed here
Most toothpicks rotated in the mouth simultaneously: 39

This is the story behind my Guinness World Record™ for the Most toothpicks rotated in the mouth simultaneously.
If you think I'm crazy to try this, you'll think I even crazier when I reveal that I practised it alone at home, late at night, and then I tried it almost 10 times in public! But I'm not as stupid as I may seem to be. Before I began practising, I carefully planned what I'd do if a stray toothpick were to lodge in my soft throat tissue or stab me in the nasal canals at the back of my mouth. I'd double over my office chair, I decided, remain as calm as possible under the circumstances, and begin a type of self-surgery through guessing and feeling my way in order to remove the stake from my bleeding flesh.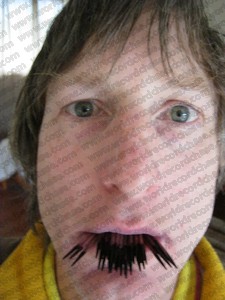 Thank goodness that never happened. Truly, because if it had, I may well have gone unconscious before managing to rectify my mistaken toothpick self-stabbing act. Now that's scary to think about. But what's done is done, and after many attempts I succeeded at this world record. Awesome. Here's the story.

On a backpacking trip to the north of New Zealand, I stopped near the country's foremost Customs post for yachts departing for the Pacific islands. I'd gone to stay with and assist a newly settled family with renovating their plot of land along a creek behind a well-established ridge of sand dunes. While planning that trip, I'd actually plotted my route on the internet while trying to rotate 20 toothpicks in my closed mouth, but I recall having to spit them out again and again because I kept jabbing the roof of my mouth painfully. After my 4th day of hard labour on the coastal plot, I managed to round up the witnesses I needed to watch me spin a bunch of sharp toothpicks in my mouth.

As usual, I explained the process, the obliging witnesses read the rules, and I set up my video camera near the gently burning wood fire while a helper painted all the toothpicks on one end. This was so we could track their rotation 360 degrees. With great effort to prove that I was acting transparently, I spoke constantly until inserting the pieces of wood in my mouth and drawing my lips closed. Seconds later, I was forced to expel the toothpicks into a bowl, followed by a flood of thick, bubbly saliva: one toothpick tip had stabbed the lining of my throat, causing my windpipe to constrict. What a great start, I thought. The witnesses weren't amused.

They were even less interested when I dried the slimy toothpicks and processed to subject them to watching the starting process all over again. But this time, I succeeded in rotating the toothpicks halfway round by twisting my tongue, cocking my head back and forth, groaning as the sharp wooden ends scraped along my flesh, and pulling extraordinary faces. Dribbles of saliva drained from the sides of my mouth, plopping heavily into the plastic container. But then one got stuck between my teeth and my right tonsil, seemingly cutting into the muscle, and I simply could not loosen it. As my mouth filled with saliva, my only choice was to open my jaws and hurl the bits of wood out quickly. This exercise was becoming as tricky for me as it was unsightly for my witnesses.

Was it awkward for me to be dribbling, groaning and developing wet eyes from the self-inflicted pain in a stranger's household? Of course. But I was after the world record title, and if this is what it took, I'd do it.

And so we continued, attempt after attempt, although somehow I sensed the witnesses' enthusiasm for staring at me dribbling saliva was waning. The only option was for me to make sure I succeeded the next time, and that's just what we all thought happened. Amazingly, my tongue got all the toothpicks to rotate in a single bundle, until I oozed them out of my mouth in the same position they'd entered it – or so I was confident about.

What an exhausting exercise that was! I'd been tense for hours, because of the spikes of pain constantly surging into the nerves in my mouth. It felt as if I'd just spat out a hedgehog – one species of which has been introduced from Europe to other regions, becoming a common garden pest - which had been determined to pierce my gums, throat and cheeks as many times as possible. My mouth felt tired. But I had admin to attend to, so with a sore mouth I began coordinating the paperwork to accompany the evidence I'd submit to the judges.

Once back home, I was shocked to discover that I had only spun the toothpicks 180 degrees, thereby nullifying the attempt. I couldn't believe how this had been unnoticed by both witnesses and me. It was my fault, because I am meant to be experienced at this, am I not? Yes.

What to do! I called up a charismatic man living nearby and within days, I had another chance to try my tongue at twirling toothpicks a few times. It was essentially the same undertaking as before, and once again, the same result: a fail. The best of my attempts was not clearly captured on video, because I was shaking too much from the spikes of pain. Once again, it was my own fault. This was becoming ridiculous, I told myself. And so I set out to try for a third and final time.

Along the west coast of New Zealand, at the head of a bay frequented by orcas which are mercilessly killed in other parts of the world's oceans, I lured the required witnesses into assisting me. All credit to them, because they too had to watch me dribbling and arching over in pain, with watery eyes and an ever-expanding puddle of discoloured bubbly saliva collecting in the bowl between my chin and the table. Possibly the worst thing for them though, was watching as I counted the toothpicks one by one, by picking them out of the gluey sludge-like saliva. I'm ever so grateful for their ability to look on, for without their attention, I'd have failed yet again.

But this time I was really successful – it took months for the results to be issued by the judges, but when the news reached me, I was elated. Never again would I have to rotate sharp toothpicks in my mouth to prove myself, because I'd done that already. It was a great feeling, I will admit.

So if I see you out on the town, sure, we'll share a platter of nibbles. But I refuse to then insert all the leftover cocktail sticks into my mouth and begin rotating them with my tongue!