Alastair Galpin
took to world record-breaking in 2004 after being inspired by a record-setting rally driver in Kenya. What began as a hobby soon escalated into an active publicity pursuit. Today, he promotes the work of social and environmental causes. For these purposes, the most fitting game plans are chosen; then world titles are attempted and frequently created.

Sustaining sponsor
If you would like regular exposure from Alastair's activities, become his Sustaining Sponsor:
A range of attempts annually
Your brand in multiple media
Distribute your own media releases
Receive product endorsements
More details about sponsorship opportunities
Special thanks
Behind every world record attempt is the expertise of professionals in their field.
Their success underpins Alastair's.
They are listed here
Most radio interviews in suspended cage: 98

This is the story behind my world record for the Most radio interviews in a suspended cage.
Under normal circumstances, nobody would volunteer to dangle from a crane in a caged public toilet over Easter. If pressurised to do so, however, it'd be wise for the contender to cope well with sea-sickness, not be scared of heights, and not have a phobia of public toilets. But, as you probably know by now, I'm not your average fellow. I can't hold my stomach for more than a few minutes on a rocking boat, I don't like heights when I can avoid it, and I'll do almost anything to avoid visiting a public toilet.

So why, one has to ask, would I be the one to suggest this world record attempt? Because the opportunity arose, and I wanted the attention for myself as well as for the social cause associated: help for those affected by problem gambling. I thought it was worth the effort, and I always will. Problem gamblers need to know there's help.

It took approximately a year to set up this event. There were tough times, like when the authorities would not let plans progress without extensive hurdles being overcome. But the great team of assistants I had overcame every challenge. Some of the planning was fun too. It humoured many companies to hear of the plans and think of ways to support it. Plans changed so many times to fit the legal, safety and community aspects of the event, I wasn't always able to keep up. In the end, we'd succeeded in arranging most things: a portable public toilet that fitted into the man-cage for the crane, the bare basics that anyone would need to live in a remote mountain hut with, a computer for media contact, and an army of helpers to do just about everything.

Finally, the big day in April came. The team stuffed bags of belongings into the toilet and I slipped inside. After some media attention and dozens of last-minute checks, I was secured into my harness and the crane's engine hummed. Ooh! The cage began to lift free of the ground and up I went as the wire rope spooled. Initially, my heart was in my throat, but a few hours later I'd come to terms with this: I'd either fall to my death or the Problem Gambling Foundation of New Zealand would receive a great deal of media from my being here.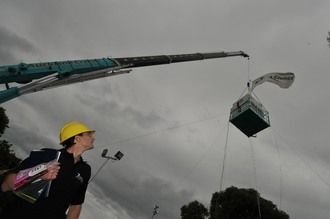 Thankfully, the latter happened. I spent almost all day and night, every day and night, seeking radio interviews. I picked up live and recorded chats from right around New Zealand and to the furthest corners of the world: the Falkland Islands, Tenerife, Guam, the Inner Hebrides, Belize and more. I did try the main operating channel in Antarctica, but perhaps that scientific community had other priorities. Several Arctic outposts and smaller nations in the high latitudes were a struggle to make arrangements with because I'm limited to English. So, alas, I had to foresake the opportunity with keen presenters in these regions.

Back in Britain, though, things were humming. I was getting feedback regularly that locals were calling in, grateful to radio show hosts highlighting the problem gambling issue. People spoke of their loved ones being affected, the related crime and their fears of family insecurity. A number of talk groups emerged on air, and even a few regular talk back shows! I was called by a number of radio stations, wanting more chatter on the issue. This continued for my three-week escapade. The UK was highly receptive of the need to face gambling addiction.

Australia loved the concept of a stunt to highlight the situation. I was asked for so many interviews, I got to recognise presenters' voices when they called. As in the UK, I was told of stories involving Australians reaching out for help, and their motivation to assist others as a result of our New Zealand project.

Canada responded with similar fervour. It was here I had my longest interview during the attempt – 45 minutes live. The national broadcaster duplicated a recorded interview I did with them, and I heard from friends across the country's time zones that I was under discussion on various programmes. Then a prominent Canadian university used this event as part of a message aimed at youth, alerting them to potential addictive behaviours.

The international media was having a feast. It went on and on. Some radio stations interviewed me almost a dozen times, I ended up on countless news and entertainment websites, large and small newspapers wrote articles, television channels ran stories in numerous countries and magazines published spreads of my work – including this event - afterwards.

I was exhausted and filthy when I emerged after 3 weeks. Everyone who'd been involved was happy, though, for the achievement we'd all created. We even created a slideshow to depict the record attempt, from which you can see the conditions I had endured.

Yet, my administrative duties were only about to begin; all world record claims must be supported by exhaustive paperwork. For the next year, I'd be collecting data of all sorts in preparation to send to the judges. During this time, psychologists in a handful of countries took a brief interest in how living in this confined space had affected me. Friends also commented that since emerging, I'd changed permanently to a slightly more subdued type. I wonder what the full mental ramifications of this undertaking have been on my mental state?

And would you believe it, one day, when attempting another world record, I was approached by an individual. He was clasping a newspaper clipping of me in this cage. I was puzzled as he pointed to it inquiringly. Then he asked how he could beat my achievement. I was encouraging to this potential challenger, but was stunned that he had chosen this as his very first world record to attempt. I've never heard from him since.


The diagram below was my sketch as to how to fit everything into the small space which was to be home for the event - it reflects just how tight a squeeze it was.