Alastair Galpin
took to world record-breaking in 2004 after being inspired by a record-setting rally driver in Kenya. What began as a hobby soon escalated into an active publicity pursuit. Today, he promotes the work of social and environmental causes. For these purposes, the most fitting game plans are chosen; then world titles are attempted and frequently created.

Sustaining sponsor
If you would like regular exposure from Alastair's activities, become his Sustaining Sponsor:
A range of attempts annually
Your brand in multiple media
Distribute your own media releases
Receive product endorsements
More details about sponsorship opportunities
Special thanks
Behind every world record attempt is the expertise of professionals in their field.
Their success underpins Alastair's.
They are listed here
Most socks worn: 74

This is the story behind my Guinness World Record™ for the Most socks worn.
Because I'd done this before, it was going to be as easy as ever, and I knew it. Getting things arranged was straightforward. To make it all even easier, someone else organised another box of socks to be sent to me. Once again, I latched onto the box, full of glee. Socks, socks, oh wonderful socks! I fondled them, sniffed them and wrapped them around my fingers as I got to know them all. What a delight. Of course, part of that excitement was knowing I could succeed a second time.

Carrying the box, I hopped and skipped my way inside my house to make the necessary phone calls. Before long, I was ready to show anyone out there that I could wear more socks at once than they probably buy in three years. I was going to make this world record attempt, placed in a shop window for a charity. I could hardly sleep from excitement.

It was morning. My helpers placed the video camera and advertising banners in the background, and I sat on the floor in the shop window. I flung off my single sock; huh! What was one sock when I could have dozens on at once. The witnesses were ready, and a presenter from a radio station was waiting at the doorway. I was sure I knew what this young man wanted – if something went wrong, he'd have a terrific story for the airwaves. Disappointingly for him, my world record attempt was going to go as smoothly as a hot knife slides through butter. No trouble at all, or so I had hoped for.

This time, I'd not sorted the socks into pairs or placed them in a long line. Rather, I picked out each sock as needed from pre-tied bunches. Spectators staring through the large windows from the pavement must have thought nothing of it, since my hand actions were as regular as clockwork. To match what looked like a problem-free effort, my confidence began to inflate. I grinned at by-standers, and even spoke with bravado to my own team. But oh no! This time, I was too quick for my own good.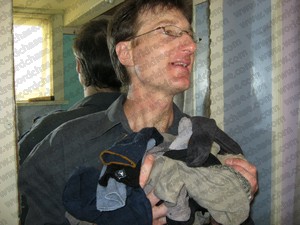 My own world record still stood at 70. When I came across sock number 65, I had to swallow my pride. It was all my fault. I hadn't prepared the sorted socks in the most thoughtful way, and now I was going to pay the embarrassing price. This one wouldn't go on. I immediately became irritated, remembering how my hands had bled during my last attempt. This time, I had no intention of scraping my knuckles raw against the stiff layer of over-stretched sock material. What was I going to do? Picking gently with my fingertips was not enough to pull the socks on. Running my hands over the material from toe to lower leg wasn't helping either. I couldn't think of anything else to do but force my fingers under the outermost sock and pull with all my might.

By then, I'd forgotten about my ego. I had a problem and passers-by were stopping to watch. I wished I could have shut a curtain but there was no way. I had to get through this alone. And that meant inflicting pain on myself. With regret, I gripped that sock and pulled like a bulldozer. Off came my skin, out came the first of my blood and up went the sock. That was the 65th. To stand any chance of beating my own world record, I had to do this to myself at least six more times – definitely no time to display my false and inappropriate confidence. I took a deep breath and felt terribly stupid as I pulled in silence. Minutes later I had number 66 on. The blood spread. I was given a plaster. Once again, I inhaled deeply, and, holding my breathe, I pulled on the next sock like a dog fighting for a bone. The plaster tore loose and the grazed area extended. It stung. I'd only done 67. Help me, I cried out in my mind. The witnesses watched with patience. Thankfully, the radio presenter must have decided this news wasn't worthy of spreading. Onlooking children whispered amongst themselves, and some asked me questions. I really wasn't interested, but I answered them as calmly as I could.

Slipping on the last four socks to beat the current 70 was sheer cruelty to myself. But by then, perhaps due to the developing numbness of my knuckles, I found the renewed determination to continue. I would not, under any circumstances, allow these socks to get the better of me. I might have a passion for the things, but they weren't going to get between me and my next world record. Stupidly, I thrust my hand out, clamped my jaws and jerked more socks up my very fat lower leg, inch by inch. I wasn't sure what I was doing, truth be told. But through my pathetic determination, I always kept the thought of a world record in my mind. I drove myself.

Without meaning to, I began moaning to myself softly, and then I called out in pain. The First Aider jumped up, but, wanting to avoid negative attention, I shut up. The First Aider looked on for a few seconds, then sat. This was excruciating. I forced on another sock after sock. But that was it. I simply couldn't do even one more. My foot was throbbing in places, numb in others, I felt sweat developing above my eyebrows and my hands were shaking a little. Absolutely time to stop, I told myself. And with that, I declared defeat. Defeat to myself, that is, for I knew I had surpassed the existing world record mark. I fell back onto the shop floor and rested. Spectators peered in from the pavement – not worried about me; but inquisitive about the bloated foot I was sporting. I couldn't care what they thought.

Once I had gained some energy, I pulled each sock off, counting as I went. Wonderful! I was pleased with that result. Then, all that remained was for me to complete some admin and mail off my claim. I'm glad I did – this achievement was published in some of the world's largest entertainment books. Now does that feel good.