Alastair Galpin
took to world record-breaking in 2004 after being inspired by a record-setting rally driver in Kenya. What began as a hobby soon escalated into an active publicity pursuit. Today, he promotes the work of social and environmental causes. For these purposes, the most fitting game plans are chosen; then world titles are attempted and frequently created.

Sustaining sponsor
If you would like regular exposure from Alastair's activities, become his Sustaining Sponsor:
A range of attempts annually
Your brand in multiple media
Distribute your own media releases
Receive product endorsements
More details about sponsorship opportunities
Special thanks
Behind every world record attempt is the expertise of professionals in their field.
Their success underpins Alastair's.
They are listed here
Most snails on the face: 8
This is the story behind my Guinness World Record™ for the Most snails on the face.
Would you put snails on your face? Since I grew up with wildlife in southern Africa, I didn't mind in the least. When taking safari tours for visitors to wilderness areas, it was common for us guides to put dung to our nose and tongue to assist with tracking some of the larger game. So what's squeamish about a few snails crawling and pooing all over my face? Nothing, as far as I am concerned. But media thought differently. Perhaps that's because so much of the world population lives in cities where contact with nature is minimal.

I was taken to a large shopping mall. Amidst a display featuring world record books, I laid out my gear: a plate I grabbed from my crockery rack, one of my kitchen towels and some toilet paper. Carefully, I placed my new restless buddies – an empty ice cream container of common garden snails - alongside the plate. They probably didn't have a clue how famous they were about to become.

An announcer began inviting shoppers to watch what I'd do with these snails. Youth gathered, and I saw a few video cameras from radio stations focused on my preparations. I was ready, but waiting for others gave the snails ample opportunity to try to escape. As each crawled to the edge of the opened container, I had the repetitive job of plucking it off the plastic rim and returning it to the leaves my friend and I had placed in there when collecting the little creatures. My thoughts drifted to the efforts we'd gone to when hunting for suitable snails.

As is so common, when you want something urgently you can't find it. But when you don't need that particular item, you see it everywhere. Some consider garden snails a pest in New Zealand, but finding more than one or two when I needed them proved a time-consuming task. For weeks, I searched the local parks, friends' gardens, along road verges and around vacant plots. At least a dozen people were keeping an eye out for me. Then, an elderly friend peeped behind a cluster of succulents one day and found a colony. I was there in a flash because the world record attempt date was imminent. Together we rounded up a few dozen snails of all sizes, punctured the container and included some of the moist turgid leaves. My retired friend was rather concerned about their safety, telling me these snails were her companions. I therefore needed to handle them with extra love and care, as I was doing in the shopping mall while waiting for the preparations to be completed.

The others were ready. Glancing over the rules again, I made myself comfortable in the chair and transferred each snail onto my dinner plate. Bystanders exclaimed but I continued. The countdown began and I methodically applied one wriggling snail foot at a time to my face. Quicker than I thought, they slithered in all directions and were soon drawing my hair under their muscled sucking pads. I craned my neck to try and direct their movement but felt them attempting to dig themselves into the corners of both my tightly closed eyes, burrow into my pursed lips and probe up my nostrils with their slimy bodies.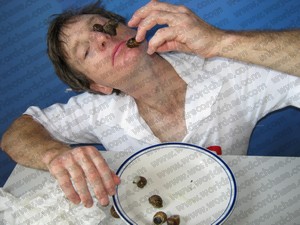 The timekeeper instructed me to stop applying snails since the allotted time had passed. I had to remain in position for 10 seconds for the attempt to qualify. Sitting perfectly still, I could feel the snails constantly sucking with and sliding their muscular bodies along. Some fell to the table, but had a soft landing in my purposefully placed dish towel. Very quickly it was time to gently remove the remaining little ones. By this time, spectators were repeatedly groaning out of disgust, taking photos of all this. But their clicks and flashes went off constantly when I turned for the first media interview: a semi-transparent yellowing layer was beginning to cake in patches on my cheeks and eyelids, much like smeared egg yolk. I peeled one eye fully open and removed a blob of congealed slime from blocking my view, smiling. Remembering not to lick my lips, I responded to the question I was anticipating, "So, Alastair, how does it feel?" When I heard an exclamation about there being pearls of dark sticky poo strewn across my face, others – including media - rushed to see. I stood there politely until the interest in my head dissipated, after which I needed to pay more care to the snails.

The same day, I released the snails near a stream at my elderly friend's request. Standing in the open by myself, I thought how peaceful it was outdoors, away from the hustle of the shopping mall and journalists. Then the big media hit.

A contract photographer wanted photos for a press agency. He and I spent more than an hour replicating the event, and I pulled more funny faces for him than I had in a very long time. Soon, National Geographic Kids magazine had bought a selection and I featured in one of their chosen world record columns. Children the world over would have seen that story, and it wasn't long before I had challengers. That magazine aside, the news was translated into a handful of languages and spread fast in entertainment news outlets. In New Zealand, radio and TV covered the event over the next couple of weeks. In quick succession, my successful world record was beaten in the UK, Australia and the USA. Each time, news coverage was high, as it had been for my own attempt.

These days, when journalists write articles on my world records, they often single out this one in their profile of me. I can't see what all the fuss is about, but if it sells their writings, that's lovely. This world record has also given me somewhat of a reputation. I've become known, rather unimpressively, as "the man who puts snails on his face".

Oh, and I should mention that I still use the dish towel and plate I took with me to break this world record. Unbeknown to them, some of my guests have since eaten off that plate.