Alastair Galpin
took to world record-breaking in 2004 after being inspired by a record-setting rally driver in Kenya. What began as a hobby soon escalated into an active publicity pursuit. Today, he promotes the work of social and environmental causes. For these purposes, the most fitting game plans are chosen; then world titles are attempted and frequently created.

Sustaining sponsor
If you would like regular exposure from Alastair's activities, become his Sustaining Sponsor:
A range of attempts annually
Your brand in multiple media
Distribute your own media releases
Receive product endorsements
More details about sponsorship opportunities
Special thanks
Behind every world record attempt is the expertise of professionals in their field.
Their success underpins Alastair's.
They are listed here
Most side jumps in 30 seconds: 51

This is the story behind my world record for the Most side jumps in 30 seconds.
Life is beautiful. And getting world records for living life makes it even better. Yes, it's true – there's nothing that compares to receiving recognition for just about everything one does. In my world, I love being acknowledged for as much as I can get. Rather self-centred, but it's the best one can make of being alive. That's my view.

So, since I've spat, thrown, hung, worn, ripped, eaten, blown and smashed my way into world record categories, why not add jumping to that? It made perfect sense to me. The mere thought of jumping toward another world record made me so excited right there, I began jumping on the spot, much like a Masai tribesmen in a traditional jumping ceremony. The floor of my tiny house began to creak almost immediately. I stopped, fearing I might end up waist deep through the floor boards.

By then, my energy was high and my enthusiasm even higher. I couldn't resist, so I swung open the front door, skipped out onto the grass and jumped in the same place until there were footprint indentations in the ground. My heart was beating hard, but that didn't deter me. I rested for a moment, then continued jumping as high as I could, picturing the Masai and Samburu champion jumpers of east Africa in my mind. Much as I wanted to keep jumping forever, I couldn't, and the strain on my heart forced me to take a break. Obviously, I couldn't be the tribesman I thought I was.

But that workout made one thing clear to me. I can jump – albeit not as well as an African tribesman, and I believed I could jump my way to my next world record. In my favour was the fact that I already held a similar world record; knowledge I'd draw on to help.

Resigning myself to planning, I drew up a list of requirements. Many were simple, but it all depended on my enthusiasm. I spent hours on the telephone, full of so much energy I was jumping at every opportunity. Several calls later, a lot of what I needed was arranged. All that remained was for me to take my assistants to the venue and begin the real jumping. That day came quickly, amid days involving many other world record attempts for me.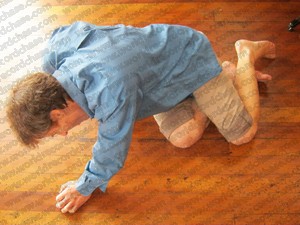 My helpers and I dropped our bags on the passenger waiting platform in New Zealand's biggest railway station. Nobody paid any attention. That was fine with me, because they'd be looking later, I was sure. The three of us completed the required admin and got straight to the action. Yes, I'd practised, but much of my learning had been while I was otherwise engaged - such as while waiting for others to answer their ringing telephones. I felt reasonably comfortable with my ability as I went to stand in front of a large pillar where I'd jump.

I placed my sign alongside me, which I commonly do to advertise what I'm doing. Within minutes, spectators were gathering and I could hear coins being dropped into the collection tin. Good, I thought. People were waiting and I wasn't ready. My assistant needed to get the video camera operational. Soon, all was working and I threw off my shoes, rolled up my trouser legs and posed. Upon the timekeeper's instruction, I jumped for the first time of many, clapped the soles of my feet together audibly, and landed in a different position. As soon as my feet made contact with the wooden floor, I launched my body back into the air to reverse the process. And again and again I went. By this time, people were watching with more attention. How could they not – here was what appeared to be an insane man jumping in the middle of the train station!

Children were particularly interested. But much to the disappointment for those who arrived well into my 30 seconds of action, the next thing it was all over. I was relieved; perhaps some spectators wanted to see more. From me? Never. This was incredibly tiring. I buckled over forwards from exhaustion. My chest expanded and contracted in quick succession as I fought to regain my breath. A number of minutes later, I was once again full of energy and ready to discuss the event with my two assistants.

Some passengers had taken photos; others had taken video on their mobile telephones. I liked it. This might encourage them to get out and get some exercise. Or maybe they just thought I was some caged beast on the loose for the day.

At 51 side jumps in the allocated time, I'd actually beaten the rate I'd jumped at years before for a similar world record. I was pleased, even though I must have looked like a lunatic to anyone unaware of my aims. That's what the public sign was for, although I'm not convinced people believed it. I did, though. In fact, I was so impressed with myself that I jumped a few more times from satisfaction. To me that was rewarding, although any Masai or Samburu tribesman would probably have shuddered to see my trivial pursuits compared to their achievements.

Having completed our task, my assistants and I collected the gear – including the donations - and left the train station behind. All I needed to remember that station for was its ability to provide me with a record breaker's playground. And I'll be back there one day, for something else I might jump with excitement over.