Alastair Galpin
took to world record-breaking in 2004 after being inspired by a record-setting rally driver in Kenya. What began as a hobby soon escalated into an active publicity pursuit. Today, he promotes the work of social and environmental causes. For these purposes, the most fitting game plans are chosen; then world titles are attempted and frequently created.

Sustaining sponsor
If you would like regular exposure from Alastair's activities, become his Sustaining Sponsor:
A range of attempts annually
Your brand in multiple media
Distribute your own media releases
Receive product endorsements
More details about sponsorship opportunities
Special thanks
Behind every world record attempt is the expertise of professionals in their field.
Their success underpins Alastair's.
They are listed here
Most side jumps in one minute: 90

This is the story behind my Guinness World Record™ for the Most side jumps in one minute.
Adults I know don't seem to do much jumping, as far as I know. Neither do I for that matter. But this day I jumped until my heart was hammering in my ribcage. If you tried to spring on your legs nearly a hundred times in a minute, I bet you'd also be panting if you're not a regular at it. One of the rules demanded a little more effort than one would expect: each jump had to be a minimum of 20cm high. I decided to do this, thus giving myself more jumping experience than I'd had since childhood.

This attempt hardly demanded much intellect. All I had to do was balance, use my calf muscles with agility, and breathe in rhythm to my own physical motion. I could do that, I reckoned. Then I tried. Oh boy, was it tougher than the idea! It was chilly that New Zealand spring morning, and I was walking around in a pair of socks. Choosing not to remove them, I read over the guidelines again and walked onto the footpath to practise. A few deep inhalations and I was buzzing with energy. One dozen jumps to the side, then two dozen and three. Tired, I stopped and felt my feet being tickled. My socks were in tatters. Off they came, and because I was then rather cold, I couldn't wait to get jumping. The temperature was excellent motivation.

It was hard work. Even though extremely thick saliva began filling my mouth as I unwittingly exceeded my limits, I jumped and jumped and jumped. After a bout of spitting, panting and shaking, I continued jumping and jumping. I knew this exercise was good for me, so somehow I convinced myself I was enjoying it. That was a long stretch of the imagination, but one always needs to be positive for such undertakings. The tougher the practising got, the more effort I invested in convincing myself this was great recreation. Little by little, I started to find it amusing, albeit rigorous going all the while.

I began noticing an improvement in my skill at jumping like a hyperactive frog in an unprecedented hurry to go nowhere. This was indeed becoming fun, at least to me. But if any of the neighbours had been watching, I'm sure they would have dismissed me as a lunatic for the dozenth time. Yet, what damage could that do to my reputation – I'd regularly been portrayed as a quirk in world media. So in my spare time, I occupied myself by jumping barefoot on the footpath repeatedly, this way and that. Thus, I – the self-made frog, became a self-made expert at hot-footing it from side to side.

One day I decided I'd had enough. That was good timing, since I was due to make several world record attempts soon. I met the adjudicator and together we set ourselves up just inside the automatic double doors to a shopping mall. Shoppers paid casual interest. Next, the adjudicator placed 20cm high markers where they could be easily seen, and I was told to get ready. Having rolled up my trousers to below the knee and removed my shoes, I breathed deeply, focused my mind and nodded. On the count of one I launched myself off one calf muscle so I landed almost a metre to the side. Again and again I did this, not keeping track of the tally. The adjudicator was concentrating on that as well as on the timing. Her finger was resting over the stopwatch buttons. I hopped and jumped merrily for all observers to see. Talk about seeking attention... But the relatively small crowd that watched me making the attempt more than doubled the instant I finished.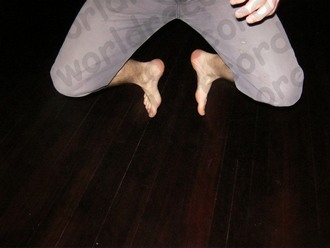 Upon hearing the firm instruction to stop, my legs lost all power and my body collapsed like a weight atop an upright sheet of paper. The gathering crowd closed in and I heard someone suggest an ambulance. Thankfully, I'd quietly mentioned to the adjudicator beforehand that this might happen, saying it was nothing to worry about; I'd recover after taking in a few lungfuls of air. I heard her pacifying the spectators, who, by this time were beginning to feel a sense of urgency. My chest heaved as I lay spread-eagled, blocking the shop's main entrance. Minutes ticked by. Then, gradually, I regained strength, propped myself up and rose to my feet. Children were staring, wide-eyed. But a few genuine smiles from me reassured them. Soon I was being approached to sign their books, answer questions and explain what I loved so much about breaking world records.

The adjudicator was waiting, so I paused during a book signing. I heard just what I was longing to: I had become one world record richer. Even though this had been a rather simple undertaking, I was pleased. Satisfaction overtook me and I relaxed as kids kept wanting to know more about how they too could get into the record books. I was only too happy to explain.