Alastair Galpin
took to world record-breaking in 2004 after being inspired by a record-setting rally driver in Kenya. What began as a hobby soon escalated into an active publicity pursuit. Today, he promotes the work of social and environmental causes. For these purposes, the most fitting game plans are chosen; then world titles are attempted and frequently created.

Sustaining sponsor
If you would like regular exposure from Alastair's activities, become his Sustaining Sponsor:
A range of attempts annually
Your brand in multiple media
Distribute your own media releases
Receive product endorsements
More details about sponsorship opportunities
Special thanks
Behind every world record attempt is the expertise of professionals in their field.
Their success underpins Alastair's.
They are listed here
Most rhinestones on the body (shared): 31,680

This is the story behind our Guinness World Record™ for the Most rhinestones on the body.
If ever I'd had a rigorous experience, this is it! More than 40 hours of treatment, an expert working tirelessly as if for a world-class show, and the glistening result all made for one mother of an ordeal. Never before – and never since – have I come across any person to have exposed their skin to more rhinestones than most of us see in a lifetime. Sure, I know such folks exist; I just wonder where they are. When I'm an old man, I bet I'll remember this.

I'm wondering what to write now. That's how I felt when planning this world record. Every step of the way involved critical decisions, and each of those choices impacted on the next and the next. I had no idea what the most effective route to success would be, so I sought professional advice. I found the very person I needed in a long-experienced body artist. This woman had designed, made, painted and managed items that would make one think her handiwork was from a perfect world. I was so impressed at first seeing her work, there was nothing to say or do but stare at her. We'd work together and I was completely obliging.

It was decided early on that I was not to wear a flesh-coloured body suit, over which to lay the rhinestones. Instead, an artist who had been working on some of the most famous films made in New Zealand came round – with her electric shaver. I'd never met this young woman before but I stripped to the underwear I wore just for that occasion. After being turned, asked to squat and raise my limbs, and after plenty of nips from the machine, I felt new. All my arm, wrist, hand, chest, nipple, shoulder, stomach, neck, back, flank, groin, upper buttocks, leg and foot hair had been shaven. I didn't actually know I was so hairy, I will admit. Now, she smiled, I had been prepared for work. I grinned.

This took place within two days of the actual world record attempt starting. Between my meeting the body artist and then, it seemed an era had passed. I was allocated a helper who, with great energy, spent weeks travelling tens of kilometres of city roads raising support. I had researched the health effects of litres of glue being used around my body. I'd had to investigate the associated fire risks. We needed a premises where we could work around the clock, which my helper arranged after a lot of negotiating and searching for a place with suitable lighting, constant access with security guards, parking and more. I would also need medical staff on call, witnesses to rotate every so often on set duty rosters 24 hours a day, and people to take photos and control the video. I needed guidance and help arranging what seemed like a book of paperwork, then I needed to sort out times that I could be out of action.

There was media to plan for, plus all the charity dealings associated, and the extensive management needed to fulfil the world record rules. The body artist had to think up a pattern for applying the jewels, there was practising to see to, and everybody involved needed to make sure their time off would not impact them long-term. My list was longer than my arm at one stage. But, thankfully, I survived it. I had no choice, because things were only just beginning.

Almost completely shaven, and feeling rather feminine because of it, I had to wear a g-string for the first time in my life. This was the body artist's instruction, because it fitted in with her grand plan. Do you think we could find g-strings that were flesh-coloured? It was as if the country had run out. We searched endlessly, and just hours before the attempt was due to start, I slipped into my attire. No, not one pair – for g-strings were all I'd be wearing, but four pairs. Too bad that I was cold. The glue would be even cooler as it was wiped on my skin the way one paints a canvas.

Once I had gone through some admin, I lay on the purpose-sourced massaging table. It had been placed in a large glass display window along a trendy street in a busy central city location. I wasn't the only world record contender, in fact. A young model wished to take part so it was agreed that a second body artist would work on her while I was being adorned alongside. I heard the plan was for media to run stories on her. However, the event hadn't been going long and the young model quit.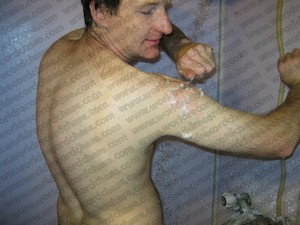 With the special glue smeared across my upper chest, the body artist picked her way through tiny bowls of coloured rhinestones, searching for what would make her art beautiful. Each of these stones had been counted, by the way, which was a world record claim requirement. You can imagine how careful we were not to lose one if it meant the attempt could then fail. As I lay there in silence, hearing only the body artist's tools scratching through the stones, I felt so relaxed – not bothered that I was on show to the public with my groin facing them.

The body artist worked like a slave. Decide, pick, stick, check, neaten up, apply more glue, decide... I respect this lady for the stamina she showed non-stop during this repetitive application process. I could feel each rhinestone being applied and moved carefully into place. Its surprising how sensitive the skin on one's upper chest is when someone's putting body art on it. It tickled, but I knew I couldn't move. Every few hours, I thought I could feel the patterns developing as they swirled this way and that across my skin. Then I'd look up and yes, there were beautiful patterns, but they weren't as I was imagining them.

When I needed to empty my bladder, things got interesting. I was not in need of another type of toilet visit since part of my preparations had been to eat no solid food for some time before the event began. As the body artist worked painstakingly, bent over me, others were passing me liquid which had then expired its welcome in my body. The glue hadn't set yet, and we were all worried that if one area of skin touched another, I'd become glued to myself. The artwork could be pulled out of shape. Or worse, the rhinestones could get glue on their upper surfaces in which case we would find it very difficult to work with them. The others were cautioning me with every limb movement I made as I changed position from horizontal to vertical. Next, it was time for action. Have you ever seen a dog doing the three-legged dirty? Then you'd know precisely what I looked like – except that I was also part-covered in shining stones that alerted anyone and everyone to my presence with every move I made.

Night soon fell. Shoppers and passers-by vanished, street lights came on and human night life emerged. I was once again on the massaging bed, lying unnaturally flat on my back. How uncomfortable, but I could do this for as many days as the body artist needed so I could get that world record. Everybody involved was putting in a lot of effort. There was no way we would be happy for this event to fail. The body artist energetically continued. And she continued. And she kept going, right through the night.

When morning arrived, others may have had a good break from the day before. But not us. I was still lying in the same position, the witnesses on duty were still sitting quietly, and the body artist was still hunched over my chest. This was going to be a long event, and we all knew it. Then, much to our surprise, the owner of the shop we were currently in decided we had to get out. Right then! We tried to explain the difficulties this would cause, but to no avail. So off the entire team moved, me in the most unprepared state: coated in glue, partially patterned, tired, hungry, cold, and worried about the world record attempt failing. My helper wrapped me in a sheet to contain any rhinestones which fell, and we left.

In a spare room at the charity premises, we unloaded every item we'd brought over with care. When I gently unwrapped myself with help, fewer than a dozen rhinestones had fallen. These were cleaned and stuck onto me again and I had to complete the associated admin. The patterns on me were beginning to take shape and they looked smart. Contrasting colours. Bold curves. Intertwining designs. I liked them! But there was no time for me to stand admiring myself in a mirror. I was told to get back where I belonged: on the mobile bed and on my back.

The predictable process continued for what seemed like eternity: rhinestone after rhinestone being placed on my skin. When I next needed to prevent my bladder from bursting, I made sure with the body artist it was fine for me to sit up. She helped pull me up because the crust of glue and jewels from my neck to my navel was a limitation. It didn't work – I was glued to the bed! We had a brief chuckle. But I needed to get to the bathroom. Using hands and implements, others freed me from the surface and I was able to stand. The artist had applied a lot more of the stones by this time, and my groin was almost covered. This, I was to discover, would all but prevent me from urinating until the event was over. That meant I'd be forced to stop drinking and perhaps I'd not survive.

Yes, these thoughts crossed my mind fleetingly. But by the time I had waddled to the bathroom, bow-legged, I realised it wasn't that bad; it was worse. The glue on one upper thigh was rubbing off on the opposite. The rhinestones had skewed out of position. My g-strings were now smeared in glue which made it even more tricky to waddle, crab-walk or whatever else I tried. My mind couldn't spend too long focused on the artwork, however – there was far more urgent business to attend to.

I clutched the toilet door to open it. Sure, it opened, but I had also stuck myself to it. Stupid door! I withdrew my hand and it peeled loose with a bubbling noise. Do you then think I raised the toilet seat? No. Flinging one leg far out to the left, I made the necessary move, while making sure I didn't slip the other way. Oops. Things got stuck; and I wished my thigh hadn't been coated in glue. By fiddling a little, I solved that problem. But, as you can imagine, now the same problematic item was stuck to my hand! Too bad. I emptied my bladder.

When I returned, the ladies asked why I took so long. I didn't comment. Up I went, onto the bed once again and the artwork continued, beginning with repairs to my groin artwork. If anything was taking long, it was the entire world record attempt. By the time we finished it, the body artist had not slept properly for almost two full days and nights. To compensate, everyone was being patient, positive and encouraging. At long last, I could see the event was drawing to a close. My legs had been covered, and so had part of my face. I thought this woman's art was exquisite. Then she proved it by explaining how many international awards she'd won for her efforts. I would have believed the artist no matter how many awards she claimed to have.

What a pleasure it was to see the artist get through the last of the little rhinestones. It was time to get the admin over with. I was eager to get this done as soon as possible, since getting clean was my first priority. The team all left the premises in relief, once we'd taken photos, then removed all the stones and thanked each other copiously. Freeing me from my shining cage was very painful. The body artist and her assistants did the job professionally, but it still had me yelling. Perhaps the high quality glue had adhered to the hair bases because the mats of glue came off only by being pulled with noticeable force. I was loaned an available car. Wrapped in the same sheet, and looking somewhat ghostly, I made my way to the only shower I knew I'd be allowed into.

At my girlfriend's house, I stripped – for lack of a better word – off the sheet. She was faced with me looking like a lunatic. Besides the g-strings and the odd rhinestone which hadn't been plucked off, all I had stuck to me was lines and blobs of jelly-like sticky glue. Lots of it, I remember. It was as if I'd been skinned: slime all over and in a very irregular pattern. In a sense, I had actually been skinned alive. My beautiful, never-to-be-seen-again plate of artwork had been stripped off and I was left artless; artless and virtually naked.

It took 11 showers, a small bar of soap, a kitchen knife, half a container of floor cleaner, a bottle of shampoo and a hot water tank of shower water to clean me. Never again! My fingers could not scrape the glue off. The hot water didn't seem to make any difference. Cold water just made me cold and the soap may as well not have been wasted. It took me my first two showers to discover all this. Very good glue, I must say. So I asked for something to scratch the glue off with and my girlfriend's hand reappeared with a butter knife. From below my eyes to the base of my toes, I scraped until I was numb. My skin went red and the hot water cylinder began to run lukewarm but I could not afford to stop. How would I sleep like that?

I decided the knife on its own was too slow so I used the remainder of the soap. By that time, I'd taken seven showers, although I was a long way from being clean. The unopened peach-smelling shampoo bottle was next but with it I made little progress. So I mixed the last of it with what my moaning to my girlfriend returned next: kitchen floor cleaner. Right. It seemed I had found the recipe. Shampoo rubbed into floor cleaning concentrate and applied to the skin, then scratched at with a blunt knife worked. Blob by blob and lump after strand of dried glue, I got the stuff off me. It was a big job, and I had to turn the shower lower so I wouldn't completely empty the water tank. Even so, the water began to run dry. Thankfully, this was while I stood under the flow, relaxing just before hopping out. And when I did eventually get out, I found my girlfriend asleep. I was bright pink all over, but I was clean at last. I was also ready to sleep for a full day.

Since then, this world record has been published in various books. It was chosen as a challenge offered by at least one TV station, but nobody beat the record set by this body artist and I. Almost half a decade later, we were beaten and the world record returned to Europe, which is where the body artist and I took it from.