Alastair Galpin
took to world record-breaking in 2004 after being inspired by a record-setting rally driver in Kenya. What began as a hobby soon escalated into an active publicity pursuit. Today, he promotes the work of social and environmental causes. For these purposes, the most fitting game plans are chosen; then world titles are attempted and frequently created.

Sustaining sponsor
If you would like regular exposure from Alastair's activities, become his Sustaining Sponsor:
A range of attempts annually
Your brand in multiple media
Distribute your own media releases
Receive product endorsements
More details about sponsorship opportunities
Special thanks
Behind every world record attempt is the expertise of professionals in their field.
Their success underpins Alastair's.
They are listed here
Most radio interviews in 24 hours (shared): 57

This is the story behind our Guinness World Record™ for the Most radio interviews in 24 hours.
When I think back to this event, I am still amazed. What a privilege it was to have the opportunity to promote a charity this way. It was my pleasure, and one I will hold dear for years.

Between the charity and I it was decided to make an attempt at this particular world record. As is most often the case, I don't know exactly how a world record event will turn out when I begin planning. Things develop, plans change course, and peoples' involvement changes as progress unfolds. So it was with this event. I was involved from concept to the completion of this event, and it was exhausting. I became a chaser: chasing radio stations and their presenters because staff were continuously changing. But that was fun. The biggest challenge was chasing time zones.

Where are you right now? If you're west of me, according to the world map you learned from at school, do the hours wind backwards or forwards if you were to travel to me on the same day in my local time zone - which changes by an hour twice a year, via the shortest route? If it is yesterday in one country right now and a radio station repeater 21 hours behind you there transfers you to a nation 6 hours ahead of yesterday, at what time will you be dealing with the repeater station, local time? Don't be confused – you don't need to be since you're probably not about to attempt this world record. But that's what I mean when I say this was a challenge to set up. My mind was working hard all the time.

Thankfully, there is help on the internet, which I came to rely on. Once I'd arranged dozens of radio interviews, I needed to source the telecommunications to make the plan work. That took weeks, and a good friend helped locate a very proactive company to supply just what we needed. In addition to this, I was collaborating with many people in various countries about specific radio programmes, listener content and their format for taking overseas interviews. What a learning curve that was. All the time, I was being spurred along by knowing a wonderful reward could be near...

My interviewee partner and I had arrived at the charity premises by 7:10am. The witnesses followed us in. Food and drink had been prepared and the room had been made as homely as possible. One would have sworn this man and I were coming to live there. In the far corner, a row of tables had been positioned. Two telephones sat on them, as well as paperwork to guide us. Upon seeing this, I felt a tremendous sense of gratitude to a handful of people who had helped over the preceding months. What made me most appreciative, though, was their foresight and belief that this world record attempt deserved their efforts. These individuals had my respect and I wanted to see this world record succeed with impact. The event was minutes away from beginning and helpers were pacing around the room, setting the last of things up. It looked good.

We were almost ready when a test discovered that one telephone was dead. Oh no! I swallowed hard and turned away. Minutes later, after much discussion, someone announced that both phones were operating as usual. I was relieved, realising that the results of 12 months' work was then totally dependent on two slender phone lines.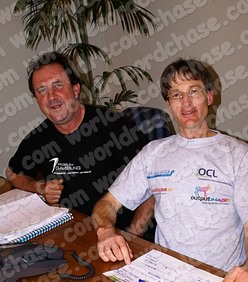 The phone rang. My colleague and I were in such a rush to get to pick up our receivers, we must have looked funny. He went silent in mid-sentence, cleared his throat and adjusted his jacket. I jumped in panic and lunged toward the nearer desk with nervous energy. The secretary was having to control our situation calmly, and she did well: "Radio interviews world record attempt. Thank you for calling..." Four steps from her, my colleague and I had scrambled to the handsets and pulled them to our ears. To our advantage, we had both lived through many radio interviews, and chatted away as if this was our hundredth incoming call of the event. The countdown had begun.

The morning passed, then the afternoon and evening. Pre-planned interviews were being struck of the list every few minutes. Helpers were seeking additional interest from within New Zealand, Australia, the UK and the USA as well as from countries we thought would be interesting to speak to like Namibia and Indonesia. During periods of no interviews, those present shifted around, stretching their legs, swapping duties, preparing refreshments, and most importantly, securing more interviews for my colleague and I. It was tiring, but the results were beginning to show already.

Into the night we spoke. Actually, we were providing daytime, noon, midnight, breakfast, afternoon tea, pre-dawn and every other type of radio show with content, depending on where in the world our voices were being aired. My colleague remained emotionally calm all the time. But not me; my excitement was running away on me, making me hyperactive and somewhat of an irritation to the others. I bet they were all relieved when tiredness struck me in the early hours of the morning.

The rate of interviews had slowed by then, which was unplanned, since I'd purposefully spaced interviews across the whole 24 hour period. However, not every plan works out precisely as intended and we were left with extended periods of non-activity. In some ways this was to be appreciated because my colleague and I had just had more-or-less the same conversation several dozen times, each with slightly varied content. "Why are you doing this?", "What is the best part so far?", What is the worst part so far?"... It was then I thought that having sent out a list of suggested questions may not have been such a good idea after all.

Daylight came. My colleague and I were both drowsy. But somehow, the energy and enthusiasm in the room kept us alert enough to speak with the same level of passion we'd begun with. The frequency of interviewing stations calling in escalated. More than once, the engaged phone line prevented callers from reaching us, and some gave up. We weren't concerned; all we wanted was the world record – at whatever cost.

It felt wonderful to receive a call from one of the largest radio stations globally, broadcasting into much of Africa, the Middle East, central America, north America and Europe.. They were on the line just for us? Wow, yes they were. That call got my heart racing and soon I had renewed energy as if I was about to start an Olympic race. Every interviewer after that might have thought I was strangely intense, and I'd have agreed. I'm not sure what causes the pleasure from such media opportunities, although the exhilaration of such an experience is incredibly satisfying.

Soon after, 7am arrived and the event wound to a close. The line was jammed around this time, and we even took several presenters' calls just after the 24 hours had lapsed. I was feeling fresh and vibrant, but at the same time, tired and deserving of a whole day's sleep. I'm sure my colleague felt the same while I completed the last of the required admin. We both knew - and everyone else who'd been in the room at any point during the event knew - that this had been massive global exposure for the charity. It was worth a great deal both in financial terms and publicity-wise.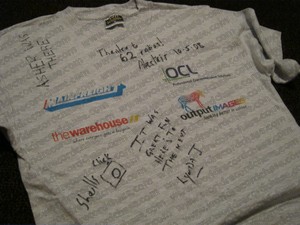 No matter how that world record is described, I will always cherish it as my first virtual round-the-world trip, and what a memorable one it was, thanks to brilliant radio presenters all over the planet. After this world record attempt, an estimate was done on how many listeners would have heard the charity's message. The figure stood at a staggering 10 million or more. I was aghast that my work – with great help from others – had produced this widespread result. Then the feedback began proving how extensively our message had been received. A call came in from Belgium, where an associate of my interviewee colleague had heard us while driving; calls came in from the east coast of Australia; and messages trickled in from across the United States. As the subsequent weeks passed, more and more comments were coming in from distant locations, and we knew – with immense satisfaction – that our world record attempt efforts had been a very worthwhile pursuit.

Sadly, though, our message was heard a little too widely; that's said with a touch of sarcasm. A famous rock band from the southern United States must have heard us on air, otherwise the news got to them pretty quickly. Because soon after the charity and I succeeded at this world record, the rock band claimed it. If I'd commented at all, it was that this proved how effective my work with the charity had been. If our efforts got the interest of a rock music band – a rock band! - so intently that they went out of their way to try and beat us, then we did something with impact.

Was I disappointed? When I first heard the world record was no longer in my hands, yes, a little. But there may come a day when I hold that title again. One can never tell what the future holds. What I do know though, is there is always a chance: I have had renowned wildlife protection groups asking me about it.