Alastair Galpin
took to world record-breaking in 2004 after being inspired by a record-setting rally driver in Kenya. What began as a hobby soon escalated into an active publicity pursuit. Today, he promotes the work of social and environmental causes. For these purposes, the most fitting game plans are chosen; then world titles are attempted and frequently created.

Sustaining sponsor
If you would like regular exposure from Alastair's activities, become his Sustaining Sponsor:
A range of attempts annually
Your brand in multiple media
Distribute your own media releases
Receive product endorsements
More details about sponsorship opportunities
Special thanks
Behind every world record attempt is the expertise of professionals in their field.
Their success underpins Alastair's.
They are listed here
Most candles lit in the mouth: 8

This is the story behind my Guinness World Record™ for the Most candles lit in the mouth.
In the early part of 2011, I went to Milan, Italy, for a world record TV show. I made 3 attempts on set, one after the other, to be aired over the coming weeks. I'd just slipped 13 gloves onto one hand in 60 seconds, and then had barely a minute to reorganise my thoughts for the next world record attempt – holding the most burning candles in my mouth.

I hold this world record, and I've been brought to Italy to try and beat myself. But with all the celebrity action surrounding my visit, it is tricky to concentrate on just candles!

Famous names have been imported from across the planet – Kenya, Bosnia, Canada, Lithuania, Ivory Coast, India and elsewhere - to act in this show. My mind is battling to cope with the amazement of it all. In fact, there are so many celebrities here for the show, the first hotel is booked out and many have been taken to a second hotel.

Famed Italian TV presenter, and host of Italy's "Who Wants To Be A Millionaire", Gerry Scotti, is who we've come to appear in front of. But I must have been special: I'd been taken to a mini studio at the back of the main studio arena, where I was beginning to focus on just how to insert candles into my mouth.

That was hard to concentrate on, when I knew there were so many incredible people on site. Images of faces I'd passed in the hotel flicked through my mind: a pilot without arms, the strongest woman in north America, the world's top slack-liner, and dancers who send shivers down my spine. My head was already spinning with intrigue at having met a human cannonball, a six-fingered man, the world's smallest teenager, and the greatest living high diver among others.

By the end of my first day in the hotel, my mind had been crammed with fascinating facts about the people around me. It felt surreal to be staying with these types, I must say! And they had kept coming: Moses Lanham – Mr Elastic – and his son walk backwards with their feet facing in the direction they're moving. Great to watch! The Russian Bar Trio humbly told me, when asked, that they'd been invited onto Oprah Winfrey. Their acrobatics were indeed impressive, even in practice. Jarno Hams – Dutch strong man, his Lithuanian and Latvian counterparts had arrived to compete at carrying a car weighing 400 kilograms 20 metres as fast as possible. Zydrunas Savickas of Lithuania was to win. Then a black couple from the Ivory Coast walked in and I went over to introduce myself, only to find the French-English language barrier. With help, we exchanged greetings. The husband, Dickson Oppong, better known as Waterman, can extinguish a fire by spraying water from his stomach.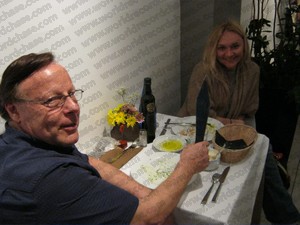 The next and the next incredible human being had kept arriving. I was so stunned by all this, I must have looked dumbfounded. I probably was! But they kept astounding me. The world's fastest knife thrower – the Great Throwdini – allowed me to take a photo of himself and his 'target', Katarina, as they enjoyed dinner with a selection of throwing knives on the table… And as if I hadn't been shocked enough, 2 more celebrities were soon milling around the hotel. Anthony Kelly introduced himself to me, having heard of my work. He catches arrows, and is tremendously fast-acting.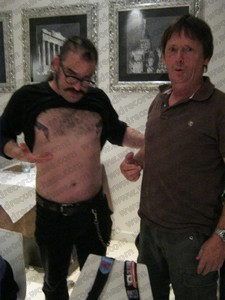 Next, the Great Nippulini came over to chat. I saw nothing out of place until he lifted his T-shirt to reveal what he calls the "world's strongest nipples". He lifts heavy weights with his nipples.

I felt a chill dash up my spine as he smiled proudly.

But – hard as it may have been - I had to forget them all and pinpoint my mental energy on sticks of candle wax where I stood in the mini studio. Since I had made this attempt before, I knew I'd have squashed wax oozing in between my teeth and some wax might even make my jaws stick together. The thought was wonderful. And, to make it even more real, my memory of wax in my mouth was rather fresh…

In the days preceding, I'd found a supermarket which sells Italian candles, being the local option. Due to the language barrier, staff couldn't talk to me and I couldn't speak to them. So why try to explain that I wanted to see how many candles I could fit in my mouth? There would be no point, so I scanned the aisles instead. No staff were watching. "Now!" I told myself, and grabbed a handful off the shelf. Tilting my head right back, I folded my lips around the first candle, while letting it slide down to the back of my throat. Then the next. And the next. Nobody stopped me, so I treated that as a reason to continue.

Five candles were soon snuggly positioned in my mouth – the same as the world record I currently hold. Italian candles are more slender than New Zealand equivalents, making this easy for me. Having got 6 candles tightly in between my jaws, I twisted my eyeballs to the left and right, but seeing nobody, I remained in position. Several seconds later, I whipped my neck forward and hauled the cluster of candles from my head. Although I didn't mean to, I must have had a terrible smirk on my face, which customers saw. I knew that by the looks I received. Placing the damaged candles on the shelf, I dashed for the exit where I spat flakes of wax and thick saliva onto the concrete as 2 ladies approached the shop. I didn't care, and proceeded to spit with audible disgust. Let me tell you, wax in between your teeth is no good thing!

The supermarket visit proved that I could beat my own world record, and I was about to do just that in the studio for numerous TV cameras. Goggles were passed to me as I stood at the table in front of a bank of small TV screens as a backdrop to the attempt. Overhead, massive spotlights beamed down on me, their heat being detectable. Production staff were milling around in the semi-darkness.

And the next thing, the world record representative was holding 10 candles in his palm. I was told to begin whenever I was ready. I cleared my throat, peered around me nervously and lowered the goggles over the bridge of my nose. Gingerly, I plucked the first candle from the pile, lit it and inserted it into my mouth comfortably. The TV cameras were trained on me, production staff had formed a wall not far ahead of the table, and the brightness of the overhead lights burned my eyes.

It really was extremely simple: I repeated what I'd done in the supermarket and this time, I'd be awarded a new world record if I could beat myself. Less than 4 minutes later, I had 8 burning candles stuffed in my mouth which the rules stated I had to keep in position for 30 seconds. Those few seconds were the toughest.

Molten wax dribbled down the candle shafts and solidified on my tongue. Although I tried not to swallow, I could not help myself, and it was then that I tasted blood. Later, I was to find out that the left corner of my mouth had split slightly as I'd forced the 8th candle into position. Thinking about my flesh tearing – like a chunk of raw meat being pulled in opposite directions, was not heart-warming. But thank goodness I did not know my mouth had torn until after the attempt. As some do at the dentist, I began moaning uncontrollably from the discomfort and from feeling pearls of gradually solidifying wax coming to a standstill part-way down my throat. The 30 seconds passed quite quickly, and I ripped the bunch of candles from my face as soon as I was permitted to do so. They chipped as they hit the floor and extinguished themselves.

Reaching for a bowl, I spat and spat. My saliva was reddened, dotted with wax flakes. My facial muscles contorted. A number of spits later, I turned to see the world record representative waiting to honour me with a beautiful medal. I had succeeded at breaking my own world record.

In an instant, I'd punched the air and – quite rudely – ignored the production staff alongside the men trying to issue me a certificate! This was too much excitement to bear. I had yet another world record. Awesome.

As I picked my way to the studio's outer entrance, I felt good. Within weeks – just enough time for the footage to be edited – Italy would know who the great candle holder is: me. "Bring me more attention, bring me more attention" I wailed in my mind…