Alastair Galpin
took to world record-breaking in 2004 after being inspired by a record-setting rally driver in Kenya. What began as a hobby soon escalated into an active publicity pursuit. Today, he promotes the work of social and environmental causes. For these purposes, the most fitting game plans are chosen; then world titles are attempted and frequently created.

Sustaining sponsor
If you would like regular exposure from Alastair's activities, become his Sustaining Sponsor:
A range of attempts annually
Your brand in multiple media
Distribute your own media releases
Receive product endorsements
More details about sponsorship opportunities
Special thanks
Behind every world record attempt is the expertise of professionals in their field.
Their success underpins Alastair's.
They are listed here
Most candles lit in the mouth: 5

This is the story behind my Guinness World Record™ for the Most candles lit in the mouth.
I think I know you. And I think I know most other people. I presume you'd all use candles to light an area so you can see what you're doing. Yes, I would do that too, but only if I didn't have more important uses for the candles. The single most important thing I can do with candles is almost letting them ease down my throat.

But not so fast! I'd need to control the movement of the candles, and make sure I didn't injure myself because I would want them to do me a favour – earn me one more world record. And that's precisely what I set out to do. I was about to get more intimate with common candles than I'd ever thought I would.

A world record-breaking event was approaching and I was determined to take part, being the obsessed type I am. Exactly what I'd do was still uncertain, but I had time to think it over because this was fast becoming more important than anything else for the year. At first, ideas floated in and out of my mind, but seeing decorative candles in a gift shop really triggered my thoughts. Quickly, I had a brilliant idea – or so I thought. I wanted to support dripping candles in my mouth, even though I recoiled at the thought of molten wax splashing across my eyeballs and setting instantly. Nevertheless, I was going to pursue this challenge. I could only hope I'd get it over with without cooking the surfaces of my eyeballs with heated wax. To me, the risk was worth it for another world record. I'd made up my mind.

Until then, I knew as much or as little about household candles as most people. Maybe even less; I knew so little about the average candle you'd be correct to call me downright ignorant. But I was intelligent enough to know that one turned them upside-down to light the wick, then stood them in a base of sorts and enjoyed the flickering light they produced. Preparing for this world record attempt meant I'd learn a whole lot about candles, which, until then, I'd been oblivious to. And that wouldn't surprise those who know me – I tend to be delightfully ignorant about most things until I decide to use them for a world record attempt.

The rules stated that I needed to use standard candles. Over the years, I've learned to investigate every term and phrase issued in these rules, to make very sure I am acting within their limitations. My first task was to work out what 'standard candles' were. In souvenir shops, I discovered, the most pretty candles for sale were often of a lower melting point than traditional household candle wax, and they contained special additives to enhance their burning characteristics for our pleasure. Differing grades of wax for commercial and domestic use give varying qualities of light emission and so forth, I found out. The candle-maker I questioned was terribly informative, but little did he suspect that the candles I'd choose would be gripped in my teeth for fun and attention. After nearly an hour in his shop, I left, happy that I knew just what to buy.

Back at home, I shut the curtains and licked my lips with excitement. No. I wasn't anticipating a tasty snack; I was dreading the wax I knew was about to get smeared in between my teeth and over my gums. I smirked, but knew I had to do it. Closing my eyes, I strained my mouth open so wide, I heard my jaws crack like an ice block being shattered. It hurt, but, being the strange person I am, it did not deter me. I inserted the first white household candle which flopped to one side, then the next and the next. Without an option, I began supporting the unstable candles with my teeth, needing to grip them tighter as they leaned further apart. Ironically, the more I closed my jaws slowly, the deeper my incisors sunk into the wax, thereby defeating the purpose of applying pressure with my teeth. I could feel wax oozing over my teeth, slowly covering them like some hideous jelly. I stopped.

But that was senseless! I had to move to get the candles out anyway, so I reluctantly continued to grip them and then reached for the matches. Stop, I reminded myself. Hot wax. I needed goggles. Out came the candles, leaving flakes of sticky wax on my teeth and lips, and I leaped to the bathroom basin. Like a crazed man, I rinsed and rinsed my mouth until my cheek muscles were pulsing with pain. I couldn't bear the thought of eating domestic candle wax. Then I realised what I was doing it for: I had to find goggles.

Within minutes, I was back in my kitchen – the venue of numerous of my world record attempts, placing those bitten candles back in my gaping mouth as gently as I could. This time, though, each was alight. The goggles would protect me, so I needn't pay much attention to the danger. I spent what felt, and tasted, like an hour there, playing with the lit candles. Gradually, I began to feel in control, and I reassured myself I could do this, no matter how much I wasn't looking forward to snacking on decidedly unappetising wax.

In the bathroom, I used one over-worked toothpick to rid every one of my teeth of any trace of wax I could see or feel. The mess had got all over, it seemed. But I took the time to cleanse my mouth and then brushed my teeth so hard, any dentist would have been in a panic – or maybe excited about the work coming their way.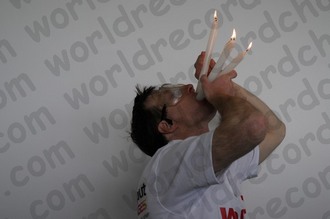 Over the next few weeks, I practised several times, on each occasion dreading the taste and feel of the oily white ooze. But I tried not to lose sight of my goal: my next world record. I think that's what kept me motivated; almost peculiarly fixated, even though I was hesitant to grip any candle in my teeth.

By the time the world record event arrived, I was ready with a handful of attempts. This would be just one, and the one I was looking forward to the least. But the mental image of myself holding a world record certificate was a strong lure, and one I could not forsake. So I entered the venue with my pack of candles under my arm, worried but also excited. My assistants weren't as excited as me; perhaps they were embarrassed that I was going to do something awkward!

A breeze was developing, so I chose to make my attempt indoors, overlooking a sports track. In front of a group of children looking on with wrinkled noses, I flung the goggles over my head and spread the box of candles across the table. One by one, I placed them, lit them, and positioned them in my wide open mouth. Shutting my eyes in disgust, I clenched my jaws tightly and could feel the tips of my teeth sinking deep into the oily wax. Trying not to think, I waited for the timekeeper to count down.

And soon enough, I was able to release the load. The candles flopped this way and that, falling to the floor. Helpers and I gathered them all and blew out the ailing flames. But my thoughts were elsewhere. I lunged forward, just as the photographer was taking photo after photo, and out of my mouth came a pool of wax-infested saliva. All over the table. Thankfully, a plastic bag was lying just where the bubbly expulsion landed, although seeing it could not have been pleasant for anybody. The children exclaimed but I was too concerned with my wax problem to care. This was a world record attempt, I told them in my mind, so you should be prepared for anything!

Within minutes, I'd all but satisfied myself that I was wax-free. I'd spat until my mouth was dry, and now I had to smile at the audience. Lovely. But I did it. The photographer took more photos and I finished the attempt by completing the required paperwork as fast as I could. All that time, my tongue was catching on the roof of my mouth, making it difficult for me to speak clearly; I was still carrying wax in my head, I realised with disappointment.

As quickly as it had all begun, it was over and I was once again in dreamland... dreaming of whether I would receive a world record certificate attesting to my coveted ability of being able to hold a cluster of burning candles in my mouth. To me, this was an achievement to puff my chest out for. It was global recognition I desired in print, and attention I was prepared to eat wax for.