Alastair Galpin
took to world record-breaking in 2004 after being inspired by a record-setting rally driver in Kenya. What began as a hobby soon escalated into an active publicity pursuit. Today, he promotes the work of social and environmental causes. For these purposes, the most fitting game plans are chosen; then world titles are attempted and frequently created.

Sustaining sponsor
If you would like regular exposure from Alastair's activities, become his Sustaining Sponsor:
A range of attempts annually
Your brand in multiple media
Distribute your own media releases
Receive product endorsements
More details about sponsorship opportunities
Special thanks
Behind every world record attempt is the expertise of professionals in their field.
Their success underpins Alastair's.
They are listed here
Most jelly eaten with chopsticks in one minute: 410g

This is the story behind my Guinness World Record™ for the Most jelly eaten with chopsticks in one minute.
I looked pathetic in the photos I saw of myself slurping up as much red cranberry-flavoured jelly I could swallow in record time. But I didn't care. Why not get out and live while I'm alive, I reason. Yes, live it up by trying to be a pig at the dinner table. Well, more specifically, behave very antisocially at a plastic table placed in the middle of a shopping mall as dozens of shoppers drift by in all directions.

I love attention, so the more strangers stop and stare with dumb looks smeared across their faces, the more excited I become. This world record attempt was great for that reason. I'd practised several times at home, but not being one for eating with chopsticks, I needed to concentrate. All the more because spectators always want to be blown away by entertainment. Now I had to perform!

The refrigerated container of set jelly was gently placed in front of me, where I was seated at a rickety lightweight table. I smiled at the world record adjudicator, hoping that'd be my ticket to success, as she flipped the jelly and positioned it on the plate. The jelly had to be specifically prepared so its consistency was just right. My knee bumped a table leg, causing the tower of upturned jelly to wobble awkwardly. That'll be in my stomach in less time than most kids can munch their favourite burger, I thought. The adjudicator urged me to slice up the jelly formation to make it easier to swallow, as per the rules. I did, and then we weighed it all. Then came the chopsticks, followed by a clean cloth. It was folded and laid next to me, presumably in anticipation of the mess to be caused by the pig-out. I was virtually being waited upon, which seemed out of context for what was to follow.

I wiped my palms on my shirt as I often do immediately before a world record attempt. Giving the adjudicator a nod in readiness, she calmly counted down. My hand lunged forward and I slammed the pair of chopsticks into the heart of the jelly lumps. Opening my mouth like a funnel, I leaned forward and scooped up blob after blob. Some were skewered on one or both chopsticks; others were carried into my gaping mouth while balancing precariously. I don't normally burp in public, since I think that's a little antisocial. But uncontrollably, the first burp erupted from my open jaws, which I ignored. Although I felt embarrassed, I was too busy being an utter glutton. In the corner of my eye, I could see the adjudicator's thumb on the stopwatch. I had to gulp faster, faster, faster.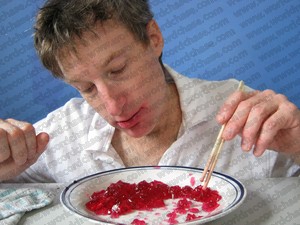 In an attempt to speed myself up, I extended my lower jaw as far as humanly possible; in a similar way to how snakes prepare to swallow large prey. This must have looked bizarre, because I heard a few giggles. I forced my lips apart so much that I thought the skin at both corners of my mouth was tearing. But I knew this wasn't really happening, so I forced my jaws ever wider. I leaned over the plate so closely, I could just about suck jelly up my nose. Had my face been an inch lower, this may well have happened. I'd begun forced hyperventilation in an effort to draw jelly up off the chopsticks, across my tongue, and rolling down my throat all in an instant.

Chunk by chunk, the jelly popped into my wide open mouth. With minimal visible effort, I kept my gullet as open as I could. The blobs disappeared, one after the other. My system's reaction was to push out burp after burp. And so it continued until the adjudicator stopped me: jelly in, burp out. But all wasn't perfect. Red dribbles of jelly had fallen to my left and right, and sprinkled the table. I could feel a slimy trail of jelly mixed with saliva extending over my chin and down the skin on my throat. My nostrils were stinging; I must have snorted some jelly up from the back of my throat by mistake. I felt dizzy, as though I'd just vomited. And at that moment came the big one. As I smiled at my entertained audience, quite ungraciously, instead of a funny statement out came the loudest burp of all!

I couldn't help but smile more. So did most of the bystanders, but not all. People spun on their heels and walked away. Am I that disgusting, I wondered? By then, the adjudicator had sufficient time to do her checks. We weighed the remaining jelly, then I sat quietly. A minute later, I was acknowledged with having set yet another world record.

Great! As I relaxed, a feeling of euphoria swept over me, as always when I succeed at a world record attempt. But in this case, perhaps a full tummy and all the burping helped a little.