Alastair Galpin
took to world record-breaking in 2004 after being inspired by a record-setting rally driver in Kenya. What began as a hobby soon escalated into an active publicity pursuit. Today, he promotes the work of social and environmental causes. For these purposes, the most fitting game plans are chosen; then world titles are attempted and frequently created.

Sustaining sponsor
If you would like regular exposure from Alastair's activities, become his Sustaining Sponsor:
A range of attempts annually
Your brand in multiple media
Distribute your own media releases
Receive product endorsements
More details about sponsorship opportunities
Special thanks
Behind every world record attempt is the expertise of professionals in their field.
Their success underpins Alastair's.
They are listed here
Most High Fives in one minute: 76

This is the story behind my Guinness World Record™ for the Most High Fives in one minute.
For days, I paced up and down. To the world around me, it seemed I was intensely worried about something they couldn't see. In fact, I wasn't worried; I am extremely excited. World record fever was overtaking me and I was unable to get enough of it. Just weeks away, I was to appear at a public event and try my skills at several world records. One attempt, if I could have my way, was to involve everyone. But what would it be? As I often do, I dismissed much of my routine so I could concentrate on devising the best possible plan.

My dishes piled up on the kitchen sink, I hadn't swept out the house for a while, and visitors must have thought I'd never known how to dust the furnishings. Of course I was well aware that all these things needed attention, but they were nowhere near as important as a possible world record. So I prioritised. My home fell into temporary neglect while I wandered around the community, searching for an appropriate world record challenge. Everything I saw became the subject of a quick mental analysis – what could I use something like that for? My expressionless face, strained that way with concentration, made me appear antisocial. My careless drifting through the streets, too, earned me numerous worried looks. Until the idea came to me, I was a lost soul without a focus. It was pitiful, but not for long.

Like a wave of pressurised air smacking me square in the chest, I was snapped out of my absent-mindedness as I stared intently at a group of school youth. I've got it! Yes, I'll do what those children are. While cajoling on the pavement, I watched one youngster hit another's palm with his. The dull clap rang out across the street, and perhaps that's what set my mind in thought. I'd try to break the world record for High-Fiving, I told myself. In a second, I imagined a winding line of individuals all hitting their hand into mine sequentially, to produce a repetitive clap that would go on for a very long time.

And that's what I set out to arrange. Seemingly immediately, my posture improved and my outlook on life became more positive. Now that I had the idea I'd been searching for, one of the first things I did was clean my home. That was a good move, because I could then think clearly in the tidied space. And did I think! I thought about hands, slapping, queuing, counting, and then I began to envision a sea of outstretched hands as far as the horizon, all moving toward me at great speed, wanting to be slapped onto my palm.

Stop – it was too much to take in! I relaxed. Feeling better, I penned a list so I'd have something rational to follow. My writing covered half a page. All that note-taking just to High Five a few people, I mused. Yes, record-breaking is not always easy, and it often takes a great deal of unseen planning to succeed. This event was to be no different.

A large stadium's grounds had been arranged by the event organisers. I was told that a big crowd was due, and that made me hyper with excitement. The more, the better - and the more impressive my world record attempt would be, for sure. I had witnesses ready, and I'd made the official rules clear to all taking part. A temporary shelter was to be erected, and I'd have a microphone to speak through.

The event day had arrived. I didn't have time to feel cold in the early morning chill; there was too much activity. People were pouring onto the sports field, but I didn't see any large crowds entering. There had been a cancellation. Oh dear! I thought my plans were being dissolved, but thankfully, a sizeable crowd was eventually gathered alongside the stage. Once all those present had time to see the rules, I introduced myself and we were ready.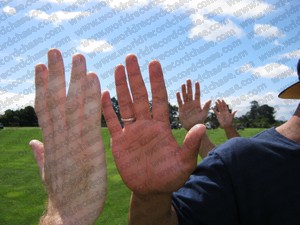 A snaking line of people stretched back across the field, listening for every instruction. I could see mothers holding toddlers, the elderly, couples, youth and people from a great diversity of backgrounds. All of them were waiting for me. Well! I had to perform. The countdown began and soon, the first large, stiffened palm smacked into mine as the person dashed past. Bang! My forearm swung backwards, hurting the tendons around my elbow. I grinned; what else could I do? The next hand smacked my palm before I had time to raise it into the vertical position once more. And the next. And the next hand. I was aware of my forearm being knocked over repeatedly, and thought it must look like a self-erecting rubber pillar which refused to be levelled. Hand after hand hit mine, a mixture of my and others' sweat began to drip, and my arm muscles started to ache with every contact. Over all this, I was expected to count, but the helpers were a great backup for the job.

The timekeeper began counting out loud, and soon he was striking off the last 20 seconds from the remaining minute. Oh no! Help, I thought, as the line of hands ran out. Gone. Nobody to come next. I was left standing with time to spare, looking completely lost. Not sure of where to direct my eyes, I bobbed my head this way and that, unsure of what I could do. Within moments, the time was up and people were amused that we'd outwitted the stopwatch.

Right. I needed a plan. Quick discussions with the management meant we'd try the event again. This time, though, we first spent time dashing around pleading with everyone in sight to join in. And, much to our amusement, the local coffee cart operator, a few passing shoppers, the groundsman and numerous others were willing. We started all over again, and I was determined to keep my arm upright as much as I could.

The first hand contacted mine, then the second and so it went. Mothers rushed their children into position; the aged passed me as fast as they could move; friends squealed as they passed... I was actually enjoying myself, even though my forearm was taking a hard knock several times a second. What a blur. And it was all over in precisely one minute. The only thing we could do was look at each other and begin giggling. That's what happened. Some found the whirlwind event entertaining, while others, like me, just stood where they were. The stupidity of the sudden stoppage lasted several seconds before someone announced that the day was to continue.

I jumped into action, realising that time was running out to complete the necessary admin. With one shaking arm and the other calm, I scribbled down the details I needed to keep track of. With a lot of generous help, we'd done it – as far as we thought. The final decision would need to come from the world record judges, but everyone present felt the event had gone smoothly and well. I certainly did, and I was looking really forward to having this world record attempt verified.

Over the next few weeks, news of what we'd done spread across the internet. It appeared on, and was duplicated across, many websites about community activities. For me to be a part of that element in society was a pleasure, and I hoped that others would feel inspired to get out there and do active things in their own communities too!
If you are single and need to find some more friends to High Five with, consider joining up with a website such as Dating Direct
. Then see how High Fives can lead to that long-lasting relationship.