Alastair Galpin
took to world record-breaking in 2004 after being inspired by a record-setting rally driver in Kenya. What began as a hobby soon escalated into an active publicity pursuit. Today, he promotes the work of social and environmental causes. For these purposes, the most fitting game plans are chosen; then world titles are attempted and frequently created.

Sustaining sponsor
If you would like regular exposure from Alastair's activities, become his Sustaining Sponsor:
A range of attempts annually
Your brand in multiple media
Distribute your own media releases
Receive product endorsements
More details about sponsorship opportunities
Special thanks
Behind every world record attempt is the expertise of professionals in their field.
Their success underpins Alastair's.
They are listed here
Most gloves put on one hand in one minute: 10

This is the story behind my Guinness World Record™ for the Most gloves put on one hand in one minute.
Admittedly, I have a fascination for a multitude of things that could bring me world record acknowledgement. Basically, I am committed to falling in love with anything that can bring me such recognition – and that's the way life should be. I certainly wasn't born with an attraction to gloves, but I have indeed developed one.

A large world record-breaking celebration was planned and I had to think up ways to take part. Sometimes this takes many hours, days, or even weeks of effort. But in this case, I found it easy to decide: I'd do something with gloves. What exactly, I hadn't decided, but I had time.

Since I was relaxed about it, perhaps the detailed plan came to mind more easily. After fleeting thoughts of eating a sliced up glove or biting a pair to pieces, I chose to put on as many gloves as possible in a single minute. It seemed feasible, and I knew that with effort, I could do a lot. My first task was to find the perfect gloves.

In the nearby shopping centre – one of the country's biggest – I spent a day hunting down the ideal make and size of glove. Each shop I entered wanted to sell me mittens, dress gloves, medical ones, children's gloves with toys stitched to them, welders' gloves, food safety ones, fingerless gloves and more. That's to be expected, but I defended my right to inspect each and every one for as long as I wanted to, before making any choices. From shop to shop I roamed, visiting a select few up to 4 times. Staff weren't impressed – it appeared they only wanted a quick sale and nothing else. But my attitude was that any world record was much more important than these people, and my body language clearly told them so.

Because I understood the importance of getting my purchase absolutely correct, I was in no hurry. The decision came down to a very small selection and eventually I made a choice. Next, I needed to return home to spend many more hours devoted to my new gloves. I knew it might be mundane to put on glove after glove, then take off glove after glove, and then put them all on again... Nevertheless, I was prepared to do it, only because I was chasing another world record. Unlike in the shopping centre, I was then in a great hurry to out-speed my every attempt.

On my furniture, I laid out all the gloves I'd bought. Timing myself and putting on gloves simultaneously wasn't easy, but it was barely achievable. To be honest, anything I set my mind to looked possible if I saw a world record title arising from it. So what could be so tricky about putting on a few gloves – nothing. During the first practise, I tore a glove, stretched many, and ruined most of the others in one way or another. Being practise only, I wasn't concerned. After all, I was in charge of these gloves, and I'd decided to over-work them all to get what I wanted. What's more, these were shops full of gloves if I did need more.

That didn't happen. It took me less than a quick hour to master the art of carefully pulling on gloves at speed. Each time I tried, I generally went fractionally faster; as far as I could tell from my inaccurate timing. This seemed to be a no-stress world record attempt. My very real fear was, since it was terribly easy, that somebody else would succeed at it before I did. When that disturbing thought came into my mind, I rushed back to the sofa to practise with zealous fury which even surprised me!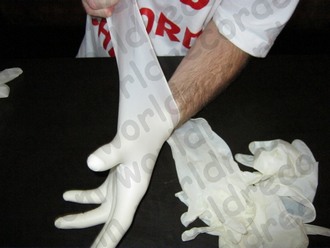 Gloves, gloves, gloves. They were everywhere: on the seating, the floor, my hand, and one even flew off when I was removing them, to land on the bathroom tap! I couldn't have cared less what my house looked like right then. All I was desperate for was to achieve this world record before any other person alive. In a bizarre change, my heart began to slam against my ribcage. That made me nervous and once again, I hunched over the couch to pull gloves onto my hand as fast as possible. But oh no!

In my enthusiasm, I'd broken or torn so many, I had no option but to return to the shop. Not worried about the cost, I grabbed the bag and speed-walked to my sofa yet again. This was too important not to succeed at. With unusual excitement, I spent time pulling on the gloves, pulling them off and pulling them on again. It was becoming some strange fun. Since I'm a little different to other adults, I have to admit that I liked it.

Then, as quickly as I'd become enthusiastic, I lost interest in the repetition. I was being stupid, I felt. That was my mind speaking to me, but my head – in this case – wasn't going to tell me what to do! I stood up, stared square into the large wall mirror and pulled a tongue at myself with mock-fury. That should tell my cautious mind what I think of it, I said out loud. With those words, I sank to the floor once more to continue my self-invented glove games. My conscience never tried to voice its opinion on my glove fascination again.

Days later, my interest in the pile of floppy gloves was waning. But my eagerness to prove myself to the world was still high. Give me the chance to become the fastest glove wearer and I'll show the planet what an achiever I really am, I whispered to myself. I felt this at just the correct time – the event was imminent.

In the kit bag I carried to the event was a smaller bag filled with gloves. These, I was confident, would soon be world record-breaking gloves, as long as I could handle them with the same skill I'd been showing at home. As my witnesses watched, I laid out the gloves on a low table in the public hallway, oblivious to passers-by. When the timekeeper was ready, I paid careful attention to the seconds as he counted down. On the exact mention of zero, I lunged forward and plucked the first glove off the neatly arranged pile. It went onto my free hand very easily. The second was a problem. It got stuck around my fingers, then it tore and finally it came apart. I ripped it off and sped for the next. It too caused me stress by not cooperating. And so did the following one!

But then something changed. I don't know what it was, although every glove I pulled on after that went onto my hand as if commanded to do so without any effort being required. It was all too simple. The witnesses counted out loud, and hearing each successive digit made me proud. I was tempted to bend over forward and kiss my gloved hand in victory. But common sense told me that such a move could mean I'd lose time and hence a chance of getting the world record. Instead, I reached for the next glove. But it was already too late.

The timekeeper stopped me right there. Straight away, I sat back and gazed up. It wasn't that I was feeling tired; I just wanted to keep putting on gloves. This was addictive! However, I had to control my urge to continue. Time was up, and I needed to count the results. A minute later, having added up the glove tally on my hand, it seemed the attempt had been successful.

That was wonderful, I thought. The attempt would still need to be ratified, though. At that point, while completing the required admin, I felt as if I was drifting in space. Something wasn't quite right. This had been far too easy. The sense of having overcome a challenge of some sort just wasn't there. I needed more of an obstacle to arouse a deeper level of willpower within me. I wanted to rush out of the building, fly away to record-breakers' land and break 100 world records to compensate for the incredible ease with which I'd then completed my latest attempt.

In reality? I stood there with my helpers, as strangers wandered by, wondering if I could set myself a much higher glove-wearing world record target next time. That thought still lingers in my mind, so if you're considering this, take note. I'm still around, I'm still the maddest object in the solar system, and I'm interested in another attempt at this one.