Alastair Galpin
took to world record-breaking in 2004 after being inspired by a record-setting rally driver in Kenya. What began as a hobby soon escalated into an active publicity pursuit. Today, he promotes the work of social and environmental causes. For these purposes, the most fitting game plans are chosen; then world titles are attempted and frequently created.

Sustaining sponsor
If you would like regular exposure from Alastair's activities, become his Sustaining Sponsor:
A range of attempts annually
Your brand in multiple media
Distribute your own media releases
Receive product endorsements
More details about sponsorship opportunities
Special thanks
Behind every world record attempt is the expertise of professionals in their field.
Their success underpins Alastair's.
They are listed here
Most garlic cloves eaten in one minute: 4

This is the story behind my Guinness World Record™ for the Most garlic cloves eaten in one minute.
Some people love eating garlic. Some just eat it for the world record certificate it could bring them. I'm the latter.

When I received the rules, I thought about this for a few weeks. Did I really want to do this? Of course I did, I told myself, mindful that is could secure me one more world record. That made up my mind; I would do it no matter what. At the shop, I stood inspecting garlic cloves for almost half an hour. Staff kept walking past me, and I was getting irritated because it seemed they presumed I was about to steal. I didn't mind how suspicious the shop management got, I needed the right cloves which I thought would go down my throat in the most beneficial way. So I kept running my fingers over individual cloves, holding up stalks to compare the bulk of each clove, and contemplating how I'd get this right. With a gut feeling that I was making the correct choice, I bought a bag.

Back at home, my kitchen became a smelly preparation area: garlic all over. In my efforts to classify the cloves, I separated them, measured them, weighed them as per the rules, and then sat thinking. The first test needed to be simple. I lined my stomach with a swig of milk, and tried to eat a clove as fast as I could. Pathetic, I rebuked myself. Do it again! My second attempt wasn't much better. I needed to put in a lot more effort. My practising had begun in earnest. I found myself going to the shop for an awful lot of milk and the odd pack of garlic.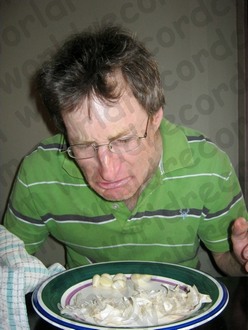 The practising was having several uninvited side effects. Each time I seated myself at my outside table with a selection of peeled cloves – which looked more like maggots with an eating disorder, I was ingesting more garlic than I'd normally eat in a fortnight. This was a drastic change for my body since I was practising two to four times weekly. At each sitting, I'd drive myself to consume as much as possible like a glutton of note. More than once I vomited, and out came clear evidence of insufficiently chewed food. I wondered how full or blocked my insides would be with similar-sized chunks of the aromatic plant. It wasn't long and my stomach started hurting. Next, through no fault of my own, let's just say I felt the need to offer any visitors a face mask. Actually, I worried about receiving any visitors and had to discourage some. They couldn't understand my strange rejection. I was too embarrassed to explain.

On a more social topic, the odd person did comment that I smelled strongly of garlic: it must have been coming out through my skin and on my breath. If anything was becoming clear, it was that I was definitely not going to find a girlfriend any time soon. To comfort myself, I went home and ate more garlic. Remember, I had a goal: to succeed at the world record. Becoming a strong-smelling moving object was unfortunately an unwelcome by-product of my desire to achieve.

Eventually, I worked out what to do. And I had a terribly sore stomach to prove it. I sat down for the final consumptive event, this time in front of yet another TV camera. Following much fuss by the others over everything I wasn't concerned about, I was itching to get stuck into the culinary delights laid before me. The assigned timekeeper was keen too, and I could see that thumb hovering over the stopwatch on its string. Three, two, one and I was performing. No, in fact, I was behaving in the most antisocial, vulgar and inconsiderate way an eater could. I popped each clove into my mouth with impressive speed, bit it lightly – if it broke into more than three pieces it was lucky, cocked my head back and used all my available muscles to force the mash down my throat. Powerful vapours rushed up the back of my nose, out my mouth and in my nostrils as I sucked in my next short breath. Bits of the white matter lodged firmly in my upper throat and the only way to get them loose was to force more lightly chewed garlic against them. I was salivating heavily, swallowing what felt like tablespoons of the stuff. But strangely, I couldn't taste much of the garlic. Surely that'd be because the chunks barely had time to touch my taste buds!

All too soon – or not soon enough, depending on which way you view it, I was told to halt by the timekeeper. I stopped in mid-chew, letting my jaw drop wide open. I felt a blob of garlic flesh drop from a tooth as the witnesses leaned forward to inspect the contents of my mouth: lots of saliva, and a concrete-like mix of garlic pieces smeared around. Not surprisingly, they made their required look brief, and the one witness wrinkled their nose up in disgust. Having satisfied both witnesses that I had a clove in my mouth when told to stop, they could check the tally and I could finish chewing in peace. Yes, spitting the rest out would have been my preference, but with the TV cameraman still watching me through his eyepiece, I figured I ought to show a little manners. So I washed the remaining mouthful down with a glass of milk, which, quite coincidentally, tasted of very strong garlic.

The TV presenter said a few things about me while I relaxed. Not too concerned, I just wanted to get out of there and have a real meal while I dreamed of getting the certificate if my world record claim were to be accepted.