Alastair Galpin
took to world record-breaking in 2004 after being inspired by a record-setting rally driver in Kenya. What began as a hobby soon escalated into an active publicity pursuit. Today, he promotes the work of social and environmental causes. For these purposes, the most fitting game plans are chosen; then world titles are attempted and frequently created.

Sustaining sponsor
If you would like regular exposure from Alastair's activities, become his Sustaining Sponsor:
A range of attempts annually
Your brand in multiple media
Distribute your own media releases
Receive product endorsements
More details about sponsorship opportunities
Special thanks
Behind every world record attempt is the expertise of professionals in their field.
Their success underpins Alastair's.
They are listed here
Most finger snaps in one minute: 119

This is the story behind my Guinness World Record™ for the Most finger snaps in one minute.
This was extremely monotonous, but more painful than anything else. That was on the day I did it, not to mention almost a year of work beforehand.

I'm no musical guy who enjoys snapping my fingers to tunes. Nor am I one of those bosses who snaps their fingers to get workers' attention. And I'm definitely not one for snapping my fingers in quick succession simply because I think it's relaxing. But I am a man who'd snap until my arm muscles felt as though they were on fire from working too hard. My attitude was that surely those forearm muscles could put up with a little pain for my sake once in a while. Of course, all I was dreaming of was yet another world record to add to my list. Hence, I began snapping.

Whenever the thought occurred, I snapped my fingers: when on the phone, in the shower, even on the toilet! There was plenty of opportunity, especially since I had to book a special acoustics chamber in which to make this attempt, and getting that booking confirmed took the best part of 12 months. I had to wait for a gap in the booking schedules for heavy industry, which was required by law to test new construction materials for sound-related safety standards. There must be a lot of construction products out there because the chamber was continually occupied. As I waited patiently, my habitual finger snapping was paying off. I was getting faster at it.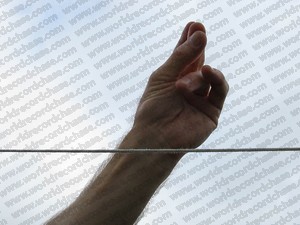 The snapping became a routine which didn't go unnoticed. One particular shopkeeper questioned me about it and I proudly explained. I thought nothing of his inquisitiveness at the time, but it seemed I'd just got him interested in beating any attempt I'd make. Every time I saw this man, I'd hear snapping fingers in very quick succession and he'd be smiling. My response was to try and snap even faster to convince myself of my ability. It became a standing joke between us for years afterwards: the minute we'd see each other, our fingers would begin.

The acoustics chamber was finally able to book me in. Having rounded up my team of assistants, we arrived – but right then, I wasn't snapping my fingers. I thought it was a sensible idea to rest them because they'd soon be aching. Getting set up in the echo-less environment was quite a job: computers and microphones were brought in, a heavy door was pulled into the closed position, and lengths of string were spanned between the sound-absorbent wall linings. Being inside this unit felt a little eerie: there was no echo whatsoever, making me daydream that this must be what it's like drifting in space. But not for long. I had to concentrate as the sound engineers discussed, measured and tested. Soon we were to begin.

I positioned myself according to instructions. When the timekeeper started the stopwatch, I sped into it, snapping like a maniac. Part-way into the minute, the upper part of my lower arm seemed to catch fire with pain. My snapping slowed, but never stopped. The muscles were knotting and slowing down. But I forced them to continue, no matter how much hurt I'd need to endure. This took mental control, since the easiest way out for me would be to stop. Breathing evenly, I tried to shut the shots of pain out from my mind. I snapped with as much regularity as I could. The intensity of the pain was almost numbing although I could still feel the tips of my fingers – but only just. As the soreness and stinging in my arm seemed to crescendo, the timekeeper exclaimed for me to stop. My arm dropped to my side like a dead weight.

For nearly a minute, all I could do was wait. The blood felt hot as it infused into my hand and fingers. The others were chattering and commenting on the computerised gear, so I joined them. On the laptop screen, a graph showed a summary of my activity, and the technician was able to count the peaks in sound produced. He double checked this on the software, and I had a figure. Well, that was easy, I thought - apart from the one minute of cutting pain I had to endure.

The staff at this facility were friendly. Perhaps they didn't think I'd take them seriously when they let me know I could come back. It won't be long, I thought...