Alastair Galpin
took to world record-breaking in 2004 after being inspired by a record-setting rally driver in Kenya. What began as a hobby soon escalated into an active publicity pursuit. Today, he promotes the work of social and environmental causes. For these purposes, the most fitting game plans are chosen; then world titles are attempted and frequently created.

Sustaining sponsor
If you would like regular exposure from Alastair's activities, become his Sustaining Sponsor:
A range of attempts annually
Your brand in multiple media
Distribute your own media releases
Receive product endorsements
More details about sponsorship opportunities
Special thanks
Behind every world record attempt is the expertise of professionals in their field.
Their success underpins Alastair's.
They are listed here
Most eggs held in the hand: 10

This is the story behind my Guinness World Record™ for the Most eggs held in the hand.
You like eggs? So do I. I eat them, I crush eggshells in my hands for fun, and I sprinkle eggshell pieces in my garden to deter snails. But I also love to hold them; the feel of a smooth whole eggshell against my skin is irresistibly soothing. No, I'm not besotted by eggs. But I do have a tendency to be attracted to them.

Given this, and my love for world record-breaking, I couldn't resist the idea of combining the two. I needed to think up some world record that would allow me to get really intimate with each egg. Throw them? No. Smash them with a cricket bat? No, that's not what I'm into. Swallow them whole? Um, no. But I could do just what I enjoy doing regularly: hold them close like precious stones. Yes, that I'd do. In my kitchen I had a half dozen which I began playing with as I daydreamed of the world record. Oops! Smash. I bent down to clean up the yellow and transparent splatter. Little did I know, that would be the first of many more broken eggs in my home.

The local shop assistant must have thought I had opened an omelette cafe, I bought so many eggs. Box after box. Using my sofa over which to practise, I hoped to minimise the breakages. But there was one rule which was causing me to break the eggs: I had only a few seconds to place all the qualifying eggs in one hand with the other. The faster I tried to do this, the quicker I was at the shop buying more cartons of eggs. To practice, I laid a selection of eggs on the couch, all spaced apart slightly. I'd turn to one side to give me greater access and movement with my elbow, then I'd reach out. In quick succession I'd snatch one egg after the next, and place it where I thought best in my hand. The trick was to move each egg from the couch to above my hand very fast, then slowly and gently position it without dislodging the other eggs. This was tough. My incentive to get it right was that I was tired of repeatedly cleaning up egg yolk and egg white. Until I got it right, I spent a fair bit of money on eggs, convincing the shop's check-out worker that I had a new food business.

Practising was monotonous and very predictable: I'd almost get it right, then I'd drop an egg which would bounce and roll along the sofa until I caught it, and I'd have to start again. If I was really unlucky, the whole cluster of eggs in my hand would break away, like a rock slide. That's when eggs would crack, begin to leak or simply smash when hitting the floor or my knee. With plenty of practise, though, I slowly mastered a technique. As my confidence grew, I began to enjoy the time I spent kneeling at my sofa until I injured my hand. Then practising became a whole new undertaking.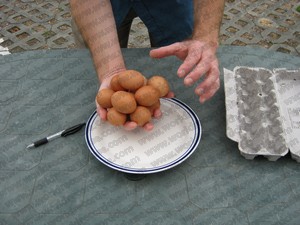 Now, with a bandage wrapped around my hand and wrist - shaping it like a club, I found it all but impossible to balance a single egg in my palm. This required ingenuity. I spent a long time pondering the challenge from every angle I thought of. After a great deal of in-depth thought, and with the bandage re-wrapped, I could get several eggs to rest on the material comfortably. My injury wasn't life-threatening, so I didn't care that I now wore the bandage to suit my world record needs, not take care of the hurt. It'd heal with time anyway, I was sure. So, club-handed but with my palm flattened and my fingers rearranged through twists in the bandage, I continued with my quest.

Before long, my chance came to show anyone and everyone how many eggs I could hold. My injury had healed and the bandage was off. Fantastic. My assistant and I set up the gear in a parking lot outside a TV station. This was my first world record appearance for television. Everything was so new to me. Staff ran hither and thither, making sure the live crossover was going to work as intended. All this activity was making me nervous, but I remained as calm as possible because I didn't want the presenter to pick up on my anxiety. But he knew. "How are you feeling Alastair?" he asked, while ever so innocently nudging a microphone up to my chin. My insides were knotted from my throat to the other end. "Fine, it's great to be here and I can't wait to get stuck in" I fibbed, hiding my trembling hands.

A relayed message came through to the presenter. The studio upstairs was waiting. When I heard that, I translated the message as "we're ready to watch this monkey make a fool of himself for the nation". I almost suffered a prolapse, just quietly.

With shaking hands, I went to stand at the table which had been prepared. I concentrated on my breathing so much, others may have thought I was about to go into trance. But all I wanted was to be able to control my unstable, sweaty hands. It took much focusing although eventually they seemed to stop quivering as much. Amid a blur of last-minute rushes, I reread the rules with the others involved. The next thing, I looked up to see I was the centre of attention. Blood drained from my face so fast, I was sure I was about to faint. I swallowed hard; very slowly. The timekeeper approached and indicated that she was about to count down. I sat, and waited like a trapped fawn aware of its hunter.

Under pressure from the stopwatch, hand extended, I did the best I could. It was all over before I could give it any serious consideration. I could see my hand, as stable as an iron bridge, supporting a handful of eggs. Not one rolled off and smashed on the table or the plate. Having held the eggs in position for the stipulated minimum time, I was able to relax my stance. The TV crew repositioned their tripods, discussed matters amongst themselves and began packing up metal carry cases. It was all over so quickly! A wave of peace washed over me even though others were rushing around with as much energy as before the shoot. I instinctively knew I had successfully 'self-inducted' myself into appearing for television. I could do it again.

Now, years later, that paralysing fear of TV cameras doesn't bother me. I'm accustomed to it, and so I'd better be – because I don't plan on retiring from world record-breaking any time soon.