Alastair Galpin
took to world record-breaking in 2004 after being inspired by a record-setting rally driver in Kenya. What began as a hobby soon escalated into an active publicity pursuit. Today, he promotes the work of social and environmental causes. For these purposes, the most fitting game plans are chosen; then world titles are attempted and frequently created.

Sustaining sponsor
If you would like regular exposure from Alastair's activities, become his Sustaining Sponsor:
A range of attempts annually
Your brand in multiple media
Distribute your own media releases
Receive product endorsements
More details about sponsorship opportunities
Special thanks
Behind every world record attempt is the expertise of professionals in their field.
Their success underpins Alastair's.
They are listed here
Most eggs crushed with the head in 30 seconds: 20

This is the story behind my Guinness World Record™ for the Most eggs crushed with the head in 30 seconds.
I could caress and love little eggs endlessly. But why not go one step further - smash them on my head! That must be possible, I thought. I went on to prove it can be done, despite people in my community sending hate letters about me to the local newspaper.

I saw that 'letter to the editor' but I didn't care. While that person was taking the time to write a negative note, I was about to clinch my next world record. I dashed off to the grocer and bought trays of eggs. No, these weren't all for crushing with my forehead; I would actually eat a few. If you really have to know, I would prioritise things: the eggs I couldn't crush or those that remained in their eggshells after breaking, I'd scoop up and cook. Now isn't that the hallmark of a good record breaker? Put your stunt work needs before your eating requirements. Yes, that's the way I think it should be. If the hate letter writer had known this about me, I shudder to imagine what the article would have looked like. But, as I kept preparing to secure my next claim to fame with my forehead and a few eggs, I didn't care.

When I asked to borrow an elderly friend's oven tray, she was happy to do so. But then came the inevitable question, "What world record are you going to try this time?" She laughed ridiculously when I told her, mentioning I'd better not head-butt the dish too hard because she still used it in the kitchen. I reassured her. Besides, I didn't want to end up in a medical clinic for smashing eggs. No thanks.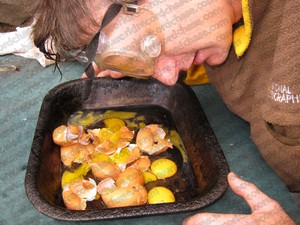 Practising with the eggs in the large dish was memorable. I remember my hair being soaked with egg whites, which dribbled down my face like thick snot. There was a lot, and when I wiped it, the snot-like goo smeared more. The only way to get raw egg off your face - take it from me, is to wipe it off with a towel straight away, then wash your face in warm water for several minutes. Don't forget to scoop it out of your ears and even your nose.

That's if you can. But under the conditions of a world record attempt, I wasn't able to clean myself – or begin - immediately. I arrived at the venue, where a TV camera was perched on a tripod in one corner. I quietly set up my arrangement and announced to the timekeeper that I was ready. During practising, I'd worked out that certain stances worked better than others. I needed to make sure I could space my legs, position my buttocks and angle my shoulders enough to cause the planned damage. People had to wait for me as I shuffled about and changed my approach repeatedly until I was happy. When I announced that I was, most of them sighed. That told me how long I must have taken!

I made it clear I was ready. The cameraman lowered his head into the eyepiece and the timekeeper stood, watch in hand. Then, I thought my arm would not be able to extend as I wanted it to, so I checked numerous things again. The cameraman straightened his posture and the timekeeper sat down. I promised again that I was ready. Both people got poised to start a second time. Next, I noticed another seemingly insignificant item out of place and I repeated the performance. Eventually my girlfriend yelled that my start was overdue. Everybody found that funny. I positioned myself for the last time.

The timekeeper counted down. I placed the first egg and crack!, it was flattened. Then the second and so it went. Already my head was dripping in very long silver threads of yolk. Some got on one hand. Oh no. This meant my fingers might slip as I lifted the next waiting egg, which is exactly what happened soon after. As I reached over to snatch one and follow through the cycle, my fingers nipped together over the top of the egg which wobbled ever so slightly. I retried. Same thing. But I retried and this time, I got it. As I continued, I was aware that the mishap had lost me precious moments, but try as I may, there simply wasn't enough time left during the attempt for me to catch up. I was speeding along when the timekeeper called out for me to stop.

Up I pulled my head from its doubled-over position, by then swimming in shell, yolk and white. Had I made it? We'd know initially once we'd counted the egg mess, and I'd know for sure once I had submitted my paperwork. And yes, on first inspection, I had crushed all the eggs properly. It was a reason to smile – even though egg slime oozed over my teeth and lips too.

That night, as I watched the TV news, I realised the skilled camera operator had captured more of my antics than I originally thought. What a madman I resembled: head up, head down, up, down, up... and egg splattering every time. My friends and I had to laugh.