Alastair Galpin
took to world record-breaking in 2004 after being inspired by a record-setting rally driver in Kenya. What began as a hobby soon escalated into an active publicity pursuit. Today, he promotes the work of social and environmental causes. For these purposes, the most fitting game plans are chosen; then world titles are attempted and frequently created.

Sustaining sponsor
If you would like regular exposure from Alastair's activities, become his Sustaining Sponsor:
A range of attempts annually
Your brand in multiple media
Distribute your own media releases
Receive product endorsements
More details about sponsorship opportunities
Special thanks
Behind every world record attempt is the expertise of professionals in their field.
Their success underpins Alastair's.
They are listed here
Most dried peas moved in one minute using a straw: 48

This is the story behind my Guinness World Record™ for the Most dried peas moved in one minute with a straw.
It's pea time! As you'd have gathered by now, I enjoy using straws to play with things. Mostly, I choose to play with food – but not always. On occasion, I chew straws to savour the very little taste they hold, I tie them into stalk-like animals and I like picking them into slivers of curling plastic. So, it's clear that I like straws, whether you call it an addiction or simply a love of tubular plastic mouldings.

I'd been searching for a world record to try which would allow me to use a straw once again. Frustratingly, I had to do a lot of research before I chose to move peas. There was much to consider, from my own abilities to what rules I'd be constrained by. But after considerable thought, my decision was to suck and spit dried peas. What a choice.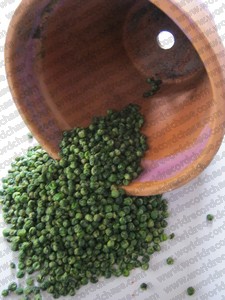 In fact, it was another career choice for me. Whenever I can, I do these things. It's a way of advancing my status as a world record breaker. You might not see the logic in this, but I certainly do. If I could succeed at this, I wondered, how much more recognition would I receive from those who admire world record achievements? I wasn't sure, but because I'm obsessed with world record-breaking, I began to plan my one-man event anyhow.

I needed dried peas. I needed a terracotta pot with a hole in the bottom. I also needed a plate and, of course, I needed a straw. The latter would be no issue at all. There are always straws at arm's length from me in my house. The plate? That was simply a matter of reaching across the kitchen area and selecting one. I scouted around my garden and in several of the neighbours' for pots. With a little effort, I found one, saw nobody watching, and turned it upside-down to empty it of earth. Once I'd washed the pot out, I set off on an investigative journey to that jungle-like storehouse full of edible goods: my local supermarket.

That made me think what a pity it is that where I get my food is not a true jungle – full of pristine nature, free of litter and industry. The man-made jungle I was in, lined with aisles of preserved foods, is made possible by bad processes like stealing things from the few natural jungles which survive. In business, that's called using natural resources; to me, it is killing beautiful forests to replace wild places with buildings like stores that aren't natural at all.
I thought of that in an instant, before zig-zagging my way to the shelves stacked with an array of dried peas for sale. There were packs of tiny ones, large ones, packets of mixed pea sizes, some bags containing 5 types of dried vegetables, and more choice. It was somewhat bewildering to me at first glance. But after asking a staff member, I learned that all dried peas can be picked up with a straw.

As the middle-aged lady walked away, having answered my questions about the suitability of her employer's selection of dehydrated peas for world record attempts, I sensed she was definitely not impressed by me as a customer. Oh dear. Why couldn't the lady see how important this was to me? Sadly, she hadn't, and probably never would. I shrugged my shoulders, pursed my lips and continued running my fingers over dozens of packets of peas, searching for the perfect batch.

The intercom crackled and customers were notified that the store would soon be closing. So I was forced to stop caressing packs of dry peas and buy one. I grabbed the closest packet and speed walked over to pay for it, hoping it was the right one for me.

I was horrified when the man at the till snatched the packet, scanned it and tossed it onto the despatch area without showing any emotion. I cringed but the employee looked straight into my eyes and gestured for me to pay. My heart sank. I stared at that man opposite me. Was I about to find a packet full of broken peas? How would I ever convey my disappointment to this till operator?

A mother in line behind me made it clear I was holding up the queue. Suddenly, I sprang into action, paid and raced out with my bag of peas clutched tenderly in my hand. I was so worried that all I'd find were chipped and broken peas, I tried to cushion the packet as I walked.
But there had been no reason to worry. The little green spheres were hard as ever, and after sorting the few broken peas from the rest, I felt energetic enough to give the pea-moving a good try. Or, should I say, the peas were about to give my patience a good try.
They were so light, when I poured the peas onto my plate, many flew right off the other side. Even breathing heavily immediately above the peas scattered many of them. I spent a great deal of my time that night searching for, and picking up, little green peas off my carpet. I was quick to learn that working with dry peas was a rather delicate act. And so it was all night.
With the terracotta pot upturned and the plate the required distance away, I was ready to begin. I set my timer, checked there were no stray peas under the pot, and laid the straw on the surface alongside the plate which was brimming with green balls. I plucked the straw from its horizontal position the instant the timer allowed me to, poked its one end into the mass of peas and sucked. I had one on the end! With swift neck muscle movements, I transferred that pea to above the pot and breathed out, into the straw. The green bead shot off the straw and into the hole at the bottom of the pot.
Again. Again and again I did it. And when the timer signalled for me to halt, there were peas all over. Some of the light balls had fallen into the upturned pot, but just as many had come to rest on the surface, on my lap, on the underside rim of the pot, on the floor and even on my printer. This was no good. If I were to succeed, it would need much more concentration and focus.

I sat up straight and thought for a few seconds. Once I'd collected all the peas, I tried again. Fail! Well, all I could do was try once more. And this continued deep into the night until, without warning, I packed 48 peas into that pot and was left with a spinning head. I'd refused to surrender to some lightweight peas. I would not have let that happen, I had vowed. So my only option had been to keep trying my best. It paid off. I tidied up the area and submitted my claim, hoping I'd receive a world record for playing with peas.
To my satisfaction, that is just the result I got a short while later. And I loved it. That's always my reaction to being crowned with one more world record: it is like extreme satisfaction I can feel in my bones. So great, so great, so great it is. But. There's no time to waste… I'm off on another world record venture now.