Alastair Galpin
took to world record-breaking in 2004 after being inspired by a record-setting rally driver in Kenya. What began as a hobby soon escalated into an active publicity pursuit. Today, he promotes the work of social and environmental causes. For these purposes, the most fitting game plans are chosen; then world titles are attempted and frequently created.

Sustaining sponsor
If you would like regular exposure from Alastair's activities, become his Sustaining Sponsor:
A range of attempts annually
Your brand in multiple media
Distribute your own media releases
Receive product endorsements
More details about sponsorship opportunities
Special thanks
Behind every world record attempt is the expertise of professionals in their field.
Their success underpins Alastair's.
They are listed here
Most baseballs held in a baseball glove: 14

This is the story behind my Guinness World Record™ for the Most baseballs held in a baseball glove.
Ah yes, baseballs. We had seen each other before, I recalled, as I lay them out under a tree in the front garden of a community centre together with a large leather baseball glove. These were probably the same balls and glove I'd borrowed from the local supply company in the past. I liked baseballs by then, since I already had a world record for holding them. But that day, I was going to try and get myself an even better world record.

As always, I had practised. But this time, I'd not done much of it. Why should I have? In the recent past I'd successfully done what I was about to repeat then. A world record adjudicator was with me that day. He was due to step out of the building any minute. This made for an easy world record attempt because I would not need to complete the admin I was so accustomed to. If I were successful, I'd be told right there. Now, let me tell you, that's worth performing for.

I wanted to be as ready as I could be when this all-important man came walking toward me. Having read the rules – in fact, having remembered them too – I confidently went about shuffling all the balls together in a triangle that had been formed by spreading surface tree roots. I laid the heavy but floppy glove to one side and waited. The adjudicator soon came trotting down the steps with a stopwatch in hand. He knelt in front of me and indicated he was ready to begin the timing when I was.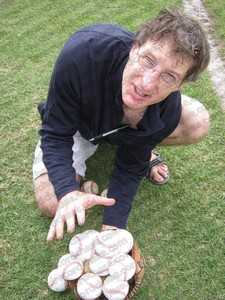 A small group of inquisitive children stood round. I spoke briefly about what I was going to do, then watched as they looked on eagerly. After a brief final check, the adjudicator clicked his stopwatch and the pressure was on. Baseball after baseball, I plucked them from the collection to my left and rested them in the glove, as fast as I could. Yes, I had to take care to position each in a way that was going to facilitate my goal: to fit in the most. So this became a compromise between speed and accuracy. Some balls wobbled as I placed them, but thankfully they didn't drop out of the gaping glove and roll away. I was extending my fingers and thumb away from each other as forcefully as I could, but the thick glove material was restricting how much of that I could do. The duration of this effort wasn't long; it seemed I'd hardly started when I was told to stop. Next, the adjudicator and I counted the balls together. I waited without saying a word. The adjudicator looked me in the eye and congratulated me on achieving another one of those world records I live for.

Well, that was quick and easy. I was smiling broadly. Hastily, I packed away all the balls and the glove, because I had other things on my mind... more world records. Satisfied and feeling smug, I left the venue, knowing that as a person, I was one world record better than when I'd awoken that morning. Great!