Alastair Galpin
took to world record-breaking in 2004 after being inspired by a record-setting rally driver in Kenya. What began as a hobby soon escalated into an active publicity pursuit. Today, he promotes the work of social and environmental causes. For these purposes, the most fitting game plans are chosen; then world titles are attempted and frequently created.

Sustaining sponsor
If you would like regular exposure from Alastair's activities, become his Sustaining Sponsor:
A range of attempts annually
Your brand in multiple media
Distribute your own media releases
Receive product endorsements
More details about sponsorship opportunities
Special thanks
Behind every world record attempt is the expertise of professionals in their field.
Their success underpins Alastair's.
They are listed here
Most baseballs held in a baseball glove: 10

This is the story behind my Guinness World Record™ for the Most baseballs held in a baseball glove.
What is this crazy guy going to get up to next, I suppose you're thinking. If you are, then I've got news for you. This was a simple world record attempt and one I'd consider fit for even the most conservative types. Yes, even they ought to be having fun; doing stuff!

Whether you're too conservative for the modern world or far too outrageous to be contained by society, I think you should all become as crazy as me. Are you keen? You could start with this one. Its mild by any stretch of the imagination.

If you can pick up rocks in the garden, then I bet you're intelligent enough to challenge me on this. All I did was find a baseball supplier. In fact, that was the most difficult part of getting prepared for this world record attempt. Certainly where I looked, baseball equipment suppliers weren't common. But I hunted for months until I'd found a company which was prepared to lend me the items I needed. When they responded to my request positively, I could have hugged every employee there that day. Why? Because I was one step closer to attempting my next world record.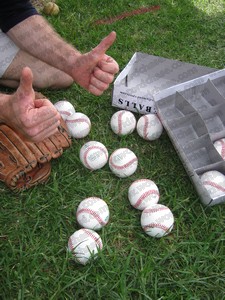 I was due to make this attempt for TV. With a bag of new baseballs, the borrowed baseball glove and a lot of other items I'd be needing, I arrived to be greeted by the cameraman and bystanders. As far as I was concerned this was a simple task. I rushed up the steps to the venue's main hall, laid out my prepared items and waited for the others to arrange themselves. And before I knew it, everyone was seated, waiting.

I poured out the contents of my bag, had my helpers read the rules because they'd need to help me with admin afterwards, and it was time to begin. Glove on securely. First ball, then second and the next. This was as easy as could be. Really, folks, it was that easy. Even the cameraman thought he'd missed the action!