Alastair Galpin
took to world record-breaking in 2004 after being inspired by a record-setting rally driver in Kenya. What began as a hobby soon escalated into an active publicity pursuit. Today, he promotes the work of social and environmental causes. For these purposes, the most fitting game plans are chosen; then world titles are attempted and frequently created.

Sustaining sponsor
If you would like regular exposure from Alastair's activities, become his Sustaining Sponsor:
A range of attempts annually
Your brand in multiple media
Distribute your own media releases
Receive product endorsements
More details about sponsorship opportunities
Special thanks
Behind every world record attempt is the expertise of professionals in their field.
Their success underpins Alastair's.
They are listed here
Loudest clap: 113 dbA

This is the story behind my Guinness World Record™ for the Loudest clap.
The great thing about attempting to beat your own world record is that you know you can do it. It's been documented in black and white. So when I was asked if I thought I could break this world record, I was confident. Nevertheless, I was weary because – as you can expect – beating the best still requires a concerted level of effort. Apart from anything else, I think it's good to set one's own aims a little, or even a lot, higher in such cases. With this attitude, I was ready to face the challenge.

Since I'm a compulsive clapper, I made an effort to clap with purpose from then on. My clapping would vary: I did it with cupped hands, stiffened fingers, washed hands, I slapped my palms and finger bases and so much more. One technique – which I'm not about to tell you about in detail – stood out. Or, more to the truth, my ears felt the 'ting' when this style of clap got really loud. I dismissed all the other variations of my clapping then, since I'd identified the winner. Next I had to perfect this winning technique, which I got right in minimal time.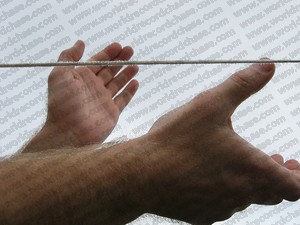 I was looking forward to returning to the acoustics chamber I remembered so well. I also recalled how the staff had welcomed me again, should I wish to return. I would do it. And I knew precisely when, too. An adjudicator had been allocated to me for several upcoming world record attempts, and I had the privilege of choosing what I wanted to spend my time doing while they would be present. I went about repeating all I'd done before: booking the acoustics chamber, planning the admin, notifying the team and a host of other things. This time, preparations went quickly and smoothly. I would be right back in that specialist testing chamber very soon.

What a pleasure it was. A three-man TV crew and others joined the adjudicator and I. I'd never have imagined a TV cameraman and a team of acoustics professionals coming together to watch me clap. But it was happening. The only difference from my previous attempt was that the TV crew required me to do some things specifically. It took around an hour to set the event up, and I was able to get to it, clapping joyously.

I beat my own world record and was awarded a new one right there, while the TV camera was trained on my face and chest. With childlike abandon, I punched the air and exclaimed with happiness. Although my hands were tired and a little sore, I even went as far as clapping a few times as my way of congratulating myself. This was good. And it was all being captured on film.

The footage was to be sent to Europe and used in a global media release. Over the next few months, it popped up everywhere: on TV stations, on the internet and elsewhere. A lot of people must have seen it because I'd have children commenting "I saw you!" and explain what they'd seen me do in the snippet of edited film. I liked that attention very much. The satisfaction fired me up, it gave me a spring in my step, and it launched me right into planning my next series of world record attempts.

It came to my attention, some time later, that in the Global Village in Dubai, a select number of world records was being sported. The idea appears to be that international visitors passing through try and break a world record. I was pleasantly surprised to find my Loudest clap being offered as one of the fun challenges. And, last time I checked, I was even more pleased to see that nobody had managed to beat me yet: nobody passing through Dubai and giving this a try! Wow.