Alastair Galpin
took to world record-breaking in 2004 after being inspired by a record-setting rally driver in Kenya. What began as a hobby soon escalated into an active publicity pursuit. Today, he promotes the work of social and environmental causes. For these purposes, the most fitting game plans are chosen; then world titles are attempted and frequently created.

Sustaining sponsor
If you would like regular exposure from Alastair's activities, become his Sustaining Sponsor:
A range of attempts annually
Your brand in multiple media
Distribute your own media releases
Receive product endorsements
More details about sponsorship opportunities
Special thanks
Behind every world record attempt is the expertise of professionals in their field.
Their success underpins Alastair's.
They are listed here
Loudest clap: 110.44 dbA

This is the story behind my Guinness World Record™ for the Loudest clap.
What do you love doing? As for me, you could say clapping is my first love. I can't remember when I started this persistent clapping, but I doubt it will cease to be a part of my character. What do I mean by that? Well, I clap a lot. When I'm happy, I clap loudly to my own rhythm. When I'm sad I clap to cheer myself up. Even when I'm angry I clap, but my rhythm isn't very good then, I will admit. To tell the truth, I clap for just about any reason since I adore doing it. So it made perfect sense to try for the world record. Happy at the thought, I began planning .

The good thing about making this world record attempt was I wouldn't need to practice, not even once. I was good at clapping already, otherwise I wouldn't get all the comment I often did. There is a dale between my home and one of my neighbours. My kitchen window overlooks the open patch of about 50 metres. These neighbours always have their windows open, including those facing my home. If I clapped for some time when my kitchen window was open, the neighbours would claim that they were being disturbed. On several occasions I've had them phone and tell me to stop making such a noise. At first, I was offended by these calls, but then I saw the humour. If my clap is really that loud, which I didn't believe anyway, I ought to be proud of it, I thought. That put me in a good mood. And as I mentioned above, when I'm happy I clap.

The phone rang. Unsuspectingly, I answered with expectation. Without waiting a second, my neighbour launched into explaining with noticeable irritation - how my clapping was hurting her ears across the ditch! My good mood disappeared and a twinge of anger replaced it. I began clapping, with just a little less of a tune this time. The phone rang...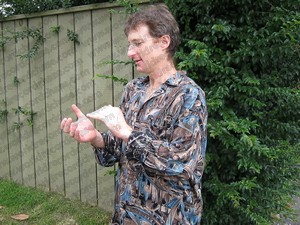 Months later, after being told I'd annoyed everyone living within a 50 metre radius of my kitchen window, I was ready. I'd booked and confirmed use of an acoustics chamber. This was going to be my day. I was going to prove to these people that I wasn't annoying them intentionally - was it my fault I had what could be the world's loudest clap? No! They needed to be told, I figured. Now, with the date looming and reason to count down the days, I clapped until I was sure the locals had given up on moaning to me. Great. Because that meant I was free to do as I pleased: and I chose to clap to my heart's content.

The day to clap my best arrived. A group of us walked into the sound chamber, armed with the equipment necessary to satisfy the world record judging panel. The resident technician and other knowledgeable staff at the facility set up whatever software and hardware was needed. Everyone seemed busy with a handful of duties for about half an hour, before the technician announced that things were on standby. I took up my assigned position on the layer of springy wire mesh which formed a suspended floor, surrounded by soundproofing. The staff checked with me for the final time and then I was asked to do what I adore: "Would you mind clapping Alastair?"

I doubt these acoustics professionals knew how much I enjoyed this. If they didn't, then they learned that day. I clapped and clapped and... you guessed it; I clapped for quite a while. The others kept telling me I'd done my best, saying there was no point in continuing. But I wasn't ready to stop. Never! After fifteen or so minutes, my hands were turning red. Was I worried? Not at all. I rested them, shared a laugh with those watching, and continued. Clap after clap was absorbed by the special linings against the walls, so they didn't seem loud at all. But the technician kept volunteering readings off the laptop, which proved useful. The game had just started. Now I had a definite goal: to make every clap louder than the previous one. The technician read a recording and I responded every time with yet another smack of my palms. Oh yes, this was great.

But all great things have to end. Understandably, the chamber staff had more urgent jobs to see to. Disappointed, I accepted that my clapping spree was fast coming to an end. In a short while, all the required evidence had been prepared, and I'd completed the admin I needed to manage that day. Things were looking good regarding this world record claim, I thought as we left the chamber. The thought of receiving another beautiful world record certificate made me happy instantly. Yes, I was once again happy enough to show it. As we drove home, I began clapping.