Alastair Galpin
took to world record-breaking in 2004 after being inspired by a record-setting rally driver in Kenya. What began as a hobby soon escalated into an active publicity pursuit. Today, he promotes the work of social and environmental causes. For these purposes, the most fitting game plans are chosen; then world titles are attempted and frequently created.

Sustaining sponsor
If you would like regular exposure from Alastair's activities, become his Sustaining Sponsor:
A range of attempts annually
Your brand in multiple media
Distribute your own media releases
Receive product endorsements
More details about sponsorship opportunities
Special thanks
Behind every world record attempt is the expertise of professionals in their field.
Their success underpins Alastair's.
They are listed here
Longest potato peel: 1.582 metres

This is the story behind my Guinness World Record™ for the Longest potato peel.
Peeling potatoes is something every housewife is familiar with. Children and husbands do it too. Even I, the crazy world record breaker, know how to peel a potato! But if you wondered how 'normally' I enjoy peeling them, you're in for a surprise. When I attempted this world record, I had no intention of finishing a dish in the kitchen… but my hosts did.

On a trip to the north of New Zealand, I convinced a bunch of locals to work with me on a world record attempt involving peeling the biggest potato we could get our hands on. I was overjoyed when they agreed. My first job was to run over a quick mental checklist: did I have all the helpers I'd need? Did I have the classiest potato peeler? Did I have some sizeable potatoes without too many eyes covering their skins? With some effort, I was able to get what I was short of, and the game begun.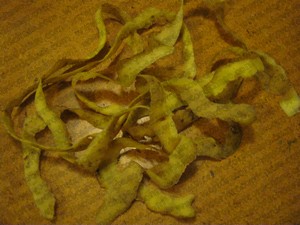 On my hosts' kitchen floor, I set to work, peeling away. As often happens, I made mistakes and thereby ended my attempt, time after time. There were part-peeled potatoes piling up on the chair and floor alongside me within no time. It was frustrating, but my hosts liked it – I was effectively peeling dinner!

How organic that dinner was is anyone's guess, now that the world has gone GMO-mad. I'd like to think I was peeling healthy, completely natural potatoes but I probably wasn't, because I am aware of big business' agricultural agenda. Well, not that I cared at that moment, but my potatoes did end up in the boiling pot.

If you've ever tried to cut a single potato strip as long as a man is tall, you'll know the type of frustration I'm talking about. As the potato peeler inches its way across the surface of the vegetable, it cuts erratically. My heart was in my throat at times, especially when I was making good progress and feared my next move would slice the peel right off. And that's precisely what happened time and time again, despite my concentrating like a kid on a mesmerizing game. So, the stack of 'useless' potatoes grew, and every few minutes my hosts came over to fetch what they could pop in the pot.
In a short time, I got so mad with the potatoes that all I wanted was to smash them against a wall. But I didn't, because I know world record success is largely dependent on patience. I forgot about my friends, my hosts, and even dinner: I just wanted to succeed. However, I was failing. My potato-obsessed brain wasn't getting what it wanted – the longest potato peel on the planet. And that wasn't good enough. I had to get this right, I told myself through my annoyance with each potato I couldn't get right.

I guess you could say I'd gone potato mad. Yes. It's part of my world record quirkiness. I focus way too much when I really get stuck into something. Looking back, I must have appeared idiotic to my hosts, but I am prepared to withstand whatever abuse I face if it's for a world record title. So I just kept on peeling… and peeling. And peeling.

It was around the time I saw my hosts getting agitated with my lack of progress that I finally struck it. I peeled inch by inch and the strip of potato skin kept extending. My heart rate increased; this was something very good, I felt. And I was right, at last. By the time I'd cut peel from all sides of the chunky potato – and when it tore free, I had a very long section of wet peel between my feet.

I sighed. Had I done it? There was no way I alone could tell, so the man with the measuring qualifications came along to ascertain the exact length. I was pretty pleased at the result: a section of potato peel laid out alongside me, almost as long as I am tall. It was a fantastic moment for me, because it's not every day I get the chance to do such striking work.
As is always the case, I sent the evidence off to the judges and the wait began. Soon, though, I received the result. Yes, yes, yes… I had been successful. Wonderful. Now I can honestly say I've developed a new love for the humble potato, especially the easy-to-peel kind!