Alastair Galpin
took to world record-breaking in 2004 after being inspired by a record-setting rally driver in Kenya. What began as a hobby soon escalated into an active publicity pursuit. Today, he promotes the work of social and environmental causes. For these purposes, the most fitting game plans are chosen; then world titles are attempted and frequently created.

Sustaining sponsor
If you would like regular exposure from Alastair's activities, become his Sustaining Sponsor:
A range of attempts annually
Your brand in multiple media
Distribute your own media releases
Receive product endorsements
More details about sponsorship opportunities
Special thanks
Behind every world record attempt is the expertise of professionals in their field.
Their success underpins Alastair's.
They are listed here
Longest passport page: 73.3cm
This is the story behind my world record for the Longest passport page.
I'm so proud to hold this world record. Ironically, the opportunity arose from a risky situation I don't wish to find myself in again.

Just before the millennium, during the years I spent criss-crossing Africa, our travel party was picking their way southwards through west Africa, and had arrived in Abidjan on the Ivory Coast. It was tremendously humid, making us feel hot and bothered consistently. But something else was bothering us too as our dusty, heavily laden 4x4 cruised the waterside streets of the capital city's upper class neighbourhoods.

We were seeking the South African representative to the Ivory Coast. We needed to locate their office urgently, because African officials seemed to love watching themselves stamp foreign passports full as quickly as possible. Mine was all but full. Our party knew that soon, I'd be marooned at some uninviting, unsafe border post ahead unless I replaced the booklet.

The South African secretary listened, but said I would be unable to receive another document. Our entire party began to explain the inconvenience and potential for serious problems. The woman took my passport, and within minutes, she returned it – with an added page nearly a metre long. But it came with a warning: they'd not be responsible for any border entry refusals I faced using this emergency measure.

Unsure of this, we thanked the staff and left. I clutched my modified booklet, knowing that it could cause me to be stranded at the whim of a bad-tempered official seeking a bribe. Our party would need to cross a handful of borders to reach South Africa: Burkina Faso, Benin, Niger, Chad, and then fly from Cameroon. Next, I'd need to get from South Africa to Kenya via Zimbabwe, Zambia and Tanzania. I was worried that this very long new passport page I'd acquired might not protect me when I'd need to depend on it completely.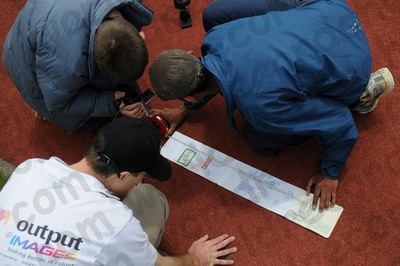 But it did. Looking back on the journey that followed, I feel a deep sense of gratitude for the South African help we received. I believe luck carried me through every border at which I could have faced whatever corruption Africa is famous for. Because let's face it, trying to cross the Dark Continent on a world record-length passport page is potentially asking for trouble.

A good opportunity to make the actual world record attempt came by 11 years later, at the inaugural New Zealand Impossibility Challenger. As excited as a child, I laid out my sweat-stained old passport and measured the page at 73.3cm for the witnesses. Glory!

I cherish this world record because it represents memories of an almighty journey. To give an idea of the physical size of the page, there must be 8 full sized stamps on it, taking the total stamps in my passport to around 60.