Alastair Galpin
took to world record-breaking in 2004 after being inspired by a record-setting rally driver in Kenya. What began as a hobby soon escalated into an active publicity pursuit. Today, he promotes the work of social and environmental causes. For these purposes, the most fitting game plans are chosen; then world titles are attempted and frequently created.

Sustaining sponsor
If you would like regular exposure from Alastair's activities, become his Sustaining Sponsor:
A range of attempts annually
Your brand in multiple media
Distribute your own media releases
Receive product endorsements
More details about sponsorship opportunities
Special thanks
Behind every world record attempt is the expertise of professionals in their field.
Their success underpins Alastair's.
They are listed here
Longest line of M&M pretzels in 30 seconds: 30

This is the story behind my Guinness World Record™ for the Longest line of M&M pretzels in 30 seconds.
Let's face it. Food is for eating – unless you're a record breaker. To me, food is often to be eaten only once it has been played with. That's right folks. I love playing with my food. In this case, I went to great efforts to find especially imported M&M pretzels so I could have fun with them. And I got more than just a good time. Now I have the world record for lining them up the fastest too!

I had been invited to a social gathering one evening, but I chose not to go along. "Why?" asked my friend. "I'd rather play with my food". She was shocked and tip-toed away slowly. I sighed, turned on my heels and got straight to work; the work of playing.

With the video camera set up, I laid out all my gear and sat quietly, thinking of a strategy. Right, I thought, I know what to do. To succeed at making the world's longest line of M&M pretzels in 30 seconds, I'd need to ensure my table was perfectly level. So out came my builder's spirit level. When I placed the constructor's tool on my office table, the bubble indicator settled in the centre of the gauge: my office table was absolutely level.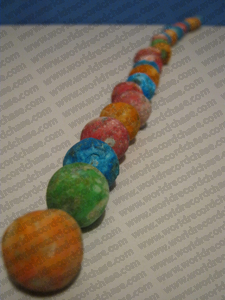 Next, I needed to follow the rules by making sure the table was not sticky. I understand why. Otherwise I could essentially glue my chocolate balls to the table, and that would give me an unfair advantage. Even though I am mad – I agree, I don't usually wipe butter, honey or any other type of adhesive on my office table, so I knew I didn't need to worry about that.

With my timer in place, I sat back to contemplate the job. I love my timer; it forms such a crucial part of my life. That's because much of what I do is under the pressure of a stopwatch of sorts. Amid a spot of reminiscing over how much fun I've had with my timer, I set it to 30 seconds and waited for the countdown to the start. I hunched over the shallow bowl laid in front of me, waiting to grab the first pretzel, much as a hawk focuses on its rodent prey before striking

And the 30-second mark arrived. My hand sped over the plate, snatched up the first of the unsymmetrical chocolate balls and smashed it into the table as if to instruct it to remain still. The cluster of M&Ms in the bowl rolled and bounced off each other, and the first one I'd placed on the table took a trip on its own. No! That was not what I wanted. I stopped the timer, popped the M&M back in the small bowl and tried a second time.

The same thing happened. And it happened again. But I persisted, although I made hardly any progress on improving my chances of success. I then decided to move the "line" I was creating to another part of the desk. Who knows why, but the M&Ms liked it more in the new place – apart from a few rebellious ones, they generally remained stationary when placed in the line I was creating. Maybe the M&Ms thought if they obeyed me, I wouldn't crunch them to bits and swallow them afterwards. But they were wrong. I gradually nibbled my way through the packets as I went. Why not? I was topping up my energy.

It took hours before I began feeling confident I could do this. My friends, I mused, would have been having a great time. Silly me. I could have gone with them, but instead I had chosen to move chocolates. After a quick break, I flopped back into my office chair and breathed in very deeply. I wanted this world record with all my heart. There would be only one way to get it. I needed to concentrate so hard that all my tiredness and all the evening's distractions vanished. This, I believed, was possible. Now I was going to do just that.

To my frustration, by midnight, I was still placing M&M pretzels in lines across my desk without success. Tiredness that I could not shirk off began to overtake me and I put my efforts to rest for the night. As I often do, I spent a little time reading before I jumped onto my pillow and tucked myself into bed. I read about how poachers are lining up – much as I had been lining up M&Ms – to kill elephants for their teeth. Feeling sad, I headed for bed and dreamed of M&Ms. No, elephants. No – M&Ms. Elephants, M&Ms, elephants...

In the morning, after plenty of dreaming, my priority was not breakfast. It was not to look great. It was to line up those little chocolates I was determined to become master over before eating. Feeling energetic, I launched into another bout of playing with my food. Who cares what others thought. Not me. I knew what I wanted, and I was going to get it. My M&M moving must have taken over 2 hours, and finally I managed to produce a line of 30.

I became exceedingly worried as soon as I saw I'd got 30 of these fellows in a row. I was afraid that a light breeze or a passing person might whip up enough air energy to blow a single M&M out of the line before I had time to record all the video evidence of what I'd done. So I swung my chair around and made sure nobody and nothing was moving too close to me. Yes, I got the odd stare. But that doesn't worry me. People look at me with doubt all the time, and I'm used to it. Quite unperturbed by anyone else's views on my sanity for caring so much about a handful of chocolates on my desk, I collected all the required evidence and cleaned up.

Then, feeling rather pleased with my achievement, my appetite lured me towards the chocolate balls. I reclined in my chair, crunching each and every one with pleasure. Great! First I lined them up against their will, and now I'm eating them, I thought as I smiled at nobody in particular.

With chocolate smears across my lower face, I threw the plastic wrappers in the recycling can – as a responsible citizen does to help avoid creating a huge waste problem like this - and started my day as an adult would. That's not as exciting as living like a child and expressing myself in whatever way I want to. But I know some days I've got to be adult and boring to survive in this world.

Yet, one thing can never be taken away – and that's the world record-mad youngster in me.