Alastair Galpin
took to world record-breaking in 2004 after being inspired by a record-setting rally driver in Kenya. What began as a hobby soon escalated into an active publicity pursuit. Today, he promotes the work of social and environmental causes. For these purposes, the most fitting game plans are chosen; then world titles are attempted and frequently created.

Sustaining sponsor
If you would like regular exposure from Alastair's activities, become his Sustaining Sponsor:
A range of attempts annually
Your brand in multiple media
Distribute your own media releases
Receive product endorsements
More details about sponsorship opportunities
Special thanks
Behind every world record attempt is the expertise of professionals in their field.
Their success underpins Alastair's.
They are listed here
Longest full-body massage: 25 hours 4 minutes

This is the story behind my world record for the Longest full-body massage.
I had wanted to make this attempt for over a year, but complications kept delaying my chances. Finally, after much ado and arranging in a socially conservative region of Indonesia, all fell into place. Select individuals were informed and offered the chance to witness; it didn't take long and the scene was set.

In a city house used as teaching premises, an area was assigned to this record attempt at a time that would not interrupt the educating. The subject of my attention was an Indonesian woman who realised she'd never again be offered such pampering. Unobtrusively, the event began to materialise - food and drinks were arranged, the rules were read, the process discussed, the video and photo cameras placed where needed, and inquisitive faces gathered at the foot of the double bed to wait for me to hand out further instructions.

Upon the start signal at noon, I mixed 2 lubricants of the recipient's choosing and smeared the viscous aromatic substance across the near-bare back alongside me. According to the rules, the recipient had to wear minimalist attire at all times, meaning I had to move my oily hands above and below their undergarments. And within minutes, I'd got into the rhythm. Up and down I sent my paralleled hands, ensuring I worked any knots in muscles loose. This, as we know, creates a pleasant massaging experience, but how long I could do this for was an unknown for me.

My mind began to wander, as would yours if you were massaging for hour upon hour. I thought of how important affectionate behaviour is to humans, as well as many animal species. I know of no other creature which massages in the way I was, but there's plenty of evidence that they show affection in other ways. Repeatedly though, I had to bring my mind back to the scene I was in; a drifting imagination wouldn't be worth failing this for, and I knew it.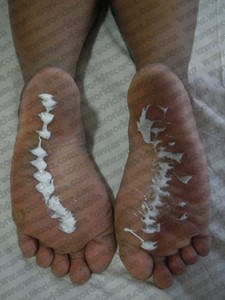 I treated every part of the woman's body bar the obvious no-go zones. Soon, my subject was drowsy and before much longer, asleep and snoring. There couldn't have been much for the pairs of witnesses to see since I kept making basically the same body movements in order to massage the whole body as required by the guidelines. But for each 4-hour shift the witnesses were present for, I knew I had a chance of achieving a greater title. The rhythmic movements of my hands, wrists, forearms and torso continued unabated – watched by the patient witnesses - as the hands on the wall clock crept over the dial silently and predictably.
The period from midnight to daybreak demanded extra mental alertness since naturally I wanted to sleep. On more than one occasion I felt myself edging dangerously close to sleep. Thank goodness the witnesses remained at the ready to prompt or shock me into a fully waken state, fast, if needed. There were sporadic incidences which prevented me from falling into an energy slump though.
I urged everyone to empty their abdomens before the start to avoid embarrassing toilet stops. Nevertheless, such stops were still required. My massaging recipient wasn't able to hold the contents of her bladder until the permitted break every 8 hours, but the massaging had to continue uninterrupted. We devised a plan in which I would massage her hand while she was otherwise engaged behind a toilet door ajar, and the witnesses could see the massaging activity in a mirror. The process involving the mirror was something similar each time a witness had to rush off. Now that's what I call innovation!
Disappointingly for me, the recipient had to attend to business matters and let me know around the 25-hour mark. I may have lasted a further 5 hours or so before passing out if I'd had a protein boost, but I was not to have the chance. Swiftly, the event was ended, the administration done, and I had the opportunity to relax completely.
As for the massage recipient, well – from her comments it seemed too much of a good thing can leave one exhausted.