Alastair Galpin
took to world record-breaking in 2004 after being inspired by a record-setting rally driver in Kenya. What began as a hobby soon escalated into an active publicity pursuit. Today, he promotes the work of social and environmental causes. For these purposes, the most fitting game plans are chosen; then world titles are attempted and frequently created.

Sustaining sponsor
If you would like regular exposure from Alastair's activities, become his Sustaining Sponsor:
A range of attempts annually
Your brand in multiple media
Distribute your own media releases
Receive product endorsements
More details about sponsorship opportunities
Special thanks
Behind every world record attempt is the expertise of professionals in their field.
Their success underpins Alastair's.
They are listed here
Longest duration Malteser blowing: 4.50 seconds

This is the story behind my Guinness World Record™ for the Longest duration Malteser blowing.
I like the taste of Maltesers. Do you?

They are indeed light, as the packet says. So when I saw a world record was possible for suspending one of these chocolates on my breath, I just had to give it a try. By late evening, I had satisfied myself that I'd succeeded, but the judges would make the final decision very soon.

Admittedly, beating the existing world record holder by a tenth of a second is not newsworthy, but to me, it proves I'm somebody with a purpose in life. The motivation gained from claiming another world record is what drives me to pursue more. And, as you can imagine, the moment I read of my Malteser success, I was full of energy for the next challenge.

But that feeling of elation didn't come easily. If you'd been in my home when I began to practise, surely you would have thought my actions a little strange.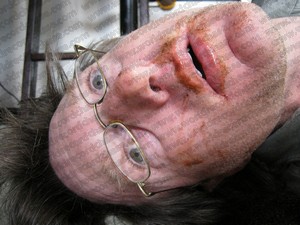 With a packet of the delicious chocolates, I headed into my bathroom. Alongside the washing machine - with toilet paper in one hand and a video camera in the other – I lay down. Before you judge me, let me explain.

The video camera was to capture the action where I lay with my back on the wooden floor. I needed to blow a Malteser upwards for as many seconds as I could, and keep it suspended in the air using only my breath. This meant the chocolate ball would have to be on my lips when I'd begin blowing, and it would drop back onto my face when my lungs had expelled all their air. The coating of chocolate on these morsels is thin and it melts easily. So the toilet paper was for wiping smears of chocolate off my face, my glasses and my neck.

I wondered if committed Malteser fanatics would cringe at how I could do this with such a lovely snack. Somehow, though, I don't think Maltesers are in any danger at all – they're immensely popular and I can eat a whole packet within minutes myself.

What might disappear very soon, sadly, are the beautiful forests of west Africa. Did you know that chimpanzee habitat on the Ivory Coast is being cut down and wild animals are being killed in cruel ways so that cocoa – which is used in chocolate - can be grown where these cute creatures used to live? I've been there and seen it. But, like with anything else, if people demand something – whether that is chocolates, rubber, plastic or other resources, wildlife might be destroyed to get it. Think about that.

Anyway, back to my world record. Maybe you're tougher than me, but the back of my head was getting too sore on that floor. So I moved to the lounge which has a carpet floor covering. And I soon discovered a problem. Carpet seems to house a lot of dirt: hair, dust, the odd dead mosquito or fly, grit and other unidentifiable items which should be in the vacuum cleaner. But since I was using a chocolate for unconventional purposes, I suppose I had to expect to come face to face with what is lying on my carpet after a few days of no vacuuming.

There's no need for you to verify what I say. I can tell you now that a wet, sticky Malteser which has rolled off one's face and across a carpet is not very tasty! Actually, I am fairly disgusted to think of what I may have swallowed each time I put a dirty Malteser in my mouth. Yet, I'll do a great deal for the chance to attain another world record. And ingesting carpet dirt is not beyond my limits.

So, I spent my night in front of a video camera – way too eager to succeed for there to be time to vacuum first, blowing one Malteser after the next. It proved to be a tough exercise on my lungs, even though I was lying down.

Eventually, with streaks of chocolate across my glasses lenses and criss-crossing my face, I managed to blow one of these little fellows long enough to feel confident I had beaten a British man.

Immediately after checking the video, I washed out my mouth and tried to ignore thoughts of the microscopic muck by then in my stomach. Even if I'd eaten several dozen dust mites or tiny dead moths, I didn't care. What could be more important: tolerating a bunch of fierce-looking invertebrates inside me, or smelling the ink on a brand new world record certificate with my name on it?

Ultimately, I'm pleased and I'll be seeking more opportunities with world records involving Maltesers. They're great to play with, despite most people thinking they're best eaten!