Alastair Galpin
took to world record-breaking in 2004 after being inspired by a record-setting rally driver in Kenya. What began as a hobby soon escalated into an active publicity pursuit. Today, he promotes the work of social and environmental causes. For these purposes, the most fitting game plans are chosen; then world titles are attempted and frequently created.

Sustaining sponsor
If you would like regular exposure from Alastair's activities, become his Sustaining Sponsor:
A range of attempts annually
Your brand in multiple media
Distribute your own media releases
Receive product endorsements
More details about sponsorship opportunities
Special thanks
Behind every world record attempt is the expertise of professionals in their field.
Their success underpins Alastair's.
They are listed here
Longest chain of belts: 311

This is the story behind my Guinness World Record™ for the Longest chain of belts.
The concept of beating a British team at making the longest chain of belts was appealing. Getting those belts was entirely a different story. It actually took me over 3 years to accumulate all the belts needed, no doubt because I was asking for them free from second-hand shops.

Of course I knew it would be a challenge to receive a donation of enough belts to fill a car, which prompted me to try borrowing them so they could be on-sold afterward. Most places I tried wanted full profits and would not negotiate, although the more approachable organisations were committed to exporting all their belts to the Pacific islands as aid contributions. However, I kept calling and eventually overcame the belt shortage in a surprisingly brief period of time. I seemed to be one of those occasions on which timing was everything.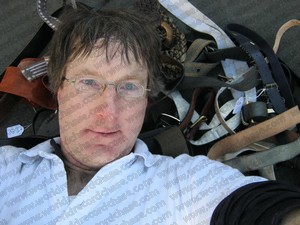 I'd almost given up on this world record attempt, due to my inability to access a heap of belts within a 50km radius. And then, suddenly, Merlin's Recycled Clothing offered me "excess" belts: nearly 400! I was aghast with delight as I returned to others who'd offered me a few dozen belts at most, collecting every one.

In one case, I put the belt heap down at the shop's entrance to thank the manager, and turned around to find a customer helping herself to several. Instead of saying the belts were for me, I waited for the lady to choose as many belts as she wanted. She snapped, "Why are you standing there next to me!" I smiled politely and urged her to continue choosing. When the shop manager exclaimed, "Oh, those belts aren't for sale – this man is going to attempt a world record with them", the customer spun round with a few belts in hand and insulted me for not saying so earlier. I tried not to feel offended.

Sitting back one evening, I realised my enthusiasm had also caused me a problem because Merlin's wasn't interested in getting the 400 belts back. And I certainly had no use for hundreds of men's, women's and children's belts in every imaginable design, made of numerous materials. But I knew a Fijian man who did. The generous fellow was collecting used clothing and other items for Fijian flood victims, and my world record attempt would be the ideal opportunity for me to contribute to the aftermath of weather possibly caused by climate change. He was terrifically grateful for what we both considered a win-win.
I was ready, well, in my mind at least. So I made the brave call of offering the challenge to local organisations. A junior school holiday programme in one of the city's wealthiest suburbs thought that chain-making with belts would be a great way to engage their students appropriately. The plan was for me to arrive well-belted, literally, explain the day's activities to the children and get that belt line extending around the basketball court.

But things rarely turn out hassle-free. On my way to the venue, a suburban passenger train struck a pedestrian. Because I was using public rail transport, the incident couldn't have come at a worse time: if I arrived late, it'd disrupt the school staff's entire day programme for nearly 100 little ones. Rows of passengers were moaning about their own schedule disruptions as I considered a taxi, and made the booking call.

As we pulled into the school grounds, none other than the famous Kim Dotcom himself drove by. Coming within 3 metres of a celebrity at that moment comforted me into being confident of the day's success to be. I hurried into the school hall where I had no shortage of hyper-active helpers on tap. Youngsters sped up to me and encircled me with expectant looks to ask all about what I had planned; many of them knew me from previous storytelling appearances.
On the basketball court, the crowd assembled: teachers, the programme leader, dozens of children of varying sizes, a few parents, my witnesses and me. After a quick briefing, the kids were given the go-ahead to rip into the bags and begin laying out belt after belt, after belt after belt. It was so easy. One by one, the little ones extended the line amidst a hum of chatter, linking each belt into the next, so as to form a chain. Back and forth I paced, instructing, checking, asking and answering so many questions, and working closely with my witnesses to ensure we captured the event properly on video.

By the time the ad hoc team had almost encircled the court in a perimeter of joined belts over 2 hours in stinging sunshine, I was sweating heavily. So were many of the children. Just before disassembling the giant belt snake, we took plenty of photos, admired our work briefly and counted the contributing belts. It was a magnificent 311 individual belts, now joined but on the verge of being broken up and claimed by almost every kid wanting a belt or 10.
Immediately the witnesses and I had concluded the evidence requirements, I shouted, "Anyone who wants a belt, go to it!" and the interlinking chain appeared to disintegrate – squealing young ones ran off with belts around their waists, dangling from their shoulders, and trailing behind them. It was my pleasure to see them getting a reward for their efforts after concerted teamwork, and I wished I'd had more to give away.
But flood victims in the Pacific nation of Fiji, I knew, needed clothing far more urgently. The remaining belts – still a tally in the hundreds, were re-bagged for collection. The staff thanked me for providing a different slant to their school holiday programme's activity line-up, and I made off with a bundle of world record attempt evidence.
Months later, I got such wonderful news. The attempt had been successful, and after so long, I was now in the world record books for linking belts with the help of lots of highly excitable children. In some ways, I was as hyper to receive this news as they'd been to see me on the day of action!