Alastair Galpin
took to world record-breaking in 2004 after being inspired by a record-setting rally driver in Kenya. What began as a hobby soon escalated into an active publicity pursuit. Today, he promotes the work of social and environmental causes. For these purposes, the most fitting game plans are chosen; then world titles are attempted and frequently created.

Sustaining sponsor
If you would like regular exposure from Alastair's activities, become his Sustaining Sponsor:
A range of attempts annually
Your brand in multiple media
Distribute your own media releases
Receive product endorsements
More details about sponsorship opportunities
Special thanks
Behind every world record attempt is the expertise of professionals in their field.
Their success underpins Alastair's.
They are listed here
Largest bowl of soup (shared): 25,000 litres
This is the story behind our Guinness World Record™ for the Largest bowl of soup.
This record was a shared one, involving hundreds of volunteers and 25,000 litres of vegetable soup. We named it the Big Manukau Soup and gave it away – free – to the people of Manukau, New Zealand. To appreciate its volume, you'd better think big: this soup included 5,000kg of potatoes, 1,200kg of onions and 75kg of spices.
A light-hearted account of this memorable undertaking appears below, as told by the locally famous and highly respected Reverend Mark Beale.
Many thanks to the dozens of forward-thinking companies and organisations which helped make this exhausting world record possible. And of course, thanks to all those who helped drink it up afterwards – from retirement villages to the women's prison, resident families to community service groups and churches, to youths on their night out.


---
So how did we make the world's Largest Bowl of Soup?
The Legend of the Big Manukau Soup by Mark Beale
Copyright: no copyright restrictions
A man looked around the great city of Manukau. As he looked in the newspapers, he read stories of depression. He noticed that the people of this great city had an air of gloom about them as their heads were bowed; they spoke about fear and a lack of safety. Some even marched as they were drawn into the negative spirit of fear. As he looked over the fair city, seeing its beautiful rolling hills and tranquil beaches, he could not help but wonder why people could be so downcast. While pondering this lofty thought, an excitable man approached him and said, "I am going to make the world's largest bowl of soup and I have no-one to eat it".
Suddenly, as if struck by lightning, the man was given a vision; why not make a magic soup that will lighten the hearts of the people of this great city?
But who would have a bowl big enough to make such a soup? The people of Lion Nathan said, "we have such a bowl, and instead of salubrity hops, we will make a healthy vegetable soup that will cleanse the body and so lighten the soul".
"Who has such vegetables?", he asked, as excitement started to bubble within. The Pukekohe Vegetable Growers' Association leapt up and claimed, "we have such vegetables growing in our protein-rich soil", and generously gave 5,000kg of potatoes and 1,200kg of onions.
As the man looked at this mountain of vegetables he said, "how will we clean and cut such a great number of vegetables?" "I can clean them", said Cuisine Resources. "And we can cut them", said Ecopac.
As the man looked across the city he noticed that some of the bowed heads looked up in curiosity to see what was happening. He called out, "we need to get all these wonderful healthy vegetables to the giant bowl". "I can do that", said Hall's Refrigerated Transport.
The recipe began to take shape but needed something special to give it the spice of life, and so the man asked, "who could get the mixture right?" And up jumped Gerald, a chef of merit with a flare of taste, and said, "I can mix such a soup".
But where could he find the right herbs and spices, and then to the party came Profile Products who said, "our vegetable stock powder tickles the taste buds. We will give you 333kg to put in the magic soup".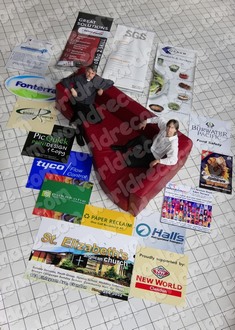 Gerald stirred with his great chef's spoon and said, "it needs something more; it needs salt". Dominion Salt, catching the vision, said, "we will give you 125kg of our finest salt. The soup now began to sizzle with flavour, but the magic was still not there.
"Why not use our special spices", said G.S. Hall. "We will give you 25kg of curry powder, 25kg of turmeric, and 25kg of paprika as these will surely bring joy and warmth to the heart". The soup was almost right as 60kg of tomato paste was added.
With the soup boiling its magic love in the great bowl of Lion Nathan, the city began to glow in expectation. The man looked at the great bowl while wondering how to get it to the people to cheer their hearts. Calvin of L.W. Bonney and Sons proudly said, "we have the finest trucks to carry such a wonderful soup".
Thinking out loud, the man was heard to say, "how can we get it from the truck to feed so many mouths before it gets cold?" , and the thinkers began to think as they put their heads together. Hearing of the man's plans, Tyco Flow Control gave special valves and Fonterra skillfully shaped them that they may give out the soup without losing its magic heat.
The people needed to gather to get their soup because the magic of the soup was at its greatest when people shared. As the man looked over the city, he noticed that the Manukau City Council had created many gathering places where the power of the soup would be at its greatest. As he visited these places, he was welcomed with great warmth, and so he knew in his heart of hearts that the people would love the soup.
A date was set, a time was made, and the soup was poured from the great vat of Lion Nathan into the finest of tanker trucks to be delivered to the wonderful communities of Otara, Clendon and the great cathedral of the TelstraClear Pacific Events Centre.
The soup needed to be put into cups so that people could drink its healthy magic, but alas, there were no cups. Then, as if out of the heavens, Air New Zealand gave 7,000 cups that could hold the magic soup. Quickly, Fastway with Signum, TipTop and Clendon New World gave and delivered containers so that people could take the healthy brew to their homes where they could heat it to a bubbly heat and share it with neighbours and friends, thus allowing the magic to spread.
The people of Bluebird, having been captured by the magic of the soup, also wanted to give something. And so they helped feed the people with the health-giving fruit of 7,000 fruit wraps. PicQuick Print Design designed and made invites so all would know about this big soup. The Fire Department, Police, several Rotary Clubs in the Auckland area and man community-minded people gave of their talents and time to enable the magic of the soup to be at its best.
As the people shared in the drinking of the Big Manukau Soup, their hearts were cheered and their spirits were refreshed. With their heads held high, they forgot about fear and crime, and began to laugh and talk about what a wonderful life they had in the great city of Manukau.