Alastair Galpin
took to world record-breaking in 2004 after being inspired by a record-setting rally driver in Kenya. What began as a hobby soon escalated into an active publicity pursuit. Today, he promotes the work of social and environmental causes. For these purposes, the most fitting game plans are chosen; then world titles are attempted and frequently created.

Sustaining sponsor
If you would like regular exposure from Alastair's activities, become his Sustaining Sponsor:
A range of attempts annually
Your brand in multiple media
Distribute your own media releases
Receive product endorsements
More details about sponsorship opportunities
Special thanks
Behind every world record attempt is the expertise of professionals in their field.
Their success underpins Alastair's.
They are listed here
Greatest height to drop gambling machines: 296 metres

This is the story behind my world record for the Greatest height to drop gambling machines.
I will admit this was such an unexpected thing for someone to do. Certainly in my life, I've never known anyone to dream up a similar stunt. In this case, I did it for a charity in whose work I believed. That, as far as I was concerned, warranted a very strong social message. Not sure what you think, although I am convinced this world record produced a sufficiently blatant statement. And I'm as proud as can be.

It all began when I ran my finger down a randomly opened page in a telephone directory. I called the organisation and asked if they wanted a world record. Normally, I'm sure, the recipient of such a call would not wish to deal with the caller. In this case, however, I was greeted by a warm lady who was very eager to progress the idea. I couldn't believe my luck – my phone book had produced a miracle.

The planning really started when the charity agreed to proceed. I had to come up with a strategy that would do their cause justice. We brainstormed and questioned others for weeks until we settled on my lodging an enquiry for the world record we ended up breaking. At that early stage, though, nobody was to know what to expect as the outcome. With caution, we advanced plans on the understanding that no concrete arrangements could be made until I had secured the world record details with the world record authority.

Before I'd heard back from the world record system, we began putting a programme in place. It would be approximately a year of hard work, needing everyone involved to push plans forward to keep them alive. This included finding a suitable helicopter, applying for aviation authority permits, assessing drop site plans, reviewing weather forecasts, dealing with materials engineers, adhering to national safety standards and locating the machines we were to drop. At each step, we encountered more issues that needed attention and eventually I was managing a spreadsheet that grew to pages long. Of the jobs that needed seeing to, safety was the primary concern. As things started developing seriously, I got a positive reply from the world record system. We could then forge ahead on plans with full force.

I, and those who assisted me most closely, were very tired of the admin by the time this event was ready to take place. But we were still sane, which was the main thing. Everybody was ready three days before D-day. Then, the weather turned and the world record attempt was postponed for a week. The next weekend, however, was looking good. The team followed through.

With a vehicle load of gear, we all arrived at a rubbish dumping site. To us, this was the perfect place to dump a gambling machine. The machines had been especially prepared by a skilled materials engineer who was waiting on the office lawn to tie the load under the allocated helicopter. A regular whipping and rotating noise soon swamped all conversation as the smart red helicopter descended outside the office. As the helicopter hovered, a single machine was tied under it using a rope as thick as one's arm, then it rose straight up.
The idea of this stunt was to raise awareness of The Problem Gambling Foundation of New Zealand and it certainly attracted a lot of media attention. While not all gamblers become addicted to gambling there are some who do. Learn to recognize if you have a problem and whether or not you can engage in responsible gambling. If not seek some help from a professional organization.
Over a dozen spectators, helpers and members of the media jumped aboard a bus to the open pit. Video cameras were positioned around the perimeter, and everyone was instructed to obey their safety induction from where they stood behind the barrier tape. We had been placed on a knoll, below which was an empty clay-lined bulldozed pit; pine trees spiked the horizon and narrow tracks wound their way across the vacant landscape. People waited; small talk filled the air.

T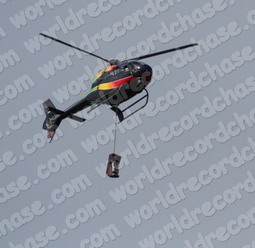 he whipping rotation became extremely loud as the horizon was broken. Beneath the helicopter dangled a lone gambling machine, minutes from its certain fate. I was struck by panic – what if the rope came loose and an unsuspecting person below was flattened? My heart was thumping. The helicopter aligned itself vertically over the pit, and lifted its load higher into the sky. One could actually see the helicopter becoming smaller as it pulled upwards. A stream of wind passed and the gambling machine moved to one side, resembling a pendulum in slow motion. The pilot adjusted. The machine counter-swayed; the pilot adjusted. Two-way radio communication was then almost constant between the pilot and the ground crew. Next I heard "Now!" but, keeping my eyes fixed on the rope, it seemed nothing was happening. Life had frozen for an instant.

No, it hadn't. The rope began twisting and collapsing on itself, falling freely. The machine reached terminal velocity and hurtled toward the clay surface. We watched in silence, and the seconds seemed to pass painstakingly slowly. Next, the dull boom ricocheted off the angled pit walls and the machine no longer existed. Too fast for the eye to see, splinters of glass, aluminium, plastic and metal spread in every direction at phenomenal speed. Glass tubes were heard exploding from 500m away. Life was all over for the gambling machine in an instant. A mess that resembled nothing in particular stretched for metres across the clay. Cheer rose from the cordoned off knoll and I was ecstatic. In fact, I nearly screamed myself hoarse from delight.

Once the safety restriction had been lifted and messages of thanks had been generously exchanged, I collected a piece of this machine from the mangled debris. It had been a sturdily built item, but the charity knew how to show who was the winner in the end. I was mighty pleased to have been the one to arrange much of it. The sense of satisfaction I felt ran very deep.

This world record appeared on New Zealand television and in local newspapers, and footage spread across the internet to much of the northern hemisphere. I knew I'd managed a worthy project when word got back to New Zealand that problem gamblers around the world had used the video footage to help them cope as they worked to free themselves of this habit.