Alastair Galpin
took to world record-breaking in 2004 after being inspired by a record-setting rally driver in Kenya. What began as a hobby soon escalated into an active publicity pursuit. Today, he promotes the work of social and environmental causes. For these purposes, the most fitting game plans are chosen; then world titles are attempted and frequently created.

Sustaining sponsor
If you would like regular exposure from Alastair's activities, become his Sustaining Sponsor:
A range of attempts annually
Your brand in multiple media
Distribute your own media releases
Receive product endorsements
More details about sponsorship opportunities
Special thanks
Behind every world record attempt is the expertise of professionals in their field.
Their success underpins Alastair's.
They are listed here
Furthest golf ball blow: 5.83 metres

This is the story behind my Guinness World Record™ for the Furthest golf ball blow.
I am fascinated by items that move once having been blown. That includes the glide of a golf ball. And, since I wanted to break my own world record for blowing one the furthest, I decided to do so at my next available opportunity. That happened to be an event at which I'd be adjudicated, hopefully making my attempt easy. I wouldn't have to do any admin, because the world record result would be announced immediately following my event. That appealed to me, as you can imagine.

I could have spent time looking for a different venue to make this world record attempt, but it was easier to return to the train station. I did, this time with the adjudicator. I'd promised myself I'd do so, and it felt good to see things eventuating. As I walked to the area where I had succeeded at this world record the last time, the determination in me welled up. I was committed to obliterating my existing success. The world had better watch, I told myself, because something worth knowing was about to happen.

Unlike on my previous golf ball-blowing visit, I hadn't had to source a lot of information on golf balls - although sites such as 3ball.com had proved useful. The adjudicator lent me a limited edition branded golf ball, so this part of the planning had been straightforward.

A TV crew had been sent with the adjudicator. They fussed around with deciding what angles to record from, they checked lighting and discussed matters in depth with both the adjudicator and me. It was important that they got excellent footage because this world record – should it be successful – would be considered for use in a global media promotion. Once tests had been conducted and everyone agreed that plans were in order, I sank to the floor. Dust was centimetres from my nose. I didn't mind in the least. Straining to look upwards, I watched the cameraman so I knew how to respond to his movements. The adjudicator checked that I was ready. I was.

They waited and waited as I filled my lungs, then emptied them and filled them again. Rather than just give me energy, doing so also made me feel dizzy. But I could put this dizziness to good use. I placed the golf ball where I could have licked it, it was so close to my face. Using every chest and thoracic muscle I had control over, I blew as if my fate was dependent on how well I performed. The ball advanced, but sluggishly. Don't do that, I thought and returned to my starting position. The cameraman repeated his movements. The adjudicator waited in silence.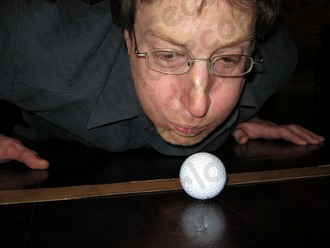 And I blew until my muscles ached from overextension. My lungs hurt. Something deep inside my eyes stung. I couldn't think. It was the end. My mind had gone blank. My eyes couldn't focus on the ball. My consciousness was fading. Then, involuntarily, I breathed in slowly and that bewildering instant vanished. All I needed was a little fresh air, it seemed.

I hopped up and walked behind the freely rolling ball. This little thing was clever; I was impressed. Yes, I had tried to aim my blow so the ball would dash past the pillars, chair legs and railing nearby, and I was pleased to see this was working. The crouched adjudicator had to step back, then step back again, and once again. Realising this ball was going some distance, he stood and walked alongside it with me. The ball kept going, as if it wanted to impress us.

That's just what it did – everyone was astounded at how far this golf ball sailed across the floor. Its momentum was seemingly endless. When the attention-seeking ball came to rest, the measurement showed it had travelled three times as far as my existing world record. Two minutes later, the adjudicator opened his mouth and out spilled the most precious words I'd heard in a while: "Congratulations Alastair, you've set a new world record!"

I was as happy as could be. This was a momentous achievement for me, and the others knew it. The cameraman was pacing back and forth, capturing the action repeatedly. The adjudicator seemed excited on my behalf. And I was then pumped full of adrenalin. This was such a good feeling.

However, the good vibes were then to begin. The event's TV footage was sent away and soon appeared in a worldwide entertainment news release. I was in it! Unbelievable. I felt breathless with gratitude and appreciation; quite a different reason for being breathless to when I'd made the attempt. Seeing this extensive media coverage convinced me, yet again, that I was born to be a world record breaker.