Alastair Galpin
took to world record-breaking in 2004 after being inspired by a record-setting rally driver in Kenya. What began as a hobby soon escalated into an active publicity pursuit. Today, he promotes the work of social and environmental causes. For these purposes, the most fitting game plans are chosen; then world titles are attempted and frequently created.

Sustaining sponsor
If you would like regular exposure from Alastair's activities, become his Sustaining Sponsor:
A range of attempts annually
Your brand in multiple media
Distribute your own media releases
Receive product endorsements
More details about sponsorship opportunities
Special thanks
Behind every world record attempt is the expertise of professionals in their field.
Their success underpins Alastair's.
They are listed here
Furthest standing jump sideways: 2 metres 6.5cm

This is the story behind my world record for the Furthest standing jump sideways.
Mere mention of the phrase "world record" gets my pulse racing. An opportunity to make a world record attempt gets my heart hammering in my ribcage. So I'm sure you'd completely understand why I became hyperactive when I identified a chance to jump my way closer to another world record.

I decided to try my skills at an entirely new world record category this time. Choice is something I like, and I enjoy it most when it seems I'm going to benefit from making the correct choice. If you're wondering what the benefits are to be gained from jumping to one side, forget the health advantages – you could receive a certificate. And that, more than anything else, was the motivation for me to go hopping.

Besides, I had a personal interest in behaving as a side jumper. I've always found frogs to be intriguing creatures. As a child, I used to watch plenty of them jumping great distances in and around lily-covered dams near our family home. Their ability to jump so impressively at almost no notice amazed me. I remember thinking that one day, I'd like to try and impress all the frogs in the world with my own jumping abilities. And, believe it or not, that day did actually come – in the form an impulse for me to jump towards another world record title.

It was soon apparent to me that I could really use my goal for the frog in me to reveal itself. Since I love everything about frogs, apart from eating them, it would be my honour to think of frogs during my next world record attempt. What exact jump I'd make was something I was yet to ascertain, so I spent considerable time sucking my fingertips and nibbling my thumb nails as I thought it over. Ideas flooded my mind, from jumping over hurdles to jumping backwards, blindfolded, across dangerously high gaps and with a large load tied to my body. Then the thought of jumping sideways occurred to me, and got my immediate interest. I settled on the idea right there.

Once I had the rules to study, I worked out what was required of the would-be record title holder. The attempt seemed fairly easy in theory, but any self-respecting record breaker knows that trialling something can produce a totally different perception of it. With confidence welling up in my chest, I grabbed my socks; there's no way I was going barefoot on a frosty day when I could be wearing my woolly socks! I love wearing socks, as you can probably tell from perusing my website. And my thick comfortable socks were about to come jumping, in the garden.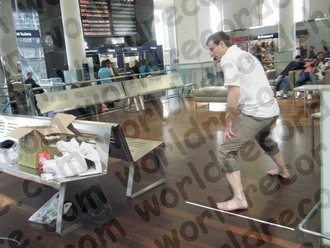 I searched for a suitable jumping place for quite some time that morning. I eventually came to realise that the best practise area was the section of pathway leading right up to my house, and the first place I'd considered. Rubbing my hands together with delight, I hunched my back and gave this attempt my first effort. I weigh about 70kg, so when I landed to my left, on the concrete path, my woollen sock gripped the concrete but my foot slid inside it. Like a top heavy sliding weight, my torso quickly lost balance and I ended up slamming into the grass alongside the path. Good start!

But I'd learned something. I had got the basics correct. Next, I needed to master the landing technique so I'd not virtually somersault over into the garden each time. The next time I tried, I didn't get thrown quite as badly, but I'd not managed what anyone would call a comfortable landing. Still full of vigour, I practised and practised. Soon, dizziness overtook me because I was jumping, running back ion a semi-circle and jumping again. With a pounding heart and my left sock in tatters, I sat to think.

Instead of rushing into this, I knew, I'd need to consider my every move. That would mean I could sit in the garden for a while too! A light breeze was blowing, and I was eager to begin jumping again. But I first had to work through my plan.

What was required was that I stand with both feet firmly on the ground, then jump sideways as far as I could, and then land with both feet firmly on the ground without readjusting their position. Before and after jumping, my feet would need to be in contact with the surface in the same direction. This was tough. But, as for anything else in this world, all that was required was sufficient practise. And I knew it. So up I hopped, wiped my hands on my shirt – as I often do when preparing for a world record, and resumed the jumping.

To give me extra spring in my step, I slowly leaned far over to my right, placing a lot of pressure on my right knee. Then, like a tensioned curved length of bamboo being allowed to straighten, I tensed my thigh muscles as quickly as I could manage, propelling my body into the air and over to the left. I landed with a thud. The ball of my left foot began to ache instantly; I'd obviously hit the concrete rather hard. Not surprising, since my left foot was taking 70-odd kg in weight upon my landing. The positive side to the hurt was that my spring-like leg muscle action was shooting me into the air. That's what I wanted, so I hobbled back to the mark I'd made as the jumping line.

From then on, I had to split my concentration between getting my body as far through the air as possible, and ignoring the throbbing in the bones of my left foot. At first, it was difficult to do that, but I forced myself with extremely focused thought. To help, I tried to jump and return to the starting line as fast as I could, in some kind of race against myself. What transpired must have looked as if I'd become a brindled gnu on the southern African savannah with turning sickness. In my garden, I leaned backwards over the starting line, swayed to prepare myself, then lunged forwards – sometimes stumbling where I landed, only to stand up as fast as possible and rush around in a semi-circle to do it all again. And again. And again. If anyone had seen me that day, they'd have been justified in calling a wildlife veterinarian, I'm sure!

But my concentration on doing this all at speed was crucial to my controlling the pain from my left foot. If I'd given myself any time to think, I would have been too sore to continue practising. So the madness was serving a purpose. Only for a limited time, though. I'd worked up a dripping sweat and it was clearly time to stop for the meanwhile.

Several days later, I – the disease-infected bovine imitator – returned to the concrete pathway to improve my impromptu sideways jumping. This time, though, without socks. That was a pity, because I feel whole when wearing socks. Nevertheless, I was still able to practise, and so the jumping resumed. This time, I was seen by one of the neighbours who watched for a few minutes. It seemed the longer they watched, the more wrinkled and puzzled the look on their face became. By the time my eyes met theirs, I was looking at a thoroughly unimpressed individual. Worried that the news might spread, I rushed over to justify myself. "Oh, well I hope it turns out well for you", was the emotionally neutral response my justification had earned me. Feeling a little odd, I thought the best thing was for me to escape. So I rushed back to the testing area, refused to wonder what my neighbour was really thinking of me, and continued.

By then, I was becoming a professional at the challenge I'd set myself. Very important, this was. Under no circumstances would I give up, I kept telling myself. And with that thought to inspire me, I kept trying to jump ever further. Each time I thought I'd acquired an additional centimetre or two to my distance, I measured to where my right foot landed. Sometimes I had gone further, but on many occasions I was doing worse. This was no good. Right, I instructed my body, I was going to out-jump myself next. In preparation, I took a very deep breath and held it in for several seconds. I repeated this three times, stepped back and then approached the starting line carefully.

With tensed arm, chest, neck and leg muscles, I imagined that if I didn't deliver the very best I could, I'd be condemned to death. Pretending I was facing a real trial, I jumped like a terrified little defendant. And did that tactic work. As I landed, and steadied myself using an array of spontaneously invented acrobatic displays, I knew I'd landed a good distance from the starting line. When I drew out the tape measure, my presumption was confirmed. Fantastic! At that, I relaxed and continued to practise to familiarise myself with the routine I needed to perfect.

I didn't practise every spare minute I had from then on, because I was confident that my ability could deliver. I set a date to make the attempt and began to cross off a page-long list of tasks required to make it happen. Occasionally, I doubted myself and it was then that I ran out onto the concrete just to check I could still do this.

It was an early morning start for my assistants and me. We met inside the biggest train station in New Zealand. With enough experience at record-breaking to know the routine, I got straight to work. I laid a length of tape across the floor to mark a starting line, ran through a list of checks, and conducted some necessary admin with both the assistants. I threw off my shoes and began instructing the helpers as was necessary under the rules. Passengers waiting for, or leaving the station after using a train became curious. A number skirted the area where the three of us were preparing. Some began taking photos and video on their mobile telephones. Some simply stood and stared. Others ignored the activity altogether. Quite frankly, none of this mattered to me; all I wanted was another world record.

Repeating the precise moves I'd taught myself in my garden, I jumped like the frog in me. Instantly, I felt the attempt had not been to my satisfaction and I announced that I'd repeat it. Twice, thrice and more I jumped. In between each, no break was necessary, since I was fit enough. So I jumped and jumped just like the mental brindled gnu I had imagined myself to be back at my home. By thinking about the law of averages, I knew that I'd make a superior jump in between mediocre ones. It wasn't long and that's just what happened.

With a smile right across my face, I measured the distance I thought was a winner, and was very happy to see it was. Satisfied with it, I completed the world record admin, thanked my helpers and we left. No media was present because I purposefully made this attempt without public notification, but they'd come, I knew. I am regularly approached by news crews wanting stories, and this is a world record I'd be keen to measure myself against a presenter with. Imagine that: a TV or radio presenter trying to out-jump me for the next news bulletin. That'd show them who's the boss, and I'm ready!