Alastair Galpin
took to world record-breaking in 2004 after being inspired by a record-setting rally driver in Kenya. What began as a hobby soon escalated into an active publicity pursuit. Today, he promotes the work of social and environmental causes. For these purposes, the most fitting game plans are chosen; then world titles are attempted and frequently created.

Sustaining sponsor
If you would like regular exposure from Alastair's activities, become his Sustaining Sponsor:
A range of attempts annually
Your brand in multiple media
Distribute your own media releases
Receive product endorsements
More details about sponsorship opportunities
Special thanks
Behind every world record attempt is the expertise of professionals in their field.
Their success underpins Alastair's.
They are listed here
Furthest pea blow: 3 metres 38.5cm

This is the story behind my Guinness World Record™ for the Furthest pea blow.
We have to face the facts: what normal person would purposefully hold an event to blow a green pea across the floor of a public train station? Correct – not one. So the individual to do this must be insane, right? Well, call me what you will, I did it. And if you like the idea, you might also like to know how I went about this commendable feat.

It all began when I received confirmation of a world record event. Given my susceptibility to record-breaking, there was no way I could refuse. If you really have to know, I admit that I sat up most of the night making elaborate plans and sketching out a spider's web-like diagram of exactly how I would progress toward what I desired: to hold one more world record certificate in my own hands. The diagram looked complex, but no matter how demanding or stressful this was to be, I was prepared to risk my life for it.

Step one was to arrange to follow the rules. Next I had to complete the paperwork, and gather my team. I had a few brief meetings to see to, and numerous contracts to sign with those providing services. The following steps included collecting materials I needed, checking the meaning of various rules and arranging a suitable venue. Hard work! Perhaps due to my fascination with world record-breaking, I was prepared to endure all this and more simply in the hope that I would feel rewarded for blowing a common garden pea.

One by one, I was able to cross tasks off my list. That was great motivation, since it meant the big day was approaching. How exciting! One unexpected challenge I faced was finding – wait for it: the pea! Yes, I was stunned. It seemed that New Zealand didn't have a single fresh garden pea for sale. I asked the growers, then the distributors and agricultural supplies companies, and even a university my question, "Where can I find a single fresh green pea?" Needless to say, my calls weren't responded to with the greatest of friendliness every time. But, having the tenacity I possess, I cast those unfriendly folks out of my mind and continued in my search for the perfect pea.

Eventually – and that means after a lot of effort, I found what I needed: suitable peas. I was so delighted I could have kissed them. But I didn't. Instead, I calmly continued to prepare for the big pea blow. With my witnesses, I entered a large train station and we all marched up to the allocated floor area. I felt a sense of calm coming over me, but knew I had to keep myself in check. To be feeling calm and relaxed right then wasn't what I needed; it was better to be mentally alert. My focus sharpened and the world record breaker 'auto-pilot' in me took over. Peas in the bag I was clutching in my fist were about to be blown away, literally.

Having positioned the witnesses and completed some admin, I marked the line from which to blow. Out of the corners of my eyes, I could see train passengers wandering by, many stopping briefly, probably hoping for an entertaining sight. But that was something I couldn't care less about. I was there for business. My attention was trained on my fingers and the mass of garden peas I was staring down at. Which one? Oh, that was a difficult choice.

From discussing this world record attempt with others in the know, I had learned that friction between each unfortunate hand-selected pea and the floor might offset its trajectory if the moisture adhering to the pea's surface was higher than a specific amount. But that was far too technical for me to worry about. All I knew was I'd better blow until I was seeing stars. I picked a pea and held it up to the light. No, not good enough. It was knobbly. So that I wouldn't select it again by mistake, I got rid of it by eating it. I repeated this process for almost five minutes until I was confident I'd found the most beautifully matured pea in the packet. It was round, with smooth skin and had very little water visibly adhering to it. My heart began beating ever so slightly faster, as if in celebratory delight over the little fellow I'd plucked. When I glanced around, sure enough, I was being watched: a man eating one pea at a time out of a packet, in a busy train station, after inspecting each with care. Bizarre!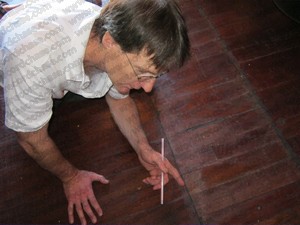 "I'll prove that I am to be respected for my abilities with peas", I told myself while staring back at the puzzled passers-by. And with that, I let the witnesses know we were due to begin the action. I sank to my knees and then quickly dropped to the floor completely. I wasn't sure whether to feel a sense of disgust at having my nose so close to where the public tread, or whether to feel pleased with the chance to see what tiny things are sprinkled across it. There was plenty of fine dust barely millimetres from my nostrils, no matter which way I thought about it. I had to accept that I'd be in charge of a dust-clad pea in a few moments too, no doubt.

I heaved and heaved my chest to increase my lung capacity. I could feel my thoracic muscles and even the cartilaginous joints flexing under the strain. Knowing my body could cope, I pushed my ribcage out harder with each inhalation until I began feeling particularly sprightly. At that point, I was sure there was enough oxygen in me to blow like a champion. Pursing my lips and staring at the pea with all the concentration I could produce, I constricted my upper body hard. A constant stream of warm carbon dioxide-rich air came gushing out, smacking squarely into the rear of the unsuspecting pea with force. I felt sorry for the little thing; this could be considered vegetative abuse!

Like an obedient worker taking an instruction, the pea suddenly raced forward and kept travelling at speed. I gasped for breath, while half-heartedly paying attention to the moving green blur. The witnesses followed its short-lived journey across the public floor but exclaimed with disappointment that I could do better. I obliged enthusiastically and jumped to my feet so I could fetch the under-performing item and retry.

More passengers were watching by then and one Australian lady even offered me a few dollars, thinking that my antics were good entertainment. I was astonished but accepted the gift politely. After chatting briefly to this donor and her husband, I excused myself, saying I had urgent business to attend to. Back down on my belly it was, in which position I placed the pea with accuracy where I wanted it. Once again, I began inhaling as deeply as possible and blew the pea. Frustratingly for me, I just wasn't satisfying myself with the distance I could blow. But I knew there were only two options: give up and fail for sure, or try. I chose to keep trying. After what seemed to me like a maddening fifteen minutes, the witnesses voiced their approval at the distance the blown pea had come to rest ahead of me. I sighed. Good. That had definitely been the most powerful blow and it was then time to measure.

I stepped the others through the required admin before crunching up the pack of remaining peas and packing it away. What a relief it was for me to be rid of the impulse to blow peas randomly across a train station floor. My mind wandered to a more serious topic. Although I was confident that I had succeeded, I knew I'd have to await the judges' official decision before I could proclaim success. So I kept from excitedly telling others what I'd done that day, but it was definitely on my mind.